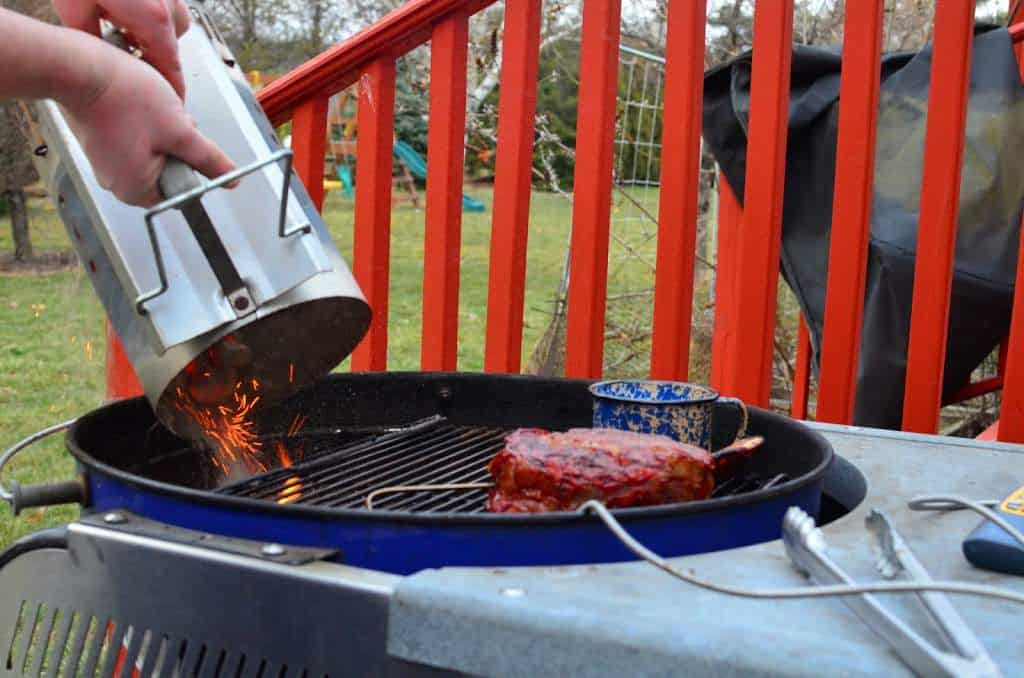 Spring grilling - need a few more coals on the fire.
(I wrote this last week. Today, my thoughts and prayers are with the people of Boston.)
Every spring, grilling fever strikes. I'm tired of snow, cold, gray days. I want to be outside...cooking every meal over live fire. I'm scanning the weather for days with less than a 50 percent chance of rain. (Fifty percent...that means I still have a chance!)
While I wait for the showers to pass, here are five fun food finds from across the web.
1. American meat industry moving to uniform, simplified naming standard
...what once was called pork butt - and actually does not come from the pig's nether region - will now be called a Boston roast and be described as a bone-in pork shoulder.
[J.M. Hirsch, AP News: Meat industry to reboot labels to help consumers. h/t Lisa Abraham, Ohio.com]
I'm sad my beloved Boston butt is going away. "Boston roast" doesn't make me giggle like an eight year old have the same ring to it.
But, this also means a t-bone now describes the same cut of meat from a cow, a pig, or a lamb. It makes too much sense.
Of course, expecting this to jump-start meat sales seems like a reach.
2. Maggi seasoning
Suddenly, Maggi seasoning! Sure, I'd see it at my local Asian grocery stores, but it was a once in a while thing. Then Charlie at the Ingredient List mentioned it on his blog. Now, every time I turn around, I see a bottle. I bought one the other day; still haven't used it. I'm waiting for a soup that needs extra umami.
[h/t Charlie, TheIngredientList.com]
3. Weber Gourmet BBQ System - Korean Barbecue insert
Weber made new inserts for their Gourmet BBQ system. The Ebelskiver Pan seems like an insert too far - do I really want to grill Danish pancakes?
The Poultry Roaster looks good, if you want to roast a chicken beer butt style. It's wide, stable, with solid handles - there's a lot less chance of the chicken flopping over and dumping beer everywhere. Even so, I'd rather use a beer can. I can fit two beer butt birds on the grill, maybe three if I squeeze them in there. What can I say? I like to live dangerously.
And? I told you I like saying "butt". I'm really going to miss my butt roasts. giggle.
Then there's the Korean Barbecue insert. It's styled after the domed charcoal braziers used at Korean barbecue restaurants, where diners cook thin slices of meat at the table. This one fits in the the middle of the Gourmet BBQ system grill grate. Do I need this for Korean barbecue? No, of course not; I can grill it on the regular grate. But it is intriguing enough to be on my wish list.
[Source: Weber.com]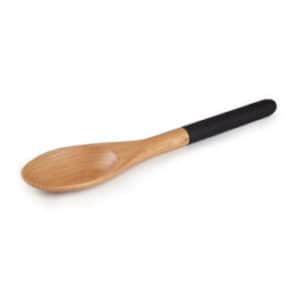 4. The iSpoon
Speaking of silly...
I use my iPad all the time in the kitchen, to check recipes and play some tunes while I cook. Someone had the bright idea of replacing the handle of a wooden spoon with a tablet stylus. When I first saw this, I laughed. Would I buy one? Of course not.
And yet...and yet...every time I have to clean my hands to swipe the iPad, I think about it. If they made it with a flat edge, I'd be in trouble...
[h/t Charlie Sorrel, CultOfMac.com]
5. It's Hard out there for an Individual Blogger
I still have to accept a fundamental truth: my traffic stats and my ability to reach new readers is increasingly out of my hands.
[Dan Koontz, The Current State of Individual Blogging, CasualKitchen.blogspot.com]
Preach it, brother! Sometimes, writing a one person blog feels like the scene in Van Halen's Right Now video - "Right now, forces are aligning against you."
So, what have you found recently? Share your food finds in the comments, below.
Enjoyed this post? Want to help out DadCooksDinner? Subscribe to DadCooksDinner using the RSS or Email options on the right, link to this post from your blog, recommend DadCooksDinner to your friends, or buy something from Amazon.com
through the links on this site. Thank you.