What did I do last week, with temperatures in the single digits? I huddled under a blanket and did some food reading. Here's what I found:
Consider the Fork by Bee Wilson
This history of cooking tools is a delight. Bee talks about the evolution of kitchen technology, from pots and pans to stoves and heat management. I enjoyed the difference between fork and chopstick cultures, and how it affects the rest of their cooking tools. The section on Britain's history of spit roasting - my favorite cooking method - has changed my culinary travel plans. Now I need to visit England for Ivan Day's traditional spit roasting classes.
Weber Grills - 2013 Sneak Peek [2013sneakpeek.weber.com]
Weber updated the my charcoal grill, the Performer. The Performer Silver, with a fold-down side table, looks like a great idea for a smaller space. I'm lusting after the Performer Platinum in brick red, but my (blue) Performer is still chugging along. And I like that they re-released the Jumbo Joe kettle, with an 18 ½ inch diameter grate. It's portable…if you've got strong arms.
Michael Ruhlman - Schmaltz iPad app
It's an iPad cookbook app, entirely about chicken fat, from Michael Ruhlman. And the chicken liver pâté recipe is amazing.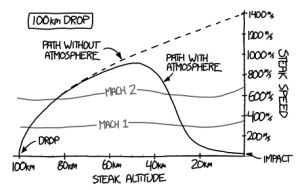 [Pic via what-if.xkcd.com]
XKCD What If? - Steak Drop
Randall Munroe branched out from his gloriously geeky comic, XKCD, into a weekly, longer Q&A about strange science questions at what-if.xkcd.com. He finally did one about cooking, so I have an excuse to share it here. The "What If?" question: If you drop a steak from outer space, does the heat of re-entry cook it before it hits the ground?
Laura at HipPressureCooking.com made this cute infographic about the basics of pressure cooking. I had to share.
What do you think? Questions? Other fun finds you want to share? Leave them in the comments section below.
*Enjoyed this post? Want to help out DadCooksDinner? Subscribe to DadCooksDinner using the RSS or Email options on the right, link to this post from your blog, recommend DadCooksDinner to your friends, or buy something from Amazon.com
through the links on this site. Thank you.