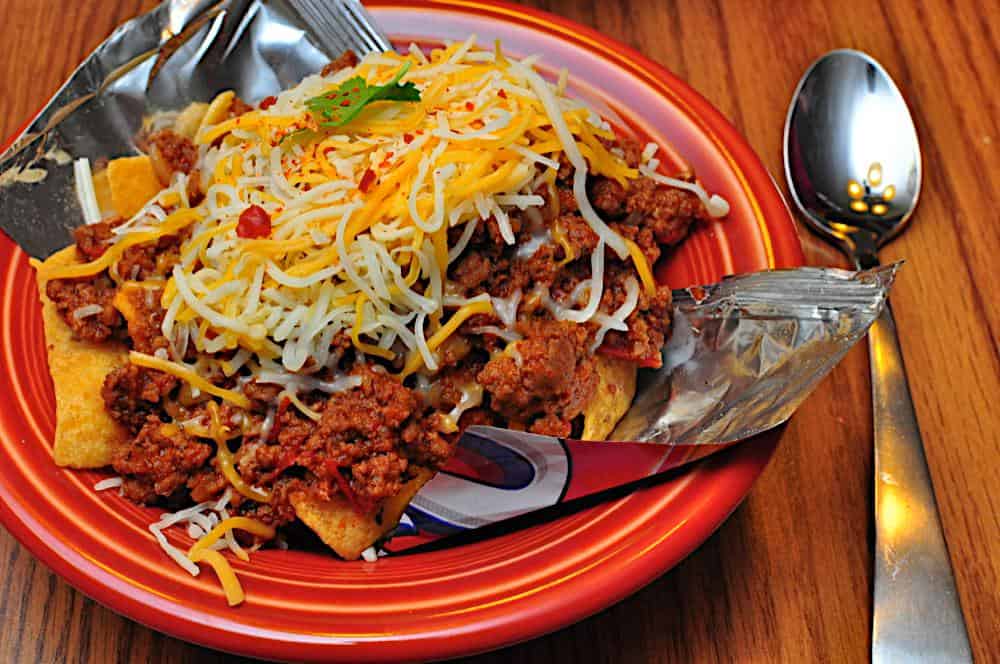 It's time for my Super Bowl chili recipe. This year I'm serving a Texas standard: Frito pie.
Frito pie is traditionally made by ripping open a bag of Fritos, topping them with chili, and covering with Velveeta. It is against everything I believe as a locavore...but if Frito pie is wrong, I don't want to be right. The crunchy chips, gooey cheese, and beefy chili make for a killer combination.
And by killer, I'm talking both amazing taste, and cardiac arrest. Don't make this a regular in your meal plan, OK? Serve it with some vegetables at least. And would it kill you to tuck in your shirt and stand up straight? Um...ahem...sorry, got stuck in Nagging Dad mode there.
Robb Walsh's fancy Frito Pie with Venison Chili was my target - it is clearly Frito pie, but it has enough real ingredients in it to get over my "eat local" objections. Instead of venison, though, I used buffalo. When I was in my fanatic weight loss mode, I would always substitute buffalo for beef. Buffalo is very lean, and tastes just like beef, only more so.*
*I'm sorry if that doesn't make sense. It's just...beefier. It makes me think of grass fed beef. Try some; you'll see what I mean.
**I buy my buffalo it from Red Run Bison Farm; they sell Buffalo at my local farmers market and supply my local health food store.
I tried a new chili technique in this recipe: I replaced chili powder with a paste made from dried chiles, as suggested by both Robb and Kenji Alt. I followed Kenji's suggested combo of fruity (California), hot (arbol), and earthy (pasilla) chiles. Then I ignored his misguided hostility to smoky flavors in chile, and added a dried chipotle chile as well. Kenji, I love your writing, and you are a great source for ideas...but I can't make chili without adding chipotle.
*If the dried chile paste sounds like too much work, take the easy way out and use chili powder -see the variations section.
Recipe: Frito Pie with Buffalo Chili

Adapted From: Robb Walsh Frito Pie with Venison Chili
Equipment:
Blender or food processor (I used my blender; it results in a smoother chili paste.)
Ingredients:
2 dried California chiles (aka New Mexico or Anahiem), stemmed and seeded
1 dried chipotle chile, stemmed and seeded (or substitute 2 teaspoons chipotle en adobo puree)
1 dried arbol chile (add a couple more if you like it hot), stemmed and seeded
2 dried pasilla chiles (or substitute dried ancho chiles), stemmed and seeded
2 tablespoon vegetable oil
2 cups water
1 large onion, diced
½ teaspoon Kosher salt
4 cloves garlic, minced or pressed through a garlic press
2 tablespoons tomato paste
1 tablespoon ground cumin
1 tablespoon ground coriander
1 tablespoon Mexican oregano
4 pounds ground buffalo (or substitute lean ground beef)
2 teaspoons kosher salt
2 tablespoons brown sugar
2 tablespoons cider vinegar
salt and pepper to taste
For serving:
Fritos (or tortilla chips)
Shredded cheese (or, to be authentic...Velveeta. Ugh.)
4 cups cooked red kidney beans or pinto beans (optional)
Hot sauce
Directions:
1. Toast and blend the chiles: Remove the stems from the chiles, split them open, and remove as much of the seeds as you can. If the chiles are dusty, rinse them off. Heat the oil over medium heat in a large dutch oven until the oil is shimmering. Add the chiles and toast until slightly puffed and a little lightened in color, flipping once, about 30 seconds to 1 minute. Remove the chiles to the blender with a slotted spoon. (Start the next step by adding the onions to the pot now, to keep the oil from burning.) Add the water to the blender, and blend for 1 minute, until the chiles are a smooth puree.
| | |
| --- | --- |
| L to R: California, Chipotle, Arbol, Pasilla | Trimming the stem |
| Just starting to puff up | Blender with messy kitchen |
2. Saute the aromatics, buffalo, and chili paste: Add the onions to the pot, sprinkle with ½ teaspoon kosher salt. Saute for 3 minutes, until just softened. Make a hole in the onions and add the garlic, tomato paste, cumin, coriander, and oregano. Toast for 1 minute, or until you can smell the garlic cooking, then stir into the onions. Add the buffalo and sprinkle with 2 teaspoons kosher salt. Increase the heat to high and cook, stirring and breaking up the buffalo, for 5 minutes, or until the buffalo just loses its pink color. Pour in the chile puree and return to a boil. Stir in the crushed tomatoes and bring to a boil again.
| | |
| --- | --- |
| Toasting the spices | Adding the buffalo |
| Still some pink - keep cooking | Adding the chile paste |
3. Cook the chili:Reduce the heat, partially cover the chili, and simmer the chili for at least a half an hour; 1 to 2 hours would be better. Stir and scrape the bottom of the pan occasionally while the chili is simmering. (Or, to skip the stirring, simmer the chili by baking in a 325F oven with the lid on the pot.)
4. Adjust seasonings and serve: Stir in the brown sugar and cider vinegar, then add salt and pepper to taste. (If you can, refrigerate the chili for a day or two, then reheat before serving.) To serve, put a layer of Fritos on the bottom of a bowl, top with a good ladle of chili, a ladle of the (optional) beans, then sprinkle with cheese and hot sauce.
Variations:
Chili powder: Not up for making a chile puree? Skip step 1, and substitute ½ cup chili powder blend. Add it with the other spices in the "toast the spices" step.
Fresh toasted cumin and coriander: A question I asked myself halfway through making this recipe - why go through the effort of making the chili puree, but use ground coriander and cumin? If you want to go all out, use 1 tablespoon each of whole cumin and coriander, and toast it over medium heat until just fragrant. Move to the blender, then continue with step 1 and add the oil to toast the chiles.
Notes:
I may look down my nose at Velveeta, but my kids are fanatics for pre-shredded "Mexican" cheese. I know, I know, I don't have a lot of room to knock Velveeta when that's what I use in its place. If you don't have to deal with picky kids, Robb's goat cheese topping is a great idea; if that sounds like too much, use freshly shredded cheddar.
Was the chili puree worth the extra work? It definitely has a smoother taste; I'll use it again. I think I need to tweak the flavor profile a little more. (For me, that means more chipotle and pasilla chiles, I think.) But it wasn't such an improvement that I'm throwing out my large jar of Penzey's Medium-Hot Chili powder.
Oh, and since this post is littered with a lot of brand names...No, this post wasn't sponsored by Frito-Lay, the Velveeta people, or the Texas board of tourism. That's right, you're not from Texas
...
What do you think? Questions? Other ideas? Leave them in the comments section below.
Related Posts:
Texas Red Chili (My other Super Bowl standby. My mom doesn't like beans.)
Ranch Hand Chili
Pressure Cooker Turkey and Bean Chili
Adapted from:
Adapted From: Robb Walsh Frito Pie with Venison Chili
Robb Walsh: The Tex-Mex Cookbook
*Enjoyed this post? Want to help out DadCooksDinner? Subscribe using your RSS reader or by Email, recommend DadCooksDinner to your friends, or buy something from Amazon.com through the links on this site. Thank you!