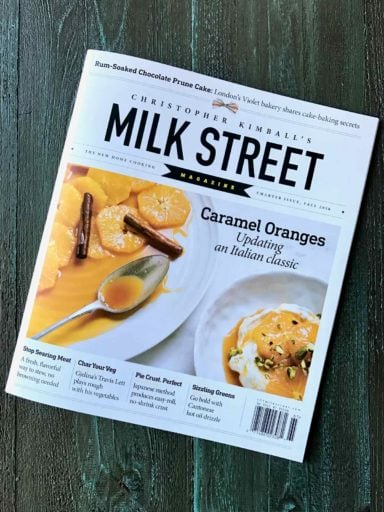 Cousin's wedding last weekend, kids events every night this week, business trip next week…it has been a struggle to keep the blog moving forward. In other words, it's time to share some fun food finds to entertain you until I can get back to a regular schedule.
Christopher Kimball is back
Milk Street Charter Sign-up Form [177MilkStreet.com]
I picked the charter issue of Milk Street magazine today on my way home from work. I can't wait to check out Christopher Kimball's comeback after he was pushed out of Cooks Illustrated. And, no, I'm not just getting it for The Drama - Mr. Kimball knows home cooks, and I want to see what he has planned for his new venture.
ThermoPop sale
ThermoPop-A-Looza Sale! [Thermoworks.com]
Sorry about all the Thermoworks love recently - I am an affiliate, and I'm also a big fan. Their high end, high cost Thermapen is my go-to thermometer. If you want to find out why I'm such a Thermoworks enthusiast, but don't want to spend too much money, get a ThermoPop. I keep a ThermoPop in my kitchen go bag…or at least, I did, until I left it behind somewhere. (That's why the ThermoPop is in my go bag, and not the expensive Thermapen.) The redesigned ThermoPop is on sale for $24 for a limited time.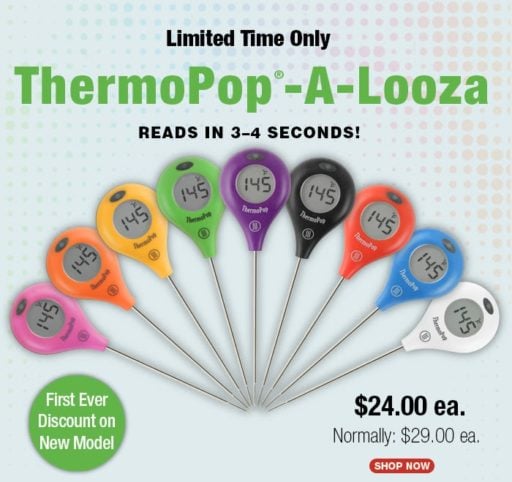 The Food Lab on pressure cooking
Pressure Cooker Split Pea Soup [SeriousEats.com]
Another genius idea from Kenji Alt - intentionally quick releasing the pressure on split pea soup. The vigorous boil you get with a quick release purees the peas for you.
Easy Modernist Foam
Chicken Piccata With Lemon Caper Air Recipe [AmazingFoodMadeEasy.com]
My friend Jason over at Amazing Food Made Easy has a great technique for lemon caper foam in this post - no whipping siphon necessary. (You do need Soy Lechithin, though, to hold the foam together.)
Did it have to be deep fried?
Crispy Pressure Braised Pork [ChefSteps.com]
The one recipe step that makes me back away from the cookbook and say "Nope, nope, nope"? Deep frying. Then the mad culinary scientists at ChefSteps combine pressure cooker braised pork with deep frying to get crisp-tender carnitas…and suddenly I'm thinking about buying a big jug of peanut oil.
And a nightcap
Michelada [MexicoCooks.typepad.com]
Want the real Mexican cocktail? Try a Michelada - kind of like a beer bloody mary, with a distinctly Mexican twist. Trust me, it tastes better than it sounds.
What do you think?
Questions? Other ideas? Leave them in the comments section below.
Enjoyed this post? Want to help out DadCooksDinner? Subscribe to DadCooksDinner via eMail or RSS reader, recommend DadCooksDinner to your friends, and buy something from Amazon.com through the links on this site. Thank you.