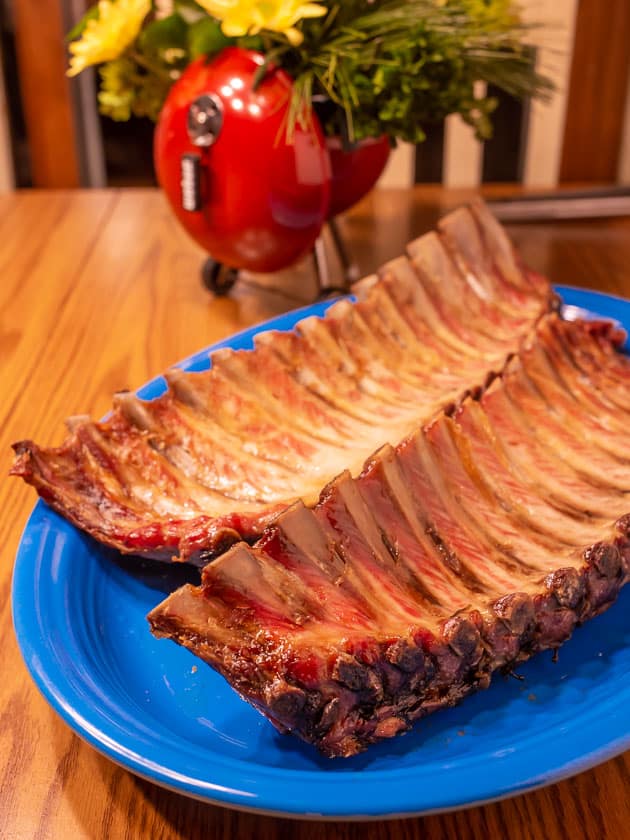 Gas grilled baby back ribs are not the same as low-and-slow barbecue. I have to confess that up front.
But when life gets in the way…like, say, forgetting that you have an appointment at 4PM and people coming over for a party at 6PM…you make do. Gas grilled baby back ribs are easy, fall off the bone tender, and have a big pork flavor. Set your burners to hold the temp at 275°F, and you're good until the gas runs out. (I have a natural gas line run to my grill - if the gas runs out, we've hit peak oil.)
I brined the ribs like a roast, adding garlic and two of the "song herbs" to the brine: sage and rosemary. Now, I know, I know: brining doesn't work with flavors - they can't penetrate into the meat. That's OK. I'm using them to season the outside of the ribs, while the salt penetrates for thorough seasoning.
Parsley, Sage, Rosemary, and…I was out of thyme. Bwahahahah! Ahem. Sorry.
Three hours on the grill at indirect low heat (while I ran off to my appointment); another hour wrapped in foil to tenderize. The result: ribs that pull apart with a gentle tug, and a successful party.
Print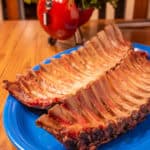 Gas Grilled Baby Back Ribs, Brined With Garlic, Sage and Rosemary Rub
---
Author:

Mike Vrobel

Total Time:

8 hours

Yield:

6

servings

1

x
Description
Gas grilled baby back ribs, wet brined with herbs. Looking for something different? Instead of barbecue flavors, try this rack of baby backs with Mediterranean herbs.
---
Brine
1 quart

 of water (to heat)

¾ cup

fine sea salt (or

1 cup

kosher salt, or

½ cup

table salt)

¼ cup

Brown Sugar

6

cloves garlic, crushed

1

bunch fresh sage leaves

1

sprig rosemary

2 quarts

ice water (

2 quarts

of ice, covered with water) to cool down
---
Instructions
Brine the ribs: On the bony

 side of the rib rack, work a butter knife between the membrane and the bone, then grab with a paper towel and pull the membrane off of the ribs. (If it tears while you're pulling, work the knife under the remaining pieces and pull them off as well.)  In a medium pot over medium heat, simmer the quart of water, salt, brown sugar, garlic, sage, and rosemary, stirring often, until the salt and sugar dissolve and you smell the garlic and herbs, about 10 minutes. Put the 2 quarts of ice water in a container large enough to fit the ribs and brine, pour in the hot brine, stir, and then add the ribs. Cover the container and refrigerate for at least 1 hour, preferably 4 to 8 hours.

Set the grill up for indirect low heat (275°F): Set up your grill for indirect low heat, somewhere between 250°F to 300°F. I preheat my Weber Summit with all burners on high for 10 minutes

and then brush the grill grate clean. For a steady 275°F temperature, I leave the outside burners  (#1 and #6) on medium and turn off all the burners between them.

Cook the ribs: Put the baby back ribs on the grate over indirect heat, as far away from the lit burners as you can get them. (A rib rack makes it easy to work with the ribs on a grill.) Close the lid and cook until the ribs are tender and the meat has pulled down ½ an inch from the end of the bones, about 3 hours. Wrap each rack of ribs in its own sheet of heavy-duty aluminum foil, then cook for another hour with the lid closed.
Rest and serve: Remove the foil-wrapped ribs from the grill and let them rest for 10 minutes to cool down. Unwrap the foil, serve, and enjoy!.
Notes
Charcoal grill? Use the cooking instructions in my Grill Smoked Baby Back Ribs recipe.
Whole racks of ribs are large - if your grill is too small, cut the racks in half and/or use a rib rack to stand them up, and keep them away from the direct heat.
You really, really want to smoke ribs on a gas grill? OK, I won't deny you. Soak a cup of wood chips for an hour, drain them, then put them in your smoker burner (or wrap them in a foil envelope, poke a couple of holes, and set the envelope under the grill grate, on the burner cover directly over a lit burner.)
Tools
Grill (I love my massive Weber Summit, particularly when I need space for ribs.)
Prep Time:

4 hours

Cook Time:

4 hours

Category:

Sunday Dinner

Method:

Grilling

Cuisine:

Mediterranean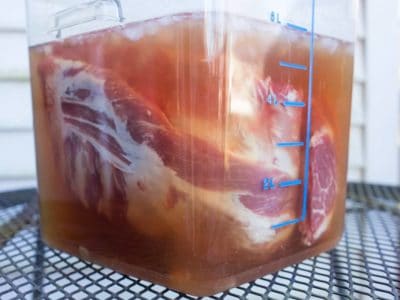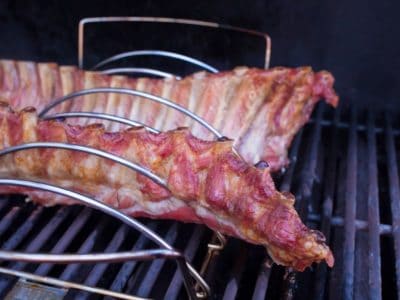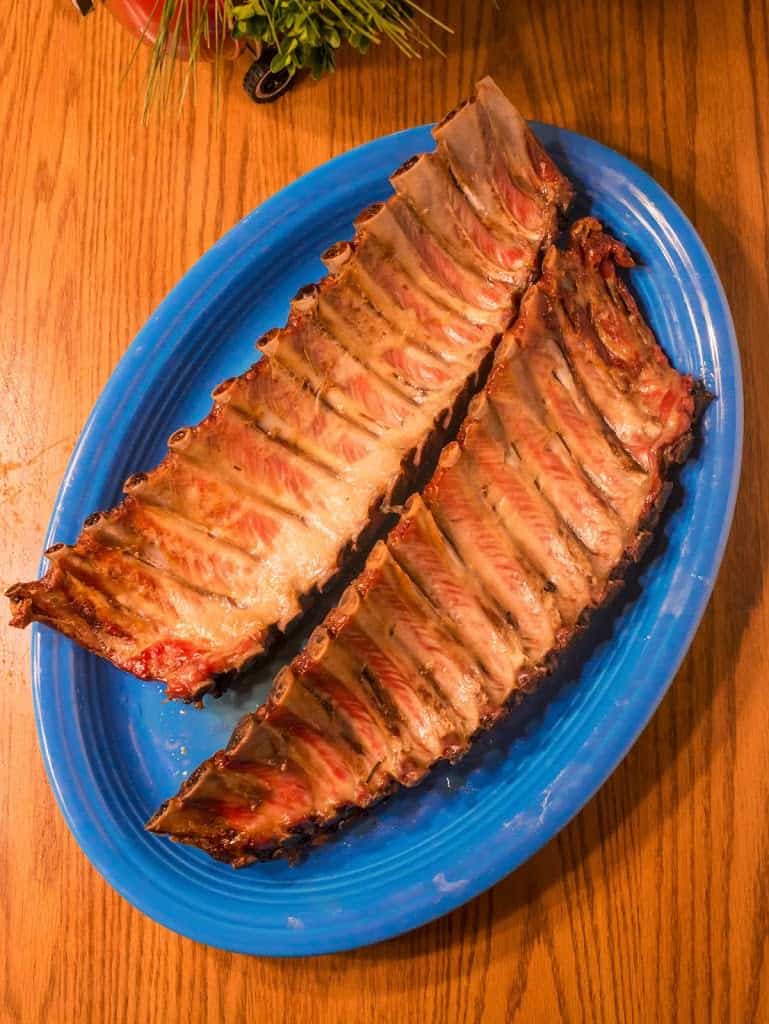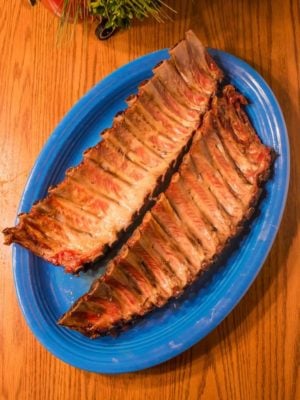 What do you think?
Questions? Other ideas? Leave them in the comments section below.
Related Posts
Grill Smoked Baby Back Ribs
BBQ Beef Short Ribs on a Kettle Grill
Grill Smoked Pork Western Ribs
Enjoyed this post? Want to help out DadCooksDinner? Subscribe to DadCooksDinner via eMail or RSS reader, recommend DadCooksDinner to your friends, and buy something from Amazon.com through the links on this site. Thank you.