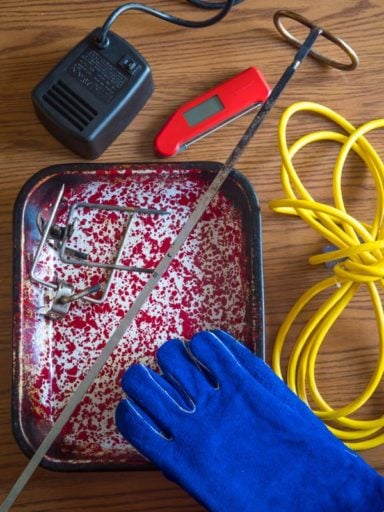 ---
FCC notice: The links in this post are affiliate links. If you click on the link to Amazon.com and buy something before you close the browswer window, I get a small commission from the sale, and you support DadCooksDinner. Even better - you don't spend any extra; the prices are the same on Amazon either way. Thank you for supporting DadCooksDinner!
---
So…had enough gift guides yet? I planned mine a few weeks ago, scheduled it for today…and then every website IN THE WORLD sent theirs out over the last week. 1Why? Because, December is a huge month for Amazon purchases, and everyone wants in on holiday shopping. I may have a conflict of interest here, but: buy your Christmas/Hanukkah/Kwanza/Life Day presents on Amazon through the affiliate links on your favorite blog. It is a great way to support writing on the internet with purchases you would already make. And, hey, it doesn't have to be DadCooksDinner. I won't hold it against you. If you've seen too many gift guides already, I apologize.
I went a little crazy with my gift guide this year. I started picking out ideas for different kinds of cooks…and got a roll. By the time I was done, I had enough guides for a week of posts. But, then came the flood of gift guides, so I decided to just do one and get it over with. Thank you for your patience. (Have I apologized enough yet? I know, I know…get on with it.) OK, here we go:
[Update: If you are an email or RSS subscriber, the Amazon widget showing my picks might not be visible. To view this post on the blog, and see all my wonderful selections, click on the title at the top of this page (or this link right here) to go to my website. Sorry about that...]
Kitchen Basics
My list of essential Kitchen tools. (You may have a different list, but these are my essentials.) This list is for someone who is getting better at cooking, and has outgrown their current kitchen tools. Like, say, that cheap knife block or set of flimsy pots and pans we got at our wedding…because we asked for them in our wedding registry. (At the time, I didn't know I would become a cooking fanatic a few years down the line.) I lived with those pieces of junk for years, and was amazed when I upgraded to a good chef's knife and quality pans. Now, a good cook is a good cook, and can adapt to any tools…but it sure is easier when you don't have to fight your equipment to get dinner on the table.
Essential Gadgets
These are the kitchen widgets I reach for every day. Perfect for the cook who has everything…almost.


Pressure Cooker
Are you one of the hundreds of thousands of new Instant Pot owners from Black Friday? (Or Cyber Monday? Or last summer's Prime Day?)2I know it's wrong, but I love Prime Day. A holiday, devoted entirely to shopping, in the middle of July? Sure, why not. It's the spirit of Prime Day! Looking for the essential accessories for your new toy? Here are my favorites. (And, if you don't have a pressure cooker yet...wow, you are patient with me. I've been on such a pressure cooking roll recently...maybe you should get one? I love mine...)
Sous Vide
My new favorite cooking technique is Sous Vide, especially when I need a steak, medium-rare plus. (Which happens fairly often - I love my steaks.) The Joule is my new favorite Sous Vide circulator - I love the sleek shape - but if you don't want to use your phone to set the temperature, go with the Anova, which is almost as good, and has physical controls on the unit to set the temperature.
Grilling
My essentials for being a backyard hero.
Rotisserie
Want to move from backyard hero to legend? Then you want these rotisserie tools. (Or, ahem, maybe a copy of one of my Rotisserie Grilling cookbooks?)


And that's it. Phew. Did I miss anything? After all those lists, I'm sure I didn't - but, still, there will be something that makes me slap my forehead and say "Oh! I can't believe I forgot that one!"
Happy Holidays, everyone, no matter what holiday you celebrate!