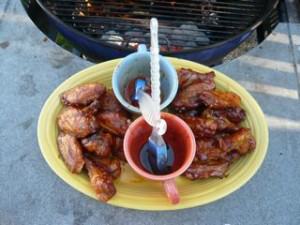 Here's my recipe for grill-roasted chicken wings.  It's healthier than deep-fried*, and I think the crispy/smoky taste of these wings is better than deep fried.  Diane is a chicken wing fiend.  Whenever I roast a chicken, she goes straight for the wings.  Needless to say, she gets excited when she finds out this recipe is on our menu.
*
I said heathier, not healthy.  I think the reason chicken wings are so good is that they're all skin, and there's nothing that tastes better than crispy chicken skin.


Recipe: Grill Roasted Chicken Wings, Buffalo Style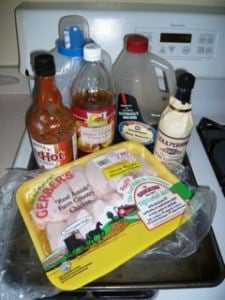 3 lbs chicken wings
1 fist-sized chunk of hickory, soaked for 1 hour (or 1 cup hickory chips, soaked for ½ hour and drained)
Marinade:
½ cup Frank's Red Hot
¼ cup soy sauce
¼ cup vegetable oil
2 tablespoon worcestershire sauce
juice of ½ lemon (I substituted 1 tablespoon cider vinegar)
Hot Wing Sauce:
½ cup Frank's Red Hot
¼ cup melted butter
Directions:


1. Prepare the wings: Separate the wings into "drumette" and "wing" and "wingtip" sections by cutting through the joints of the wing .  Throw away the wingtip (or save them in a bag in your freezer for when you make chicken stock).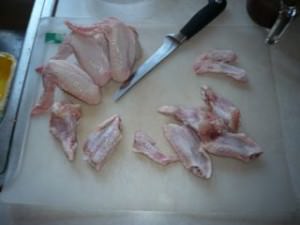 Sectioning the wings
2. Marinate the wings: Mix the ingredients for the marinade in a bowl, then add the wings.  Marinate, refrigerated for up to 4 hours, stirring occasionally.  (Now is a good time to start soaking your wood chunk.)

3. Prepare the grill: Prepare your grill for cooking on indirect high heat. For my Weber kettle, I light a chimney starter* full of charcoal, wait for it to be covered with ash, then pour it in two equal piles on the sides of the grill, and put the drip pan in the middle, between the piles.  Put your wood chunk/chips on the coals, then put the grate on the grill.  Cover the grill, and wait five minutes for the wood chunk to start smoking.  Brush the grill grate to clean, then you're ready to cook.
*I highly recommend the Weber Chimney Starter
, because it is larger than most chimney starters. It holds 5 quarts of charcoal, which exactly the right size for cooking this recipe.
4. Cook the wings: Put the chicken wings on the grate, over the foil pan.  Put the cover on the grill and cook for 20 minutes.  Turn the wings over, re-cover the grill, and cook for another 10 to 20 minutes, or until the skin is nice and crispy.  While the wings are cooking, prepare your hot sauce - whisk the hot sauce and melted butter together.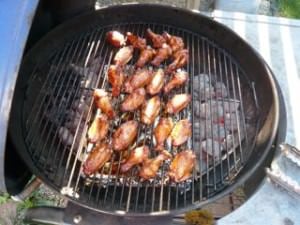 5. Glaze the wings: Brush the wings with your sauce, remove to a platter, and serve.
Variations:
*Replace the hot wing sauce with:
Teriyaki sauce recipe
Ingredients:
½ cup sugar
½ cup soy sauce
¼ cup mirin
Directions: Simmer in a small saucepan (or in a pot on the grill) until the sugar melts.
Notes:
*I usually make a couple of different types of wings by using different sauces.  My favorite is the hot wing sauce, above, but that's too much for the kids, so I usually brush half the batch with barbecue sauce.  Or, I make some quick Teriyaki sauce (½ cup sugar, ½ cup soy sauce, ¼ cup mirin, simmered in a small saucepan until the sugar melts).
*Frank's Red Hot is the key to good chicken wing sauce - it's got the right balance of pepper taste and heat.  I love Tabasco sauce, but it is way to hot for this recipe.
*To vary the heat of the "hot sauce", vary the proportion of butter to Frank's red hot:
Super-hot: All Frank's
Hot: ½ cup Frank's, ¼ cup melted butter
Medium: ½ cup Frank's, ½ cup melted butter
Mild: ¼ cup Frank's, ½ cup melted butter
*I mention hickory because I usually have it available, and it's easy to find.  I have also had good results with apple wood, cherry wood, and even oak
wine barrel staves
.  I wouldn't use mesquite - it has a very distinctive taste that I don't think goes well with this recipe.
*Any recipe involving smoking wood works better on a charcoal grill - if you've got one, this is the time to use it.  Unfortunately, you can't make more than about 3-4 pounds of chicken wings  on a
weber kettle
- you need to leave a little space between the wings to help them crisp up.  Don't worry if they're just barely touching when they start - they'll shrink a little - but don't pile them on top of each other.
(3 lbs of wings came to 24 pieces, once sectioned)
*That being said, this recipe works fine without the smoking wood, and when I've wanted to cook a lot of wings, I've used my super-huge gas grill to get the necessary space...