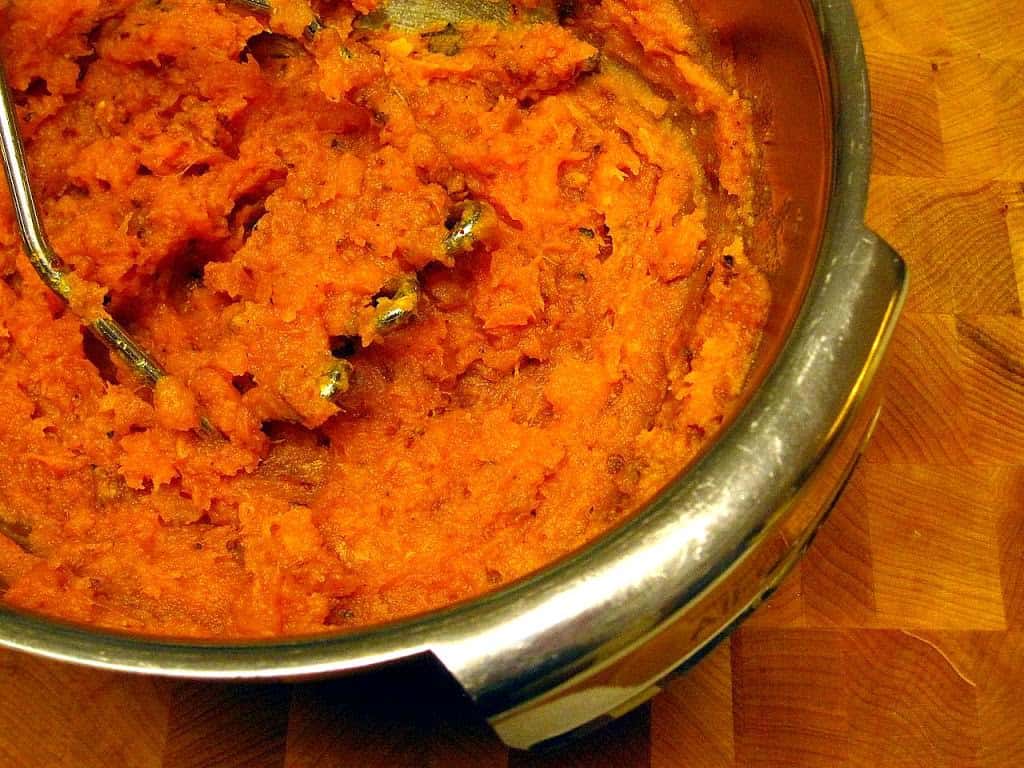 Sweet potatoes have a particular affinity for the grill. The long, hot cooking caramelizes the sweet potatoes, and they get a touch of smoky flavor as well. They make a great mashed sweet potato.
I like to play on the smoky taste by adding a little chipotle puree.* Also, I love the touch of heat chipotle brings to the dish - it goes really well with the sweet flavor of the potato and brown sugar.
*I learned this trick from Alton Brown.
Grilled mashed sweet potatoes are a great side dish. If you're going to have the grill going for an hour to cook a roast, why not throw some sweet potatoes on there while you're at it?
Recipe: Grilled Mashed Sweet Potatoes

Cook time: 60 minutes
Equipment:
Ingredients:
2 large sweet potatoes
1 tablespoon brown sugar
1 tablespoon butter
1 teaspoon pureed chipotle pepper (optional)
Salt and Pepper
Directions:
1. Prepare the Sweet Potatoes: Rinse off the sweet potatoes, and poke them with a fork a few times.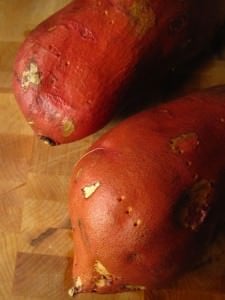 2. Prepare the grill: Set your grill up for indirect cooking at medium to high heat. For my Weber Summit, this means turning the two outer burners (burners 1 and 6) to high, and leaving the middle burners unlit.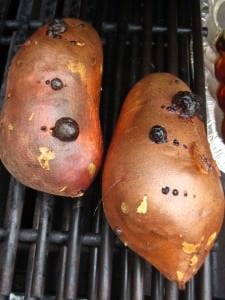 Bubbles of sweet pototo carmelizing on the outside are a good sign that they're done


3. Cook the Sweet Potatoes: Put the sweet potatoes over the unlit burners (indirect heat) and cook with the lid closed for 45 minutes to 1 hour, depending on the thickness of your sweet potato. They're done when they can be pierced easily with a paring knife.
*They're almost impossible to overcook. When in doubt, cook them longer. You want absolutely no resistance when you poke the sweet potato - the knife should glide right through.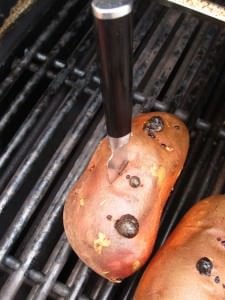 4. Mash the Sweet Potatoes: Remove the sweet potatoes from the grill, and let rest for 5-10 minutes to cool. Cut in half, and remove the skin. (This works best for me if I put them cut side down on a plate and squeeze the skin off; it lifts right off the potato.) Put the potatoes in a bowl, add the sugar, butter and optional chipotle pepper. Mash and stir until thoroughly combined. Add salt and pepper to taste.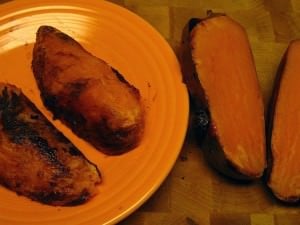 Variations:
*Maple syrup: substitute 2 tablespoon maple syrup for the brown sugar.
*Cinnamon: Add ½ teaspoon of cinnamon with the brown sugar, butter and chipotle.
*Marshmallows: Don't do it!
*OK, if you insist, top with some mini-marshmallows…
*Over direct heat: If you don't have room for indirect heat, you can cook the potatoes directly over the flame. Cook them over medium heat, rotating a quarter turn every 15 minutes, and expect some of the outside of the potato to be burnt. When you're mashing them, just scoop the unburnt middle of the potato out.
*Steven Raichlen has an extreme version of this. Forget indirect grilling. Forget direct grilling, even. He cooks his sweet potatoes in the coals of a charcoal fire.
Notes:
*This is one of my favorite Thanksgiving side dishes. I'll make a double or triple batch earlier in the day, and reheat them for Thanksgiving dinner. I put them in a oven-safe baking dish, cover with foil, and reheat at 350*F for about 30 minutes, or until warm in the center.
*If you like smooth sweet potatoes, puree them in a food processor instead of mashing. I like them a bit more rustic, so I go with the potato masher. Unlike regular potatoes, sweet potatoes can be pureed in a food processor - you get a smooth puree, not a gluey, gummy mess.
*Sweet potatoes are almost impossible to overcook; they just get sweeter. A little blackened outside, like you see in my pictures, is just good flavor - it gives the mashed sweet potatoes a smoky taste. If you do manage to burn the outside, scoop the un-burnt section out of the middle of the potato.
Questions? Comments? Other ideas? Leave them in the comments section below.
Related Posts:
Grilled Asparagus
Grilled Fennel
Grilled Beets
Inspired by:
Jaime Purviance - Mashed Sweet Potatoes with Grilled Onions - Weber's Big Book of Grilling
*Enjoyed this post? Want to help out DadCooksDinner? Subscribe to DadCooksDinner using the RSS or Email options on the right, link to this post from your blog, recommend DadCooksDinner to your friends, or buy something from Amazon.com
through the links on this site. Thank you!