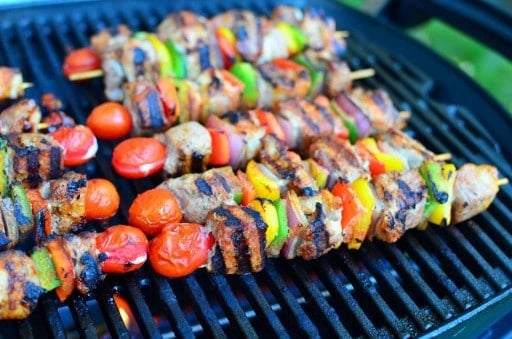 ---
This post is sponsored by the National Pork Board as part of the Tailgating with Pork and Kroger Program. Score big at your next tailgate party with Kroger - from tailgating to backyard BBQs, game day gatherings with friends and family can be simply delicious with juicy, tender and versatile pork - the MVP of championship-worthy spreads this fall season.
---
I'm an enthusiastic tailgater, but I'm not a tailgating expert. I've seen the experts. Recreation vehicles, wrapped with photos of hall of famers. Pop up tents in team colors, banners flapping in the wind. Fold out kitchens, covered with football themed snacks.
I'm a little more low key than that. But that doesn't mean we don't have a good time. We show up about four hours before gametime, pop up our tent, grill our lunch, toss a football around, relax with some beverages, catch some of the early game on a portable TV, then head over to the stadium for football.
Now, I may not be a tailgating expert, but I have learned a few things over the years.
Protect the food…and the drinks
No matter how secure it looks, a package of plastic wrapped meat is not waterproof. Make sure the food is in sealed zip top bags or waterproof food storage containers, especially if your drinks are going in the same cooler. You don't want waterlogged food and drinks soaking in meat juices. If you're using kebab skewers (like I am in the recipe below), use a hard-sided food storage container or double up on the zip-top bags to prevent holes.
Food you can eat with one hand
There's no such thing as sitting down at the table for a tailgate. If the food needs a knife, or even a fork, is it really worth the effort? Something you can eat with one hand is perfect. That's why I have a kebab recipe down below - you can grab the skewer and start eating.
Essential supplies
Beyond the usual list of supplies, I always make sure I bring: * Paper towels - easier to deal with than napkins, especially on a windy day * Antibacterial Wipes - as close to sanitation as I can get in the parking lot * Roll of heavy duty aluminum foil - the duct tape of cooking, aluminum foil has (lots of uses) * Salt - there's nothing worse than getting to the stadium and finding out you're having unseasoned food * Extra beer and water - unless I buy twice as much as I think I need, I run out of both
Leave enough time
You don't want to rush through the day; this is supposed to be relaxing. Arrive early, and start cleaning up a half hour before you think you need to. It's no fun throwing everything back in the van with kickoff coming closer and closer; better to be ready to go, and have time for one more beverage.
Tailgate after the game, too
Why get caught in the rush for the exits? While everyone else snarls themselves in a traffic jam, fire up the grill again. Have dinner, and enjoy another beverage. (If you're the driver, make that beverage a water, please.)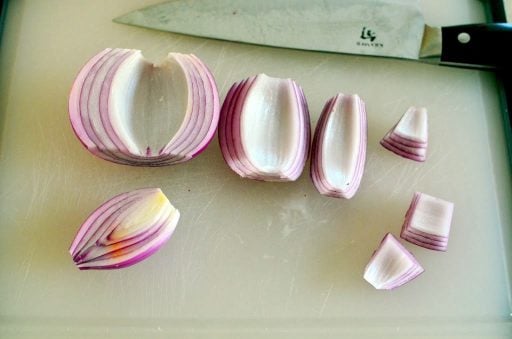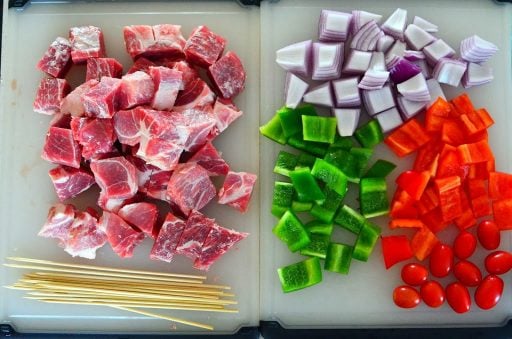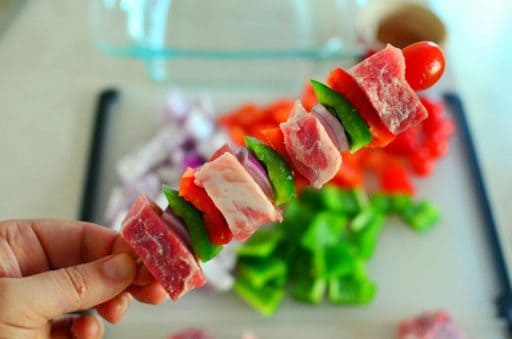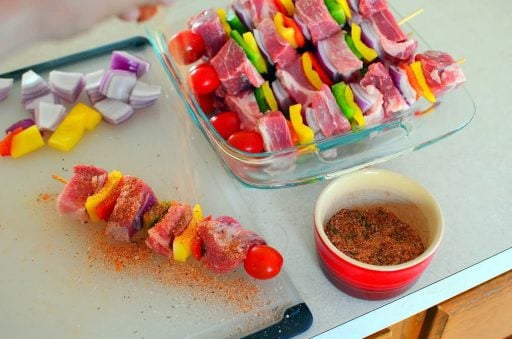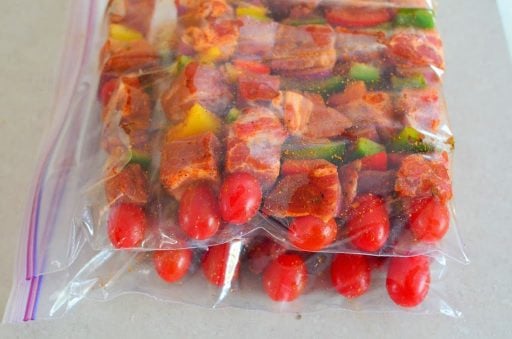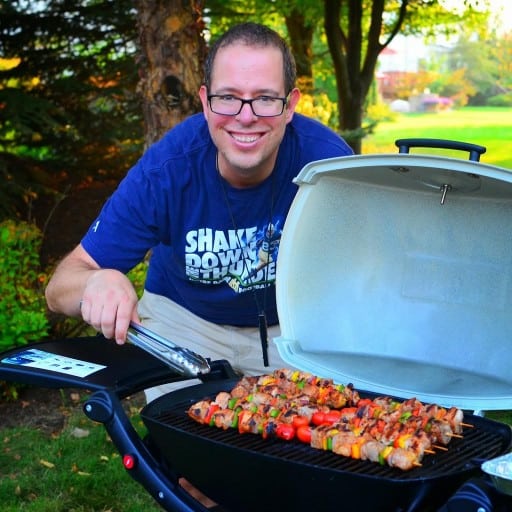 Recipe: Grilled Pork Shoulder Kebabs with Peppers, Onions, and Spice Rub
Cooking time: 16 minutes
Makes about 12 skewers
Equipment
Print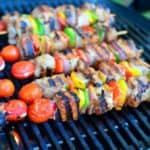 Grilled Pork Shoulder Kebabs with Peppers, Onions, and Spice Rub (with Tailgating Tips)
---
Total Time:

1 hour 36 minutes

Yield:

12

skewers

1

x
Description
Grilled Pork Shoulder Kebabs with Peppers, Onions, and Spice Rub recipe. With bonus Tailgating Tips!
---
3

pounds boneless pork shoulder, cut into 1 ½ inch cubes

1

red bell pepper, cored and seeded, cut into

1

inch pieces

1

green bell pepper, cored and seeded, cut into

1

inch pieces

1

yellow bell pepper, cored and seeded, cut into

1

inch pieces

1

large red onion, peeled and trimmed, core discarded, cut into

1

inch pieces

1 pint

cherry tomatoes
Spice rub
1 tablespoon

kosher salt

1 tablespoon

paprika

1 teaspoon

garlic powder

1 teaspoon

onion powder

½ teaspoon

dried thyme

½ teaspoon

fresh ground black pepper
---
Instructions
Prep the pork, veggies, and spice rub: Mix the spice rub ingredients in a small bowl. Cut the pork into 1 ½ inch cubes. Core and seed the peppers and cut into 1 inch pieces. Trim the onion, peel off the skin, cut the onion in half, and discard the inner core, leaving yourself the outer four layers of the onion. Cut onion into 1 inch pieces, then break each piece in two - each piece of onion should be two layers deep.
Skewer the kebabs: Skewer the kebabs in the following pattern: one piece of pork, one piece onion, two pieces of peppers of different colors. Repeat until you are at the end of a skewer, then add a final piece of pork, and a cherry tomato to protect the point of the skewer. (If you run out of any of the ingredients, make a lopsided skewer - some pork, lots of peppers, half onions, whatever you have left.) Once all the skewers are filled, sprinkle evenly with the spice rub. Put the spice rubbed skewers in a gallon zip-top bag, zip the bag halfway, squeeze out as much air as possible, then zip the bag closed. Let the kebabs marinate in the spice rub, refrigerated (or on ice in your tailgating cooler) for at least one hour, up to overnight.
Prepare the grill: Set the grill up for cooking with direct medium heat. For a gas grill, I preheat the grill on high for ten to fifteen minutes, brush off the grill grate, then turn the burners down to medium. For a charcoal grill I light a chimney charcoal filled ¾ full (about 50 briquettes), wait for the charcoal to be covered with gray ash, then spread the charcoal in a tight single layer on my charcoal grate.
Grill the kebabs: Put the kebabs on the grill over direct medium heat. If cooking on a gas grill, cook with the lid closed as much as possible. I treat each kebab like it has 4 sides, and grill each of those sides. Grill until the pork is well browned on the bottom, about 4 minutes, then give the kebabs a quarter turn. Grill on the second side until browned, 4 more minutes, then another quarter turn. Grill on the third side until browned, 4 more minutes, then flip to the final side, and grill until browned and the pork is tender, about 4 more minutes. It's tough to overcook pork shoulder - if in doubt, cook it longer.
Serve: If you can, take the kebabs off the fire and let them rest for ten minutes before eating. If not, warn your hovering friends to be careful, because the pork will be hot straight off the grill.
Prep Time:

1 hour 20 minutes

Cook Time:

16 minutes

Category:

Grilling

Cuisine:

American
Notes
If you can find pork shoulder "Western Ribs", they're already cut into 1 ½ inch strips - cut them crosswise into chunks to finish the job.
Pork shoulder should be cooked past well done. Like I said in the notes, when in doubt, cook it some more.
Normally I prefer metal skewers for kebabs, but bamboo skewers are better for tailgating. You don't have to worry about branding your fingertips if you grab a kebab straight off the grill, and the skewers are disposable, making cleanup easier.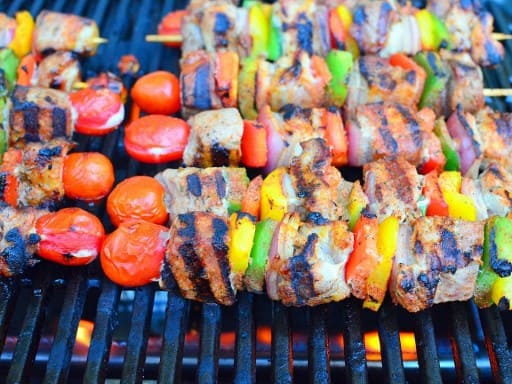 What do you think?
Questions? Favorite tailgating tips? Leave them in the comments section below.
Related Posts:
Grilled Beef Kebabs with Tomato, Onion, Lemon and Thyme Marinade
Grilled Pork Souvlaki Kebabs
*Enjoyed this post? Want to help out DadCooksDinner? Subscribe to DadCooksDinner using the RSS or Email options on the right, recommend DadCooksDinner to your friends, buy something from Amazon.com
through the links on this site, or donate through my tip jar. Thank you.