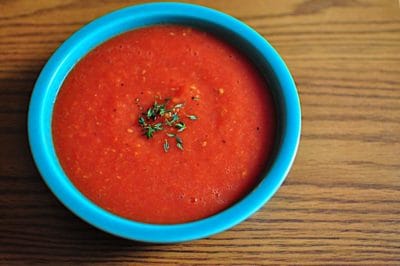 I love hot food. But habanero is a hot pepper too far. It tears me apart. I love the taste - it's been described as "fruity", which I agree with, and I've never found a similar tasting pepper. But the habanero heat is heinous.
*Say that five times fast. Then, do your best Bill and Ted imitation.
When my CSA gave me six pounds of tomatoes, plus a habanero, I had to try again. Which leads to:
[SCENE: Interior kitchen, evening. Tortilla chips sit next to a light red bowl of salsa. MIKE and THE KIDS sit around the table, staring at the salsa. Mike picks up a chip, lowers it towards the bowl of salsa, then hesitates. The kids start edging their chairs away from the table.]
MIKE: I only used one small pepper. How hot can it be?
[Dips chip in, takes a bite]
MIKE: Yum. Oh, that's good. It's a little hot, though, you guys should be carefuh...ooh…
[Beads of sweat break out on his forehead and upper lip.]
MIKE: Whooooo...
[MIKE exhales. A fireball shoots through the screen door and slams into a thyme bush, which bursts into flame. THE KIDS have disappeared; giggling is heard from behind the sofa in the next room.]
MIKE: Tha…hah…thuh…that has some kick. Mmm, but it's good.
[He plucks another chip from the bowl, and goes back for more.]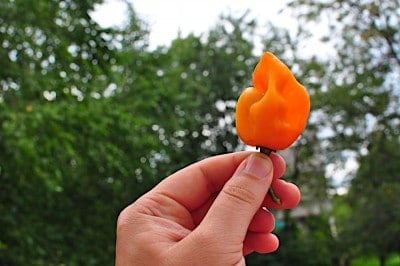 Do you like it hot? This is the salsa for you. But, it was too much for Diane and the kids - they could only manage a taste before grabbing for a glass of milk. Next time I'm going to remove all the seeds from the pepper, to see if I can cut the heat level down without losing that great habanero flavor.
*Of course, if you're a glutton for punishment, you could go with two peppers. But…holy cow, you must have a cast iron stomach…
Recipe: Grilled Tomato and Habanero Salsa (Chiltomate)
Adapted From: Roberto Santibañez, Saveur Magazine (Chiltomate, Saveur.com)
Equipment
Print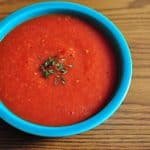 Grilled Tomato and Habanero Salsa (Chiltomate)
---
Description
Grilled Tomato and Habanero Salsa (Chiltomate) recipe. Grilled fresh tomatoes and super-hot habanero peppers make a fiery salsa.
---
2

pounds of roma tomatoes, cored and halved

1

habanero chile, stemmed

½

medium onion, cut into

½

inch rings

1 teaspoon

Diamond Crystal kosher salt or

½ teaspoon

table salt

2

large cloves garlic, peeled

1 teaspoon

fresh thyme leaves

½ teaspoon

Diamond Crystal kosher salt (or more if it needs it)
---
Instructions
Preheat the grill: Set the grill up for direct medium heat. On my Weber Summit, this means preheating with all the burners set to high for 15 minutes, brushing the grate clean, then turning the burners down to medium heat.
Grill the tomatoes, habanero  and onion: Sprinkle the tomatoes, habanero, and onion with 1 teaspoon kosher salt. Place on the grill over direct medium heat, with the tomatoes skin side down. Grill for 4 minutes, or until the tomato skins are blackening and the onion and pepper are browned. Flip everything and grill for another 4 minutes, until the tomatoes are starting to soften and the onion and pepper are browned on the other side. Remove to a and rest for five minutes to cool down.
Puree the salsa: Drop the garlic cloves into a running food processor (or blender), and process until the garlic is completely minced. Turn off the processor, add the thyme, onions, and habanero pepper, and pulse with one second pulses until everything is minced - about 5 pulses.Peel the blackened skin from the tomatoes. This doesn't have to be perfect - a little bit of blackened skin left is OK. Pour the tomatoes into the food processor with any remaining juice, and add the ½ teaspoon of kosher salt. Run the processor until completely smooth, scraping down the sides if necessary. Taste for seasoning, adding more salt as needed. (If the salsa tastes bland or watery, that means it needs more salt.)
Prep Time:

20 minutes

Cook Time:

8 minutes

Category:

Grilling

Cuisine:

Mexican
Variations
Remove the seeds to reduce the heat: As I said in the opening, you can cut down on the heat level by removing the seeds from the pepper before grilling.
Change the pepper: If you really want to cut down on the heat, go with a serrano or jalapeno instead of the habanero. The salsa will still be good, but you'll have more of a green pepper flavor than the fruity habanero flavor.
No in-season tomatoes? The grilling will sweeten up out of season store-bought tomatoes, so it isn't awful using them. But, a better choice is canned fire roasted diced tomatoes. They're picked ripe, so out of season they just taste better.
Notes:
No grill? No problem. Spread the tomatoes, pepper and onions out on a rimmed baking sheet and broil for ten to fifteen minutes, until browned and the tomatoes are softening. Proceed with step 3.
In step 3, after you have pulsed the habanero pepper and onions…don't open the jar and take a deep breath. Habanero fumes are culinary chemical weapons. Let the jar sit for a few minutes, and take shallow breaths when you open it to add the tomatoes.
This recipe is best with meaty roma tomatoes. You can use other tomatoes, but the results are a bit watery.
What do you think? Questions? Other ideas? Leave them in the comments section below.
Related Posts:
Pico de Gallo Salsa (fresh tomato salsa)
Quick Red Salsa
Tomatillo Salsa
Special thanks to Tim Knorr at Crown Point for the great tomatoes and habanero that I used to make this recipe.
Adapted from:
Roberto Santibañez, Saveur Magazine (recipe here: Chiltomate, Saveur.com)

*Enjoyed this post? Want to help out DadCooksDinner? Subscribe using your RSS reader or by Email, recommend DadCooksDinner to your friends, or buy something from Amazon.com through the links on this site. Thank you!