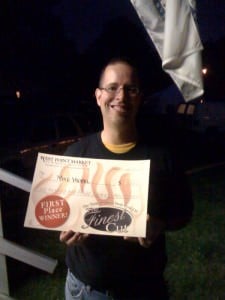 I won! I won! I WON!
I can't believe it. My steak tasted great, but there were some really elaborate recipes from the other contestants; my recipe is a little more bare bones. I didn't know if I would even get one of the top four "award" spots, and I really would have struggled if I was one of the judges.
There was a lot of time to sit around; my recipe takes an hour and a half, but the first hour is done after the steaks are salted and the charcoal is lit. I have been a bundle of nerves all day, and it was hard to wait until 7 to start getting ready for my presentation at 8:02PM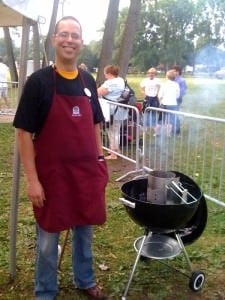 I knew I had a chance when I saw the reactions of people who tasted my "second" steak. (I cooked two, and picked the better looking one for presentation, and chopped the other one up into serving size pieces.) They were enjoying it as much as I did when I tasted it.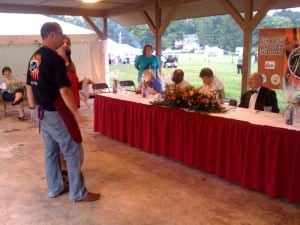 The judges were actual Judges from the Akron area. I presented my steak to them, explained the recipe and answered questions from the master of ceremonies,
Lisa Abraham
. Apparently, I did OK.
And did I mention I won?
Most important, though, was I had a great time. I met Lisa Abraham and Tom Loraditch in person. I got to talk to the local Weber representative (and if you read this blog, you know what a Weber loyalist I am). I met the people who supply the meat to West Point Market, the sponsor of the contest.
Did I mention how good the meat was? I was given prime porterhouse steaks. They were AMAZING. I'm going to have to go to West Point for prime beef more often.
Most importantly, I had a great time with my fellow contestants. I'm not usually surrounded by people who are every bit as obsessed about food as I am. Stephanie and Katie, who were on both sides of me, were really fun throughout the contest. Stephanie's son was a character, and kept things interesting. Katie had a bunch of supporters, all with matching T-Shirts! I would be trying to get in again next year, even if I didn't win a prize. I had that good of a time.
Will I be able to defend my title next year? Who knows. But I'm sure going to enjoy trying!
*A programming note: I'm on vacation, away from technology, for the next week. I'll see everyone in August!