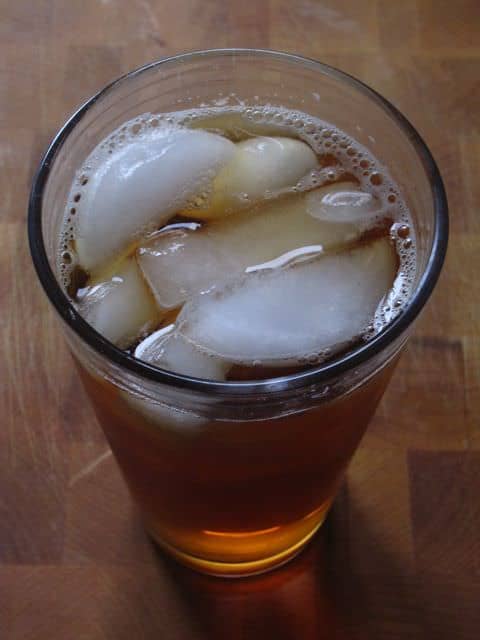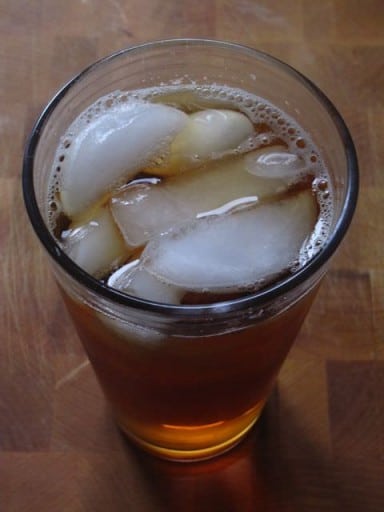 I discovered sweet in Charlotte, NC. I'm a Northerner, and I didn't know that sweet tea (pronounced "Sweetea") is the default. You have to ask for "unsweet". And, boy, they were right about "sweet" - I wasn't expecting that much sugar. (I wasn't expecting ANY sugar.)
Which brings me to another installment in my "favorite sentences in recipes" series.  This one is from Jaime Purviance, in his recipe for iced tea in Weber's Big Book of Grilling
:
If you want a sweet batch, add about 3 tablespoon of sugar to the boiling water.  If you're from the south, pour it on until it feels right.
Sweet tea is the perfect drink to have with barbecue. (Non-alcoholic category). But, as good as it is, I only made sweet tea at home about once a summer. Making a big batch is a fair amount of work: boiling a gallon of water, steeping a lot of tea bags, waiting for it to cool down…it's a lot of work for something that seems so simple.
Then I saw this recipe on TheKitchn a couple of months ago. Now I drink iced tea almost every day; I make this recipe about twice a week.  Why do I love it? Because you don't boil all the water! You make a very concentrated, 2 cup base of tea and sugar, and fill the rest of a gallon pitcher with water to make your tea. This gets around all the work; if you don't have to deal with a gallon of boiling water, suddenly the recipe is effortless.
I've adapted the recipe to my northerner tastes (more tea, less sugar), and my limitations in equipment (no gallon pitcher - only 2 quarts). Enjoy!
Print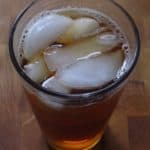 Iced Sweet Tea
---
Author:

Mike Vrobel

Total Time:

2 hours 5 minutes

Yield:

2 quarts

of tea

1

x
Description
Iced Sweet Tea - the perfect drink on a hot summer day.
---
1.5 cups

water

2

family size tea bags "for iced tea" (or

five

regular tea bags)

¼ cup

sugar
Water to fill pitcher to 2 quarts (About 6.5 cups)
---
Instructions
Boil 1.5 cups water:

Bring 1.5 cups of water to a boil.
*This is where the electric kettle really helps - it takes less time to boil the water than it does to get the rest of the ingredients together.

Steep the tea for 2 hours:

Put the tea bags and sugar in your 2 quart pitcher. Pour in the boiling water and stir until the sugar dissolves. Let steep for at least ½ hour, and preferably 2 hours.
Add water to 2 quarts:

Remove the tea bags, and squeeze any remaining tea out of them. Add water to the pitcher to bring it up to 2 quarts. Store in the refrigerator for up to a week.

 Serve in a glass full of ice. (

A lemon wedge is good, too.)
Notes
Southerner style: use ½ cup sugar. Or "keep pouring until it feels right."
Yankee style: skip the sugar. (Yes, it's bitter. It builds character.)
Luzianne or Red Rose teas are traditional, but I prefer the taste of Lipton. But…Lipton family size tea bags cost twice as much as Luzianne at my local grocery store. Luzianne it is!
Tools
Electric Kettle (optional, but it makes boiling water quick and easy.  I have this one.)
2 quart pitcher
Prep Time:

5 minutes

Cook Time:

2 hours

Category:

Appetizers and Drinks

Method:

Boiling

Cuisine:

American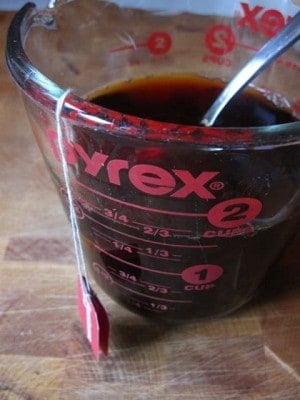 What do you think?
Questions? Comments? Other ideas? Leave them in the comments section below.
Related Posts:
Iced tea is the perfect drink with barbecue:
Barbecued chicken pieces
Rotisserie spare ribs, dry rubbed
Inspired by:
Kathryn Hill: How to Make Sweet Tea [thekitchn.com]
Jamie Purviance: Weber's Big Book of Grilling
Enjoyed this post?  Want to help out DadCooksDinner?  Subscribe to DadCooksDinner using the RSS or Email options on the right, link to this post from your blog, recommend DadCooksDinner to your friends, or buy something from Amazon.com
through the links on this site.  Thank you!