A sharp-eyed reader on Instagram noticed my high-tech thermometer clip. Do you see it? Let's look closer…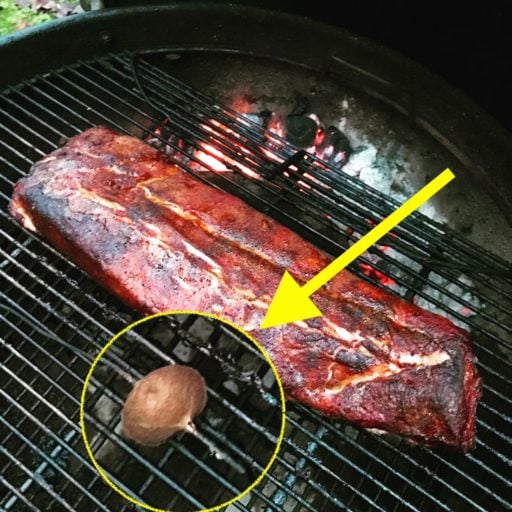 That's right, my high-tech probe thermometer clip is...a potato.
This is the home cooking edition of "When all you have a hammer, everything looks like a nail." The alligator clip that holds the grill temperature probe on my BBQ Guru disappeared over the summer. One minute it was there, the next it was gone. I combed through the grass near the grill, and never could find it. (My guess is it fell into the coals and was dumped when I cleaned out the ashes.)
I need an accurate temperature for the Guru to work, and I don't think it reads right if it is lying directly on the grill grate - the metal bars of the grate might block the thermometer - so I went with a trick from my old-time BBQ days and stuck the probe through a potato. Problem solved.
Now, every time I need to use it, I think "I really should go to the BBQ Guru website and get a replacement clip…" as I grab another potato out of the pantry. It's been six months. Still haven't bought the clip.
It looks like I'm not the only one improvising - I saw friend-of-the-blog Mike Lang at Another Pint Please doing the same thing a few months ago. I'm glad to know I'm not the only cook to look around his kitchen, asking "where can I find something to hold this probe…" and have his eyes settle on the potato bin.
Apple Smoked Chicken Sunday! #soontobechickensalad #wsm #myweber https://t.co/OSZyHEElYx pic.twitter.com/DVEyE6aa12

— Mike Lang (@AnotherPintPls) October 16, 2016
One more thing…don't try to eat the potato. It just doesn't work. It comes out undercooked and rock hard, or smoked into a tiny piece of charred spud. There doesn't seem to be a middle ground. Every time I think - "Hey, that looks good, let me take a taste", I regret it.