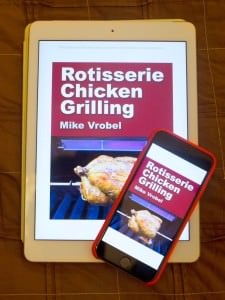 Starting today, my Rotisserie Chicken Grilling cookbook is on a Kindle Countdown sale!
On Monday Jan 12, 2015 at 8AM EST, the Kindle edition of Rotisserie Chicken Grilling goes on sale for 99 cents - over 80% off the $4.99 cover price. Every day at 8AM the price will go up a dollar - Tuesday it's $1.99, Wednesday it's $2.99, Thursday it's $3.99, and Friday at 8AM the book is back to the full price of $4.99.
If you want to check out Rotisserie Chicken Grilling, act fast!
On a related note, I was asked by a reader:
This book looks like your first book, Rotisserie Grilling. What's the difference?
The difference? Lots and lots of chicken.
I think chicken is the killer app for the rotisserie, the best way to show off what a rotisserie can do. There were a bunch of extra chicken recipes that I couldn't fit in the original book, some of which I had a really hard time cutting out. I couldn't give up on those recipes; I love them too much. The result is Rotisserie Chicken Grilling; all chicken, all the time.