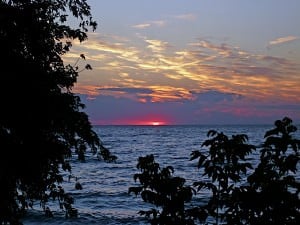 Sunset over Lake Erie
A programming note:
I will be out of town a lot in July, so DadCooksDinner will be published on a summer schedule until August. New posts will go up on Tuesday and Thursday, with no Monday post unless something really grabs me. Comment approval will be sporadic as well; my internet access will be limited to coffee shop visits.
*I have a bunch of posts "in the can", ready to go for the month...but I was stressing out trying to get more done. My usual three posts a week, done a month in advance adds up to a lot of writing. It dawned on me that this was silly. I write this blog because I enjoy it, not to raise my stress levels. I decided to cut back a bit and enjoy my time off.
What's happening? I'm going on vacation! (Whoo hoo!) I'm spending one week in Chicago, taking the kids to all the museums and hole-in-the-wall ethnic restaurants I can find. Then I'm packing up my Weber kettle and heading for my family's cottage on Lake Erie. The upside? A relaxing month, visiting the big city, then relaxing on the beach. The downside? Neither location has internet access. This is probably a good thing; it will force me to relax, and spend time away from my computer.
*Who am I kidding? I'm getting the shakes already. And I don't leave until Saturday. How much is a 3G iPad? What do you mean we can't get a 3G signal in Madison-On-The-Lake? I guess I really will have to relax on my vacation.
Enjoy your summer, everyone; I'll see you in August!
What do you think? Where are you going on vacation? Have any restaurant suggestions for Chicago? (I want to go to the Weber Grill Restaurant, Frontera Grill, and Brasserie Jo; any other suggestions, particularly for small, neighborhood places on the north side of town?) Talk about it in the comments section below.
*Enjoyed this post? Want to help out DadCooksDinner? Subscribe using your RSS reader or by Email, recommend DadCooksDinner to your friends, or buy something from Amazon.com through the links on this site. Thank you!