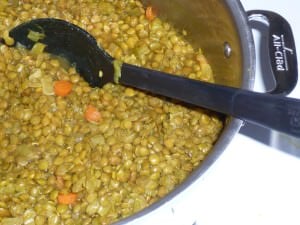 Mark Bittman's How to Cook Everything was the first general purpose cookbook I bought.1The Betty Crocker cookbook we got as a wedding present doesn't count. He says, shaking in horror from the memory.
Unfortunately...I didn't like it. The recipes are very stripped down, and I could tell. Some were simplified to the point of missing out on some of the flavors in the dish. That, and I'm obsessive. And since I'm obsessive, once I found Cooks Illustrated, I felt right at home.
Years passed, and I stumbled across Bittman's Minimalist column in the New York Times. It's become one of my favorite food resources. Maybe it's because I've learned enough about cooking to appreciate a recipe stripped down to its bare bones? Or where to fill in the blanks? Either way, I get my daily fix from his blog, Bitten. Once a week I find myself flagging a recipe for future use.
This particular recipe has quickly become one of my favorites. It's a weeknight meal that has an Indian flavor profile I really love. It's a soupy, stewy mix of lentils (dal) and aromatic vegetables, with a hit of curry to give it a surprisingly big flavor.
Recipe: Lentil Stew, Dal Style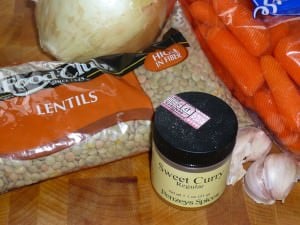 Ingredients:
2 tablespoon olive oil
1 onion, diced
2 stalks celery, diced
2 carrots, diced
1 teaspoon kosher salt
3 cloves garlic, minced
1 tablespoon curry powder or garam masala
1 lb lentils, picked over and rinsed
8 cups water
salt and pepper to taste
½ teaspoon Frank's red hot (or other hot sauce, optional)
Directions:
1. Sort and rinse the lentils: Spread the lentils on a sheet pan, and sort through them, removing any stones or twigs you find. Pour the lentils into a colander, and rinse them with cold water.
2. Saute the aromatics: Heat the oil over medium-high heat in a dutch oven or large saucepan. Add the vegetables and the kosher salt, and saute, stirring occasionally, until softened, 3-5 minutes.
3. Add the spices: Make a hole in the middle of the vegetables and add the garlic and spices. Let cook until fragrant, 30 seconds to 1 minute, then stir into the vegetables.
4. Cook the lentils: Add the lentils to the pan and stir to combine with the vegetables. Add the water, stir, and bring to a boil over high heat. Reduce the heat to low and simmer for 20 to 30 minutes, until the lentils are tender. Add salt, pepper and hot sauce to taste.
Variations:
*Use split peas instead of the lentils - cook for 30 to 40 minutes (particularly good with yellow split peas)
*Add sliced mushrooms with the aromatics, and cook for another 3-5 minutes (the mushrooms will release a lot of liquid)
*Replace some or all of the water with chicken or vegetable stock
Notes:
*Serve with basic white rice for a quick meal.
*I know this isn't "real" Indian food (which I love), but it gives me a taste of what it would be like, and it's fast.
*My kids will eat this! My daughter loves it, and the younger boy will have it about 50% of the time. (The other one just eats the rice. Oh, well.)
*Bittman's new book, Food Matters (see link below), has changed the way I view my eating habits. If you read Michael Pollan's recent books (Omnivore's Dilemma and In Defense of Food, here
and here
), Bittman's book is the applied course on them. And, as much as Pollan's books inspired me, Bittman's down to earth style brought the subject matter home. But...that's another blog that I'll be writing soon.
Inspired by:
Mark Bittman's Soupy Dal, American Style (recipe here)

Questions? Comments? Other ideas? Leave them in the comments section below.
*Enjoyed this post?  Want to help out DadCooksDinner?  Subscribe to DadCooksDinner using the RSS or Email options on the right, link to this post from your blog, recommend DadCooksDinner to your friends, or buy something from Amazon.com
through the links on this site.  Thank you!