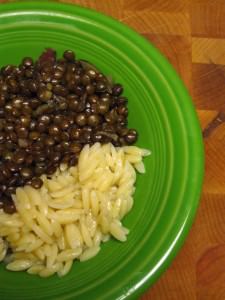 This recipe is another example of how to vary the flavor profile of a dish. I'm using the basic technique from my Lentil Dal stew. We'll change the flavor from Indian to Italian by switching some of the aromatics and spices.
*Oh, and by adding a little pancetta. You can never go wrong when you add a little bacon to your beans.


I also get to use some fennel from my CSA box. Only a few more bulbs to go!
Recipe: Lentil Stew, Umbrian Style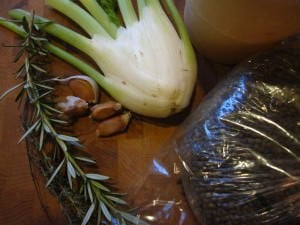 Ingredients:
1 slice pancetta, diced (or 2 slices thick-cut bacon)
1 tablespoon olive oil
1 onion, diced
1 fennel bulb, diced
1 teaspoon kosher salt
4 cloves garlic, minced or pressed
pinch hot red pepper flakes (optional)
2 sprigs fresh thyme
1 small sprig fresh rosemary (No more than 4 inches long)
1 lb lentils, (preferrably Umbrian Lentils or Lentils Du Puy) picked over and rinsed
4 cups water
4 cups chicken stock (Homemade stock, please. If you don't have homemade, use water instead)
salt and pepper to taste
Directions:
1. Sort and rinse the lentils: Spread the lentils on a sheet pan, and sort through them, removing any stones or twigs you find. Pour the lentils into a colander, and rinse them with cold water.


2. Brown the pancetta: Put the pancetta in a dutch oven or large saucepan, and put the pan over medium heat. Cook the pancetta, stirring, until it is getting crisp, about 5 minutes.
*Starting the pancetta in a cold pan will help it render more of its fat, which we use to saute the aromatics in the next step.
3. Saute the aromatics: Add the olive oil, and let heat for a minute, then add the onion and fennel and a teaspoon of salt. Cook, stirring occasionally, until softened but not browned. This should take another 5 minutes.
4. Add the spices: Make a hole in the middle of the vegetables and add the garlic and hot pepper flakes. Cook until fragrant, 30 seconds to 1 minute, then stir into the vegetables. Add the thyme and rosemary, and stir into the vegetables.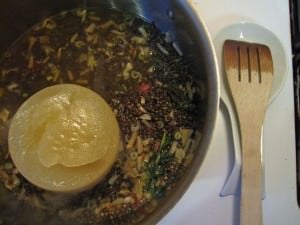 That's a quart of frozen chicken stock. I thaw it in the pan, and then make sure I bring it to a boil for a full minute before simmering.
5. Cook the lentils: Add the lentils to the pan and stir to combine with the vegetables. Add the water and stock, and scrape any browned bits fro the bottom of the pan. Bring to a boil over high heat. Reduce the heat to low and simmer for 20-30 minutes, stirring occasionally, until the lentils are tender. Remove the thyme and rosemary sprigs. Add salt and pepper to taste, and serve.
Variations:
*Add sliced mushrooms with the aromatics, and cook for another 3-5 minutes (the mushrooms will release a lot of liquid)
*Add a 15 ounce can of diced tomatoes with the lentils
*To make this more of a soup than a stew, add another 4 cups of chicken stock or water
*A squeeze of lemon juice, or some balsamic vinegar are good flavoring options, as is passing some pecorino romano or parmesan cheese for grating at the table.
Notes:
*Serve with pasta (I like orzo for this) for a quick meal. Or, serve it with rice. Rice and lentils are always a good combination.
*Umbrian lentils are a specific type of lentil, grown in Umbria, Italy. If you can find them at your local Italian market, they're the best choice for this recipe. If not, Lentils du Puy from France are your next best bet, and are more widely available.
*My kids will eat this! Natalie loves it, and Timmy will eat it about 50% of the time. (Ben just eats the pasta or rice. As Meat Loaf said, Two Out Of Three Ain't Bad
.)
*Yes, I have a soft spot for cheesy, operatic rock. Don't let that deter you from trying my recipes; my cooking is much better than my taste in music.
Related posts:
Lentil Soup, Dal Style
Inspired by:
The Umbrian lentils at Carrie Cerino's, where we celebrated Diane's Grandfather's birthday party. They wouldn't give me the recipe. Not even a hint to what the ingredients were. I had to search the internet to find out what goes into Umbrian lentils.
Questions? Comments? Other ideas? Leave them in the comments section below.
*Enjoyed this post? Want to help out DadCooksDinner? Subscribe to DadCooksDinner using the RSS or Email options on the right, link to this post from your blog, recommend DadCooksDinner to your friends, or buy something from Amazon.com
through the links on this site. Thank you!