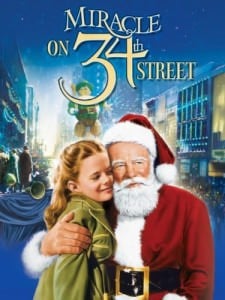 SUZIE: That's what I want for Christmas.

KRIS: A doll's house like this?

SUZIE: No, a real house. If you're really Santa Claus, you can get it for me. And if you can't, you're only a nice man with a white beard, like mother said.

KRIS: Now wait a minute, Suzie. Just because every child can't get his wish doesn't mean there isn't a Santa Claus.

SUZIE: [Sarcastically.] That's what I thought you'd say.

KRIS: But don't you see, dear? Some children wish for things they couldn't possibly use, like real locomotives or B–29s.

SUZIE: But this isn't like a locomotive or a B–29.

KRIS: [Patiently.] It's awful big for a little girl like you. What could you do with a house like this?

SUZIE: Live in it with my mother.

KRIS: But you've got this lovely apartment.

SUZIE: I don't think it's lovely. I want a backyard with a great big tree to put a swing on.

[SUZIE looks at Kris, but he doesn't share her enthusiasm. She becomes sad.]

SUZIE: I guess you can't get it, huh?

KRIS: I didn't say that. Well, it's a tall order, but I'll do my best. May I keep this picture?
Merry Christmas, everyone!