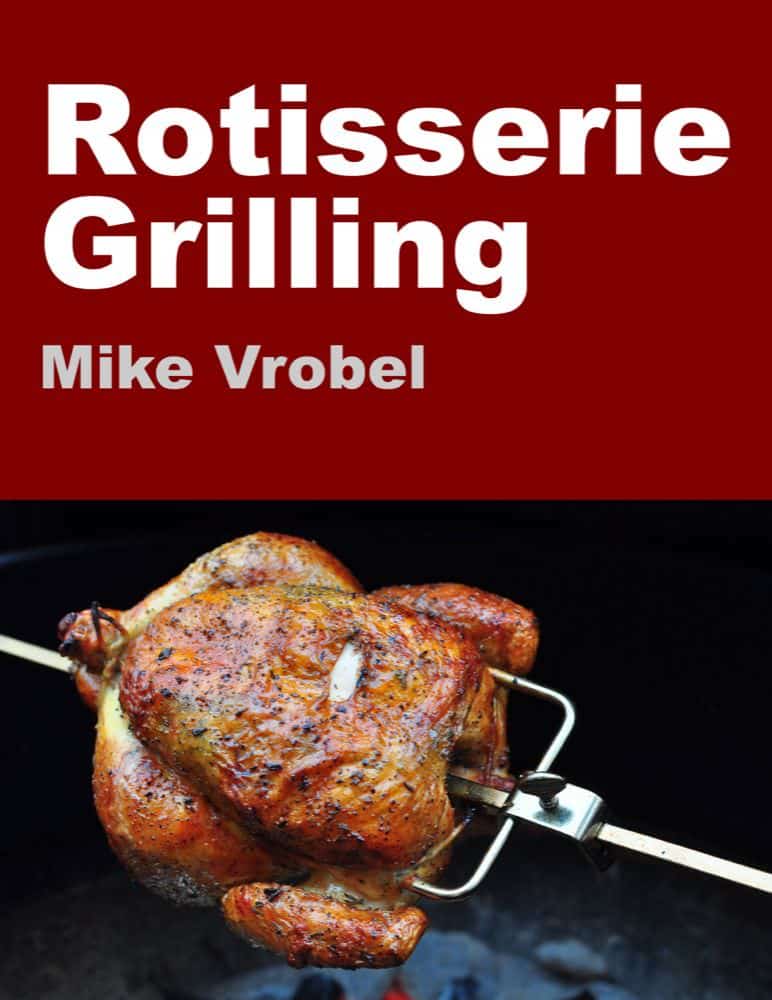 [Updated 6/3/2012 to add the paperback edition]
As of today, I'm a (self) published author. Though I prefer the term "indie author", since that makes it sound like I'm cool enough to be in a band.
My first cookbook, Rotisserie Grilling, is available in the following formats:
Paperback edition: Rotisserie Grilling - $9.99, black and white pictures.
Kindle edition: Rotisserie Grilling - $4.99, available for immediate download, full color pictures.
Nook edition: Rotisserie Grilling - $4.99, available for immediate download, full color pictures.
iBooks edition: Rotisserie Grilling - $4.99, available for immediate download, full color pictures.
Kobo edition: Rotisserie Grilling - $4.99, available for immediate download, full color pictures.
All editions have 50 recipes for your grill's rotisserie, and are full of photographs and step-by-step instructions on how to use the rotisserie attachment for a grill.
* Sorry about the black and white pictures in the paperback - I would have to charge over $25 if I published a color picture version.
---
Errata:
Corrections for typos, printing errors, and other mistakes. Thank you to the readers who pointed these out - I appreciate it!
Baby Back Ribs, Chinese Restaurant Appetizer Style, Step 2: Spit the Ribs includes the sentence:
"Mix the rub ingredients in a small bowl, then pat the rub on the ribs, concentrating on the meaty side."
There is no rub in this recipe. Ignore this sentence, this is a cut and paste error.
Last sentence of the Cooking on the rotisserie chapter:
"…take it on faith that it is cooled below 12F._"
Should read: "…take it on faith that it is cooled below 120°F."
I update the book to correct these errors as they are brought to my attention; if you have the electronic version of the book, you should be able to re-download it to get the latest version.
---
Do you have a rotisserie for your grill? This is the cookbook for you.
If you are just starting out, Rotisserie Grilling will teach you the basics. How do you set up the rotisserie? What equipment do you need? How do you secure food on the rotisserie spit? It's all explained. Then you can move on to simple recipes for rotisserie chicken, turkey, and prime rib.
If you love your rotisserie, and are looking for new ideas, Rotisserie Grilling will get your creative juices flowing. From cornish game hens, stuffed with brown and wild rice, to dry rubbed baby back ribs; from rotisserie pineapple with a cinnamon sugar crust, to pork loin stuffed with dried fruit. There are fifty recipes with full color pictures - you are sure to find a new favorite.
Now, get outside and start grilling on your rotisserie!
I love the full color pictures, so I recommend the Kindle edition if you have a computer. (It costs over $30 to self-publish a color cookbook with 184 pages.)
If you don't have a Kindle, you can download a free Kindle reader for almost any computer, smartphone, or iPad.
Download here: Free Kindle Reading Apps
The Nook and iBooks versions are coming soon - watch this space! [Update 8/9/2012 - They're here.]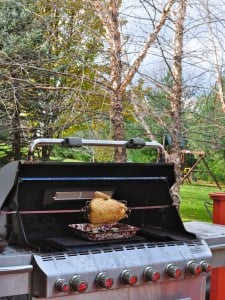 Q&A with the author
Q: Why rotisserie grilling?
A: On holidays, I get thousands of hits a day from people looking for rotisserie recipes. I was looking for those same recipes seven years ago, back when I bought my first rotisserie for my kettle grill. Since then, I figured out how to roast a whole lot of things on the rotisserie, and it dawned on me that I had the perfect subject for a cookbook.
Q: Is this just a copy of your blog?
A: No, it is mostly new material. 36 of the 50 recipes are new for the book, as are most of the pictures. There were some recipes from the blog that were too good to leave out. The how to, science of rotisserie, and seasoning food sections are improved from the blog. Unfortunately, most of the jokes are recycled.
Q: Can I get a preview of the book?
A: Sure! Go to the book's page on Amazon.com - (Rotisserie Grilling) - and "click to look inside" for a preview.
Q: Kindle? Why don't you have a (Choose one or more: Nook/iBook/Sony eReader) version of the book?
A: I made the mistake of signing up for Kindle Select Publishing when I hit "publish", and I'm locked into a 90 day e-book exclusive with Amazon. On Augst 1st, I'll publish the Nook and iBook versions.
If you have the technology to read this blog post, Amazon has a free Kindle reader for you, though, so you can get a copy of the book now if you don't want to wait.
Q: I'm a visual learner. Do you have any videos in the book?
A: I filmed two video shorts to embed in the book, "How to truss poultry" and "How to truss a roast." But the Kindle system isn't ready to accept videos.
*Even though the documentation has a "Embedding Audio and Video" section explaining exactly how to do it. Not that I'm bitter about spending a week trying to figure out why it worked on my machine, but wouldn't upload to Amazon. Grr…
I wound up posting the videos on YouTube and adding links in the book. Here they are:
Video: How To Truss Poultry
Video: How To Truss a Roast
Q: Why do you seem to have two covers?
A: I uploaded the first cover, then realized it doesn't work as the thumbnail image that Amazon uses everywhere on their site. The two chickens merged into a jumbled mess at thumbnail size, so I changed to a single chicken. But...Amazon is still pushing the new cover out to their servers, which may take a few days. I couldn't wait to tell you about the book. I was excited, and got too impatient. Sorry for any confusion.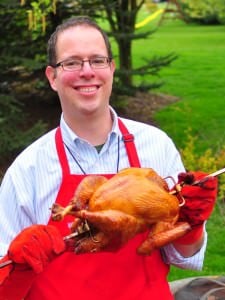 Spread the word!
If you like Rotisserie Grilling, I'd appreciate any and all publicity you could give me. Links, posts, likes, tweets, pins, +1's, email to Uncle Bob the master griller, whatever. Every little bit helps. And if you buy the book, a positive review on Amazon would help out a lot.
Also, if you have any feedback about the book, please send it to me. Ever since I hit the "publish now" button I have nightmares about a spelling mistake on the first page.
What do you think? Questions? Other ideas? Leave them in the comments section below.
The Book:
Rotisserie Grilling by Mike Vrobel
*Enjoyed this post? Want to help out DadCooksDinner? Subscribe using your RSS reader or by Email, recommend DadCooksDinner to your friends. Or, buy something from Amazon.com, like my rotisserie cookbook, through the links on this site. Thank you!