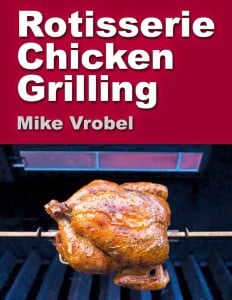 Does your grill have a rotisserie? If so, rotisserie chicken is the first thing you should cook on it.

If you are just starting out, Rotisserie Chicken Grilling will teach you the basics. How do you set up the rotisserie? What equipment do you need? How do you secure the bird on the rotisserie spit? It's all explained.

There are over 50 recipes for rotisserie chicken; from simple salt and pepper birds to elaborate barbecue sauces; from Mediterranean herb pastes to Asian glazes. There are recipes to fill up the drip pan, bathing potatoes in chicken drippings, and a section on what to do with leftover chicken, from soups to salads to my favorite, Taco Night.

The Kindle edition has full color pictures with each recipe - you are sure to find a new favorite.
Now, get outside and start grilling a chicken on your rotisserie!

About the author: Mike Vrobel is the food-obsessed author of the Rotisserie Grilling Cookbook, and writes about food on his blog, DadCooksDinner.com.
Why am I a food writer? Rotisserie chicken.
I've tried every trick to get the perfect roast chicken. The first time I made a rotisserie chicken on my kettle grill, a shaft of sunlight burst out from behind the clouds, and a loud voice boomed out "This is The One". That was it - the best chicken I can make; ever since then, all I've done is play around with the seasonings. After chicken, I tried everything on my rotisserie. I had lots of successes (prime rib, pork shoulder, turkey), and a few failures (salmon - it won't stay on the spit.)
When I created DadCooksDinner, I had a bunch of rotisserie ideas in the back of my head, so I put a few of them on the blog. Much to my surprise, they became popular; about 40 percent of my blog traffic is people doing google searches for rotisserie recipes. Eventually, I wrote my Rotisserie Grilling cookbook, which has been a steady seller ever since.
I wanted to follow up with a quick Rotisserie Chicken cookbook - I had a bunch of extra chicken recipes, and I thought I could slap together a short e-book in six months. Twenty recipes. Maybe thirty. How hard can that be?
As I wrote, Rotisserie Chicken Grilling kept growing. It wound up with more recipes than the original book, and took twice as long to finish. But, finally, here it is.
Rotisserie Chicken Grilling is only available as a $4.99 Kindle e-book right now. (The paperback edition is coming in about a month, once formatting is done.) Don't have a Kindle reader? Don't worry - if you're reading this post, there is a free Kindle Reader app for whatever technology you're using.
The book is signed up for Kindle Select and Kindle Unlimited for the next 90 days; during that window, if you have Amazon Prime or are a Kindle Unlimited subscriber, you can borrow it for free. (My plan is to let Kindle Select and Kindle Unlimited expire after 90 days; they require a Kindle exclusive e-book, and I want to release the Apple iBooks, Barnes & Noble Nook, and Kobo editions.)
If you buy a copy, can you do me two favors?
1. Typos
Let me know if you find any misteaks mistakes. I thought I had a professional proofreader lined up, but they fell through. So, my proofreading was going through the book over and over and over, until I looked at it so often that I am typo blind. (In my head I know what's supposed to be there; I glide right over problems.)
I am terrified that I missed something. Like I did in Rotisserie Grilling - a rib recipe only used a marinade, but the directions talked about applying a spice rub. Cut and paste will be the death of me. (To make it worse, no one noticed - or told me - until the book was out for a year. Sigh.)
2. Reviews
Please, leave a review on Amazon. This is a self-published cookbook, and indie books like mine live and die by their reviews. Of course, my ego would prefer a five star review. (I get into all sorts of imaginary arguments with the people who leave negative reviews. Especially the ones who complain that the print edition of my $9.99 cookbook has black and white pictures. Of course it does - color pictures would double the price.)
But, seriously, any review is helpful.
Thank you, and I hope you enjoy Rotisserie Chicken Grilling!
Rotisserie Chicken Grilling on Amazon.com
What do you think?
Questions? Other ideas? Suggestions for my next cookbook? Leave them in the comments section below.