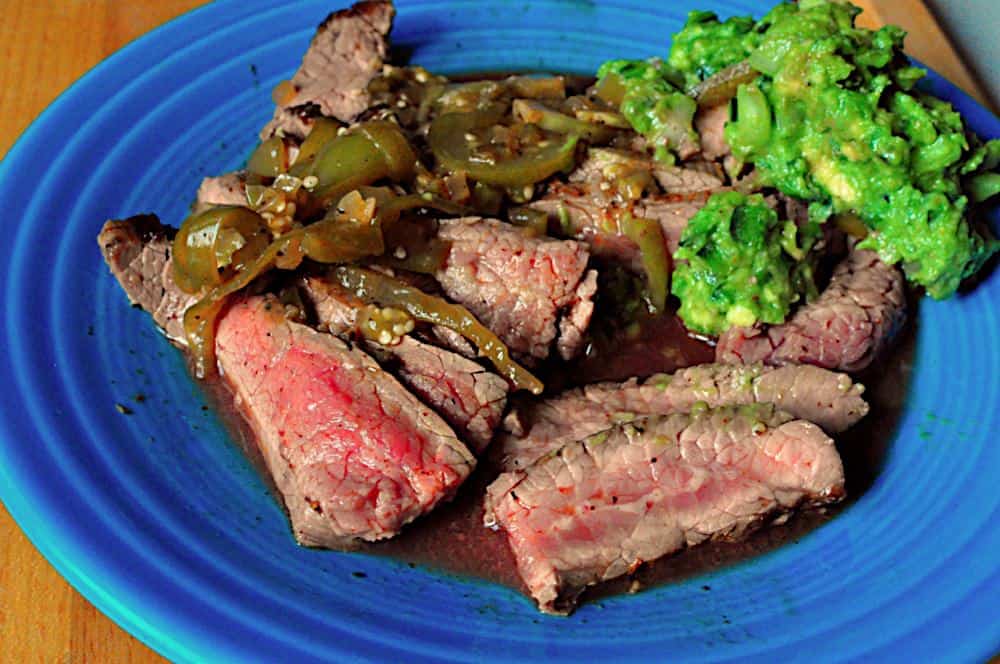 Wherein I figure out a weeknight dinner when mother nature throws me a curve ball...
Sometimes, when things don't go according to plan, it works out for the best. I wanted to grill for the blog, but it would not stop raining. I checked my schedue, and realized I had to cook this flank steak - it was tonight, or it would have to go in the freezer. So I improvised.
I decided to pan-sear the flank steak. I turned to the sear with pan sauce basic technqiue I have memorized from Pam Anderson's How to Cook without a Book
. Just use a lot less oil - about 1 teaspoon instead of two tablespoons.) I had tomatillos, onions and peppers from my CSA, and my original plan was taco night with tomatillo salsa. I decided to make the salsa in the pan, using the original Spanish definition of salsa - "sauce", loosely inspired by a pork roast recipe from Rick Bayless's Salsas That Cook
. I pulled out my trusty All-Clad fry pan*, and got to work on Seared Flank Steak with Tomatillo Salsa.
*I've been grilling so much that my pan thinks I've deserted it. Don't worry, good buddy, you'll be back in heavy use when the weather turns colder.
The results were perfect for taco night - I had my tortilla filling of thin-sliced flank steak, and a spicy, tart, sweet tomatillo sauce to spoon on top. Not bad for a last minute change of pace!
*My daughter, the adventurous eater, tried the salsa on a chip. Her verdict? It was "pretty good, but hot salsa is weird, dad."
Recipe: Pan Seared Flank Steak with Tomatillo Salsa Pan Sauce

Inspired By: Pam Anderson How to Cook without a Book
, Rick Bayless Salsas That Cook
Cook time: 25 minutes
Equipment:
Ingredients:
1 teaspoon vegetable oil
1 Flank steak, 1 inch thick (1 to 1.5 pounds, but go by thickness instead of weight)
1 teaspoon kosher salt
½ teaspoon fresh ground pepper
Tomatillo sauce
½ small onion, minced fine (as small as you can get it)
1 jalapeno, minced fine (use serrano instead if you like it hotter, or skip if you like it milder)
2 cloves garlic, minced or pressed through a garlic press
4 medium tomatillos, husked, rinsed and cut into eighths
½ cup water
½ teaspoon salt
½ teaspoon sugar
Juice of 1 lime
salt, sugar, and pepper to taste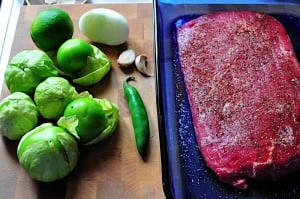 Directions:
1. Prepare your ingredients: Salt and pepper the flank steak evenly. For the tomatillo sauce, mince the onion, jalapeno and garlic, then husk, rinse, and chop the tomatillos.
| | |
| --- | --- |
| Rinsing the tomatillos | Sauce ingredients ready to go |
2. Sear the steak: Heat the vegetable oil in the fry pan over medium-high heat until shimmering and just starting to show wisps of smoke. Add the flank steak to the pan and sear without moving for 4 minutes. Flip the flank steak and sear the other side for another 4 minutes. Remove the steak to a platter.
| | | |
| --- | --- | --- |
| Searing side one | Searing side two | Fond, ready to make the sauce |
3. Make the tomatillo sauce: Reduce the heat under the pan to medium, and immediately add the onion, jalapeno and garlic. Saute for one minute, or until the onion and jalapeno are just starting to soften. Add the tomatillos and water, then sprinkle with the salt and sugar. Scrape the browned bits from the bottom of the pan into the sauce, and pour any juices from the steak platter into the pan. Turn the heat to high, and bring the water to a boil, then reduce the heat to a simmer.  Simmer for 10 minutes, or until the tomatillos have softened. Turn off the heat, and add the lime juice. Taste the tomatillo sauce, and add more sugar, salt and pepper as necessary. The sauce should be highly seasoned.
| | |
| --- | --- |
| Aromatics added | Cooked for one minute |
| Tomatillos and water added | Simmered for 10 minutes |
4. Serve: Slice the flank steak across the grain into ¼" thick slices, and serve with the tomatillo sauce on the side.
Variations:
*Red sauce: Replace the tomatillos with one large or two medium tomatoes, diced.
*Really quick red sauce: Skip the tomatillos and water, and substitute a 15 oz can of fire roasted diced tomatoes with their juices.
*Better steak: This recipe works exactly the same with boneless strip steak, ribeye or sirloin - just make sure the steaks are 1" thick.
Notes:
*Serve as a main dish, or as a taco filling with tortillas. Guacamole is an excellent side dish, as you can see in the opening picture.
*One inch thickness is the key for a medium-rare to medium steak. If the steak is thinner (say, ¾"), only cook it for three minutes a side. If it is thicker, sear-roast the steak. Heat the oven to 350*F and, after searing the second side, move the pan into the oven for another 5 to 10 minutes, until the flank steak is 125*F measured in its thickest part.
What do you think? Questions? Other ideas? Leave them in the comments section below.
Related Posts:
Salmon Saute with Tequila Orange Sauce
Pan-seared Rib-eye Steak with Red Wine Sauce
Inspired By:
Pam Anderson How to Cook without a Book

Rick Bayless Salsas that Cook
*Enjoyed this post?  Want to help out DadCooksDinner?  Subscribe using your RSS reader or by Email, recommend DadCooksDinner to your friends, or buy something from Amazon.com through the links on this site.  Thank you!