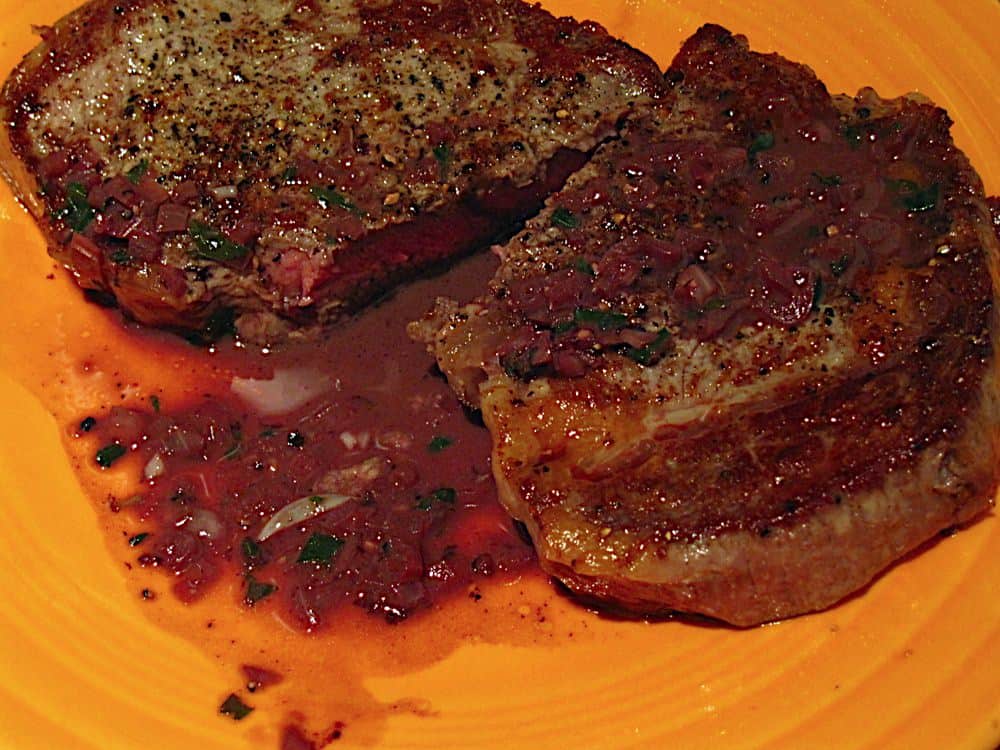 When I hear "steak in red wine sauce", images of Parisian bistros scroll across my mind's eye. Busy waiters bustle about, there is a carafe of red wine on the table, and a plate with steak frites has just appeared in front of me.
*And...I didn't have steak frites the week I was in Paris. I had veal, pork, duck, lamb, fish...but no steak frites. Somehow, in the entire week I was there, I missed what I think of as the classic bistro meal.
When I want to bring that picture of a bistro out of my head and into my kitchen, I saute a steak and serve it with red wine sauce. Steak and red wine is a classic combination, and one of the few ways to cook a steak that compares with grilling.
Sauteed steak is as simple as any other saute, and it makes a very elegant weeknight meal. If you've had a rough day and need to pamper yourself with some beef and a glass of hearty red wine, this is the recipe to try.
Recipe: Ribeye Steak Saute with Red Wine Pan Sauce

Cook time: 15 minutes
Equipment:
12 inch stainless steel fry pan (I love my All-Clad 12" fry pan. I was inspired to post this recipe as part of testing the new d5 All-Clad pans).
Ingredients:
2 boneless ribeye steaks, ¾ to 1 inch thick (About 2 pounds of beef)
2 teaspoon kosher salt (1 teaspoon per steak)
1 teaspoon fresh ground black pepper (½ teaspoon per steak)
1 teaspoon vegetable oil
Sauce ingredients:
1 small shallot, minced
1 cup of chicken stock (preferably homemade, or substitute water)
½ cup red wine (Cote du Rhone is traditional, any inexpensive red blend works well)
1 tablespoon unsalted butter (Or herb butter, like I had in the freezer)
salt and pepper to taste
Directions:
*For an overview, see my Saute with Pan Sauce basic technique 
1. Prepare the Sauce Ingredients: Mince the shallot, measure the chicken stock and red wine into a measuring cup, and measure out the butter. Let these ingredients rest at room temperature until it is time to make the sauce.
2. Prepare the Steaks: Sprinkle the salt and pepper evenly over the steaks.
3. Prepare the pan: Heat the oil in the fry pan over medium-high heat, until the oil is shimmering and just starting to show tiny wisps of smoke. Swirl the oil to get a very thin coat on the entire bottom of the pan.
4. Saute the Steaks: Place the steaks in the pan. Shake the pan to get the oil under the steaks, then let sit for 3 to 4 minutes, or until well browned. Flip the steaks, and cook the other side for another 3 to 4 minutes, or until well browned. Remove the steaks to a plate.
*3 minutes for ¾ inch thick steaks; 4 minutes for one inch thick steaks. I prefer the 1 inch/4 minutes version, because you get a better sear on the beef.
| | | |
| --- | --- | --- |
| Don't crowd the pan! | Well seared | ...good fond for the sauce |
5. Make the Pan Sauce: Turn the heat down to medium, and add the minced shallot. Cook for 30 seconds to 1 minute, or until just softened, then add the wine and stock. Increase the heat to high, and scrape the bottom of the pan until all the browned bits of steak are loose in the sauce. Pour any juices from the plate with the steaks into the pan. Boil until reduced by half, about 4 minutes. Turn off the heat, and whisk in the butter. Taste the sauce, and add salt and pepper until it is well seasoned.
| | | |
| --- | --- | --- |
| Bring to a boil, scraping the bottom | Add the juices from the plate | boil until reduced by half |
6. Serve: Cut each steak in half crosswise to get four servings. Serve with 1 teaspoon of sauce drizzled on top of each serving, and pass the rest of the red wine sauce at the table.
Variations:
*New York Strips or Sirloin: Use the same instructions. Aim for 1 ½ to 2 pounds of meat; any more than that and you will be crowding the pan.
*Herbs: Add a sprig or two of fresh thyme, rosemary or tarragon with the wine and stock to give a hint of herbal flavor to the sauce.
*Italian style: Use a minced garlic clove instead of the shallot, use a hearty Italian red wine, and substitute a tablespoon of olive oil for the butter.
Notes:
*Cote Du Rhone is the traditional wine to use for the pan sauce. I've had good luck with a variety of wine blends, from Spain to Australia to California. I would avoid any heavily oaked wine (Cabernet Sauvignon comes to mind), and anything really expensive. I hate to waste good wine in a pan sauce, where all the subtle flavors are cooked out. That said, don't cook with something you just wouldn't drink at all. There has to be something worthwhile going on in the wine to make a good pan sauce.
*Don't crowd your pan! If they are on the small side, I might (might!) be able to fit a third ribeye in the pan...but I wouldn't push it. A crowded pan won't give as good of a seared crust to the beef. That crust (and the resulting fond) adds flavor and depth, to both the steaks and the sauce. If you need to cook more steak, do it in batches, or use two pans.
What do you think? Questions? Other ideas? Leave them in the comments section below.
Related Posts:
Chicken Breast Saute with Marsala Sauce
Pork Chop Saute with Orange Mustard Sauce
Adapted from:
Pam Anderson How to Cook Without a Book




*Enjoyed this post?  Want to help out DadCooksDinner?  Subscribe using your RSS reader or by Email, recommend DadCooksDinner to your friends, or buy something from Amazon.com through the links on this site.  Thank you!