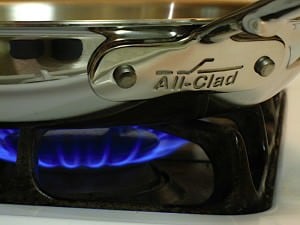 Remember my post about how much I love All-Clad Stainless cookware? Someone at All-Clad read it, too. They got in touch with me, and asked if they could send a sample of their new line of cookware to test out.
"Of course!" I said. "What is it?" That's when they told me they were updating their Stainless cookware line with new technology.
I could not believe it.  I love their Stainless cookware, and thought they would have a hard time improving it.  I asked for a 12 inch fry pan for the review.  It's my workhorse pan, and I thought it would be the best way to test their changes.
*Remember the FTC disclosure policy I wrote a while back?  Here's my first chance to disclose anything: All-Clad sent me a free pan to try out.
What are the changes?
The new "d5" Stainless pans have an extra layer of stainless steel in the middle of the cladding, resulting in five layers of metal in the pan: (picture below):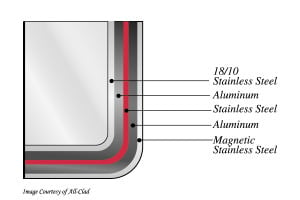 Stainless with d5 technology, cross section
All-Clad says this makes the pan heat 20% more evenly, makes it more energy efficient, and makes it more durable.
The d5 handles have also been redesigned to make them more comfortable.  And their saucepans have been given pouring lips.
*Finally! If there was one thing I would have changed in their pans, adding a pouring lip to the saucepans would have been it.
Are the d5 pans better?
I have to admit that I was skeptical.  Did they really improve the pans?  The regular All-Clad Stainless pans are the best pans I've ever used.  They heat evenly, and hold on to the heat; you get better, more even browning from them.  They perform head and shoulders above any other pan I've owned, including aluminum clad pans from other manufacturers.  That's why I wrote my post on how much I love them.
*Well, that, and it was an excuse to tell you about their factory sale.
Better searing:
I didn't think they'd be able to do it, but they did.  They made my favorite pans even better.  The d5 pan heats up faster, and holds that heat longer than my older Stainless pan. This results in excellent searing: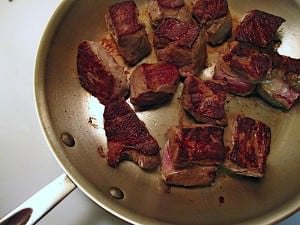 *Yes, that's the seared beef picture from my Texas chili recipe.  I was holding out on you!  I was testing the d5 pan, but I wasn't allowed to talk about it yet.  I feel so guilty...so ashamed...OK, I'm over it.


The d5 pan is much more efficient; it almost caught me off guard the first time I used it.  I was doing a pork chop saute, and put a cold pan with oil and butter over medium-high heat, like I always do.  I started salting and flouring the chops, and was almost done when I noticed the butter was already browned across the entire pan.  Normally, I've got time to get the chops ready, and then I have to wait for the pan to be ready.  Not any more!
Also, they recommend that you use the pans over medium heat.  As I said above, my default for a sear or a saute is always medium-high.  I need to adjust that down with the d5 pan - on my stove, medium is just right for this pan.  In the past, when I've done my searing on medium, the second side of the meat doesn't brown as well.  With this new pan, that's not a problem - it holds the heat long enough to get a good sear on the second side as well.
Better handles:
I love the handle on the d5 fry pan. It didn't look like much of a difference; there's a subtle change in the thumb groove, and it's hard to see if you're not looking for it. All-Clad rounded the edges, and made the handle a little less thick. The result is amazing - it is much more comfortable in my hand. I can't wait to see what they did with the lid and helper handles on their other pots, to see if they're as improved.
*Yes, I'm a cookware geek. I get excited by how things feel in my hand when I'm using them.
Am I buying a whole new set of pans?
As I said, the d5 pans are a noticeable improvement over the regular Stainless line. It looks like they're going to be priced about 10% more for the d5 pans, and at first they will only be available through Williams-Sonoma.
If you're getting new pans, I would definitely get the d5 versions.
If you're like me, you already have a pretty complete set of pans.  Is it worth replacing the ones you already own, especially at full All-Clad prices?  Probably not.  As I said, the current line is great; these are just better.
That said, the the 2 quart saucepan with a rolled pouring lip is calling my name. And I always use the 6 quart stock pot for soups and stews, so I wouldn't mind upgrading that pan as well…
*In other words, at next summer's All-Clad factory sale, don't stand between me and the d5 counter. It might get ugly.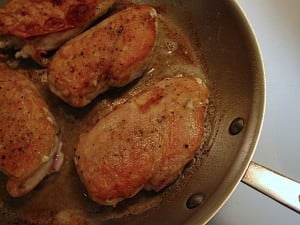 Chicken breast saute- recipe below
Recipes I used to test the d5 fry pan:
Texas Red Chili
Sear Roasted Chicken Breasts with Shallot Herb Pan Sauce
Chicken Breast Saute with Marsala Sauce
Pork Chop Saute with Orange Mustard Sauce
The d5 Stainless line will be available at Williams-Sonoma starting December 26th.
[Update 12/28:] All-Clad's d5 site is now open.
*Enjoyed this post?  Want to help out DadCooksDinner?  Subscribe using your RSS reader or by Email, recommend DadCooksDinner to your friends, or buy something from Amazon.com through the links on this site.  Thank you!