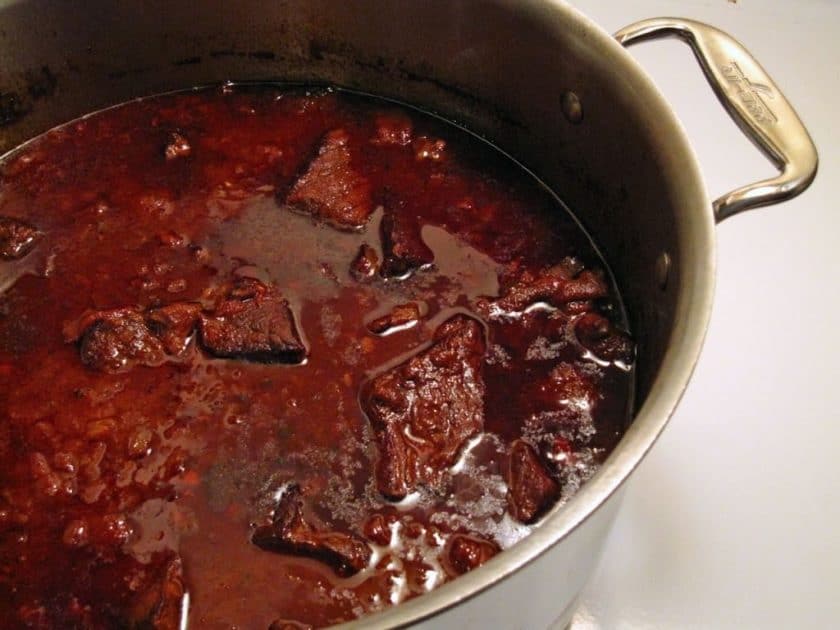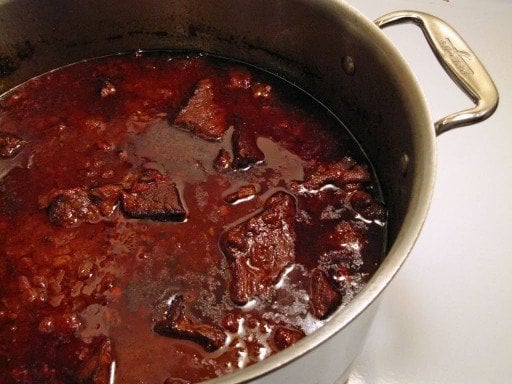 The first cookbook I bought after Diane and I got married wasn't really a cookbook. It was a recipe booklet from Betty Crocker, the ones they sell in the checkout aisle at the grocery store. Soups, Stews and Chilis was full of very bland recipes, except... In the middle was an insert. In that insert were the recipes that won the International Chili Society cook off between 1989 and 1993. Those recipes were another step on my way to becoming DadCooksDinner.
In Ohio, in 1994, it was a revolutionary concept to make chili Texas style, with big chunks of beef and without beans. And the flavor! A half cup of chili powder! This was a culinary revelation.
Texas Red Chili became my signature recipe.
Yes, I know I'm not from Texas
.  I'm so far from being a Texan that I'm approaching it from the other side.
Over the years, I've brought it to potluck lunches at work, tailgating at Ohio State, family gatherings, and countless Super Bowl parties. All of my younger brother's friends know this recipe. My parents hold a Super Bowl party every year, and my brothers would invite their friends from college over. The starving college students would descend on the pot like locusts.  Nowadays, they're all successful professionals. But they still come to the super bowl party, and they still clean out the pot.
This recipe started my Chili Fest tradition at work. Someone suggested a chili cook-off among us computer programmers, and I brought in a crock pot full of my Texas Red All-Beef Chili.
I still had to explain the "all beef" thing back then.
It was so popular, people started asking when I could bring it in again. I couldn't make enough chili to feed everyone, so I sent out an email asking for other people to bring in some chili, and we'd make a lunch of it. We've been doing our Chili Fest every fall for the last eight years, and last time I had volunteers bringing in twelve different types of chili, other main courses, side dishes, and desserts.  Chili just brings people together. Today is this year's Chili Fest, and I'm publishing the recipe in its honor.
This will also give me something to point people to when they ask for the recipe.
Recipe: Texas Red Chili
Print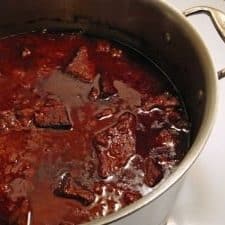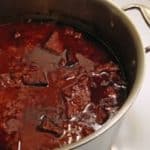 Texas Red Chili
---
Author:

Mike Vrobel

Total Time:

5 hours 15 minutes

Yield:

8

-

1

2

1

x
Description
A bowl of Texas Red. Chili with big chunks of beef, the way Texas wants it.
---
3 teaspoons

vegetable oil, divided

5

pounds beef chuck roast, trimmed of fat and cut into 1 ½ inch cubes

2 teaspoons

kosher salt

2

large onions, diced

½ teaspoon

kosher salt.

2

chipotles en adobo, minced, with sauce

½ cup

chili powder

3 tablespoons

cumin powder

1 tablespoon

dried oregano

6

cloves of garlic, peeled and minced

2

jalapeno chiles, minced

1

(28-ounce) can diced or crushed tomatoes

4 cups

water (or homemade chicken stock, if you have some available)

¼ cup

masa harina (mexican corn flour)

1 teaspoon

chili powder

½ cup

water
Juice of

2

limes
Salt and fresh ground black pepper
---
Instructions
Sear the Beef: Salt the beef cubes with 2 teaspoon of salt. Sear the beef cubes in 3 batches. Heat 1 teaspoon vegetable oil in a large (8 quart) dutch oven over medium-high heat until just smoking, then add the beef. Cook for 3 to 4 minutes per side, until well browned. I usually just treat them as having two "sides" - 3 minutes, flip, 3 minutes on the other side. Between each batch, add a teaspoon of oil, and let heat for about 1 minute before adding the next batch of beef. Put browned cubes in a big bowl while you work on the other batches. When they're done, you'll have a nice, browned fond on the bottom of the pot. If the fond looks like it is starting to burn, reduce the heat to medium, and put the beef cubes directly over the part of the pan that's in danger of burning. (I use three batches because that allows me to brown the beef without overcrowding the pan. It works best if you use two pans for the browning; you don't have to watch out for burning as carefully.)
Saute the Onions: Reduce heat to medium. You want 2 tablespoons of fat in the pan. Add more vegetable oil, or pour out fat to get to 2 tbsp. Put the onions in the pot, add ½ teaspoon salt, then saute the onions until softened and just starting to brown, 5 to 10 minutes. Scrape the pot after a minute or two, to loosen up the browned fond and mix it into the onions.
Toast the Spices: Make a hole in the center of the onions, then add the chipotle puree, ½ cup of chili powder, cumin and oregano to the pot. Stir for 1 minute, or until you really start to smell the spices - you want to toast them a bit. Make another hole in the center of the onions, and add the garlic and diced jalapeno. Stir for another minute, or until you smell the garlic.
Cook the Chili: Make sure your oven rack is in the bottom third of the oven, then heat oven to 325°F. Add the tomatoes and water to the chili pot, and scrape the bottom of the pan to loosen any stuck spices. Add the reserved beef cubes and any juices they released. Turn the heat on the stove to high, and bring to a boil. Cover the pot, and move it into the oven. Bake for 3 hours.
Final Seasoning: Mix the masa harina, 1 teaspoon chili powder and water in a small bowl until combined. It should be the consistency a thick cream; add more water if it needs it. Remove the chili from the oven, and stir in the masa harina mix. Bring to a simmer over medium heat, or put back in the oven for 10 minutes to thicken. Stir in the lime juice, and season to taste. (Be careful - the lid and handles are hot! I always forget that, and sear my hand when I grab the handles.)
Rest and Reheat: (Optional, but helps the flavor a lot.) Leave the chili on the counter, uncovered, until it cools to room temperature, a couple of hours. Cover and move to the refrigerator. Refrigerate overnight, or up to four days. Remove from the refrigerator about 30 minutes before you want to serve, and bring to a simmer over medium-high heat.
Prep Time:

15 minutes

Cook Time:

5 hours

Category:

Chili

Cuisine:

American
Notes:
*Fond is the browned bits of meat and vegetables that stick to the bottom of the pan.  It is the basis of flavor in most stews and chilis.  The more fond you have, the more flavor you get in the chili when it dissolves into the cooking liquid.  Because of this, do not brown the meat for your chili in a nonstick pan!  You want the sticking, because that's how you build a good fond, and that's how you build flavor.  In this recipe we're doing it twice; once when you brown the beef, and once when you're sauteing the onions and spices.
*Browning three batches of beef in your pot can take a while, and lead to burning the fond on the bottom of your pan.  You can speed up this step by browning some batches of beef in a separate skillet.  When you're done, put the water (or stock) in that skillet, bring it to a simmer, and scrape the browned fond off the bottom. You don't want to lose any of the browned bits - they're all flavor.  Add this water from the skillet when you would add it in the recipe.
*The masa harina slurry is optional, but it helps thicken up the chili.
If you want to reduce the heat, you can halve the jalapenos and chipotles, or omit one or the other.
Or just skip the peppers all together.  But this IS Texas chili...why are you making the recipe if you can't take the heat?
You didn't hear it from me, but you can add up to four cups of kidney or pinto beans to this chili.  Just don't use the name Texas in the title if you do that.  And I'll claim I've never met you before in my life.
The chili police are relentless, and very specific...no beans allowed.
**Of course, some true believers are going to be after me for adding tomatoes.  I'm not a number!  I'm a free man!
If you really want to go all out, use bacon fat instead of the vegetable oil.  If you really want to do it right, start the recipe by cooking 8 pieces of bacon. Reserve the fat, use it for the cooking, and mince the bacon and sprinkle it on as a garnish when you serve.
I usually make this recipe for a crowd - if you want to scale it back (serving 6-8), cut back to 3 pounds of beef, and halve the rest of the ingredients.
What do you think?  Questions?  Other ideas?  Leave them in the comments section below.
Related posts:
Ranch Hand Chili
White Chicken Chili done right
Inspired by:
The International Chili Society's World Chili Champions, 1989 through 1993. [chilicookoff.com]
*Enjoyed this post?  Want to help out DadCooksDinner?  Subscribe to DadCooksDinner using the RSS or Email options on the right, link to this post from your blog, recommend DadCooksDinner to your friends, or buy something from Amazon.com
through the links on this site.  Thank you!