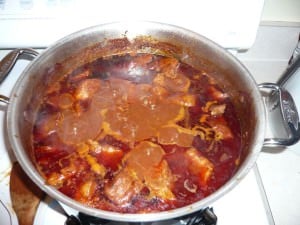 Chili is another one of my specialties. This post is dedicated to the ChiliFest I host as a potluck lunch at work every year. We've been doing it for 8 years now, and it gets more popular every year.
Why a ChiliFest? When I've tried to do other potluck lunches at work, people don't volunteer to bring anywhere near as much food, and I'm not just talking about the chili. For some reason, saying "If you've got a good chili, bring it!" works. People come out of the woodwork to volunteer - we get more of everything.
I think it's because Chili is something that everyone thinks they make well - no, not just "well", they get passionate about it. Heck yeah, I have a good chili! Of course I can bring some!
There are a bunch of different types of chili that I make regularly, but this is my current favorite. It is based on a recipe from the first issue of Cook's Country magazine. It's built with chunks of pork, and kidney beans.*
*I know - I'm bordering on the sacrilegious - I've heard that in Texas, the "beans or no beans" question can lead to feuds lasting generations. "All you should have is meat and chili powder - anything else isn't really chili!" As Alton Brown said on his blog after he got mounds of hate mail about his chili show - "If you don't like it, get your own show!" er...blog.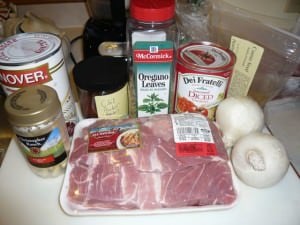 Recipe: Ranch Hand Chili
Print
Ranch Hand Chili
---
Author:

Mike Vrobel

Total Time:

4 hours 15 minutes

Yield:

8

-

1

2

1

x
Description
Ranch Hand Chili with beans and big chunks of pork.
---
2 teaspoons

vegetable oil

5

pounds Pork Butt Shoulder, cut into 1 ½ inch cubes

2

teaspons kosher salt

3

large onions, diced

½ teaspoon

kosher salt.

6

cloves of garlic, peeled and minced

2

chipotles en adobo, minced, with sauce

¼ cup

chili powder

1 tablespoon

cumin powder

1 tablespoon

brown sugar

1 teaspoon

dried oregano

2

(28-ounce) cans crushed tomatoes or diced tomatoes

3 cups

water

6

(15-ounce) cans Kidney Beans, drained and rinsed
Salt and pepper
---
Instructions
Sear the Pork: Heat vegetable oil in a large (8 quart) dutch oven over medium-high heat until just smoking. Salt the pork cubes with 2tsp salt. Brown the pork cubes in 3 or 4 batches, 3 to 4 minutes per side. I usually just treat them as having two "sides" - 3 minutes, flip, 3 minutes on the other side. Put browned cubes in a big bowl while you work on the other batches. When done, you'll have a nice, browned fond on the bottom of the pot, and the fat rendered from the pork. If the fond looks like it is starting to burn, reduce the heat to medium, and put pork cubes directly over the part of the pan that's in danger of burning.
Saute the Onion: Reduce heat to medium. You should have 2 tablespoons of fat from the pork in the pot; add more vegetable oil (or pour out fat) if necessary. Put the onions in the pot, and add ½ teaspoon salt, then saute the onions until softened and just starting to brown, 5 to 10 minutes.
Toast the Spices: Add the chipotle puree, chili powder, cumin, sugar and oregano to the pot. Stir for 1 minute, or until you really start to smell the spices - you want to toast them a bit. Add the garlic, stir another 1 minute, or until you smell the garlic.
Cook the Chili: Add the tomatoes and water, and scrape the bottom of the pan to loosen any stuck spices. Add the reserved pork cubes and any juices they released. Turn the heat to high, and bring to a boil. Reduce heat to low, and simmer for 2 hours, or until thickened, adjusting heat as necessary. Stir in the kidney beans and cook for another hour. Add salt and pepper to taste.
Prep Time:

15 minutes

Cook Time:

4 hours

Category:

Chili

Cuisine:

American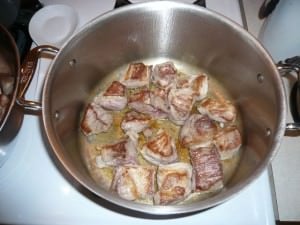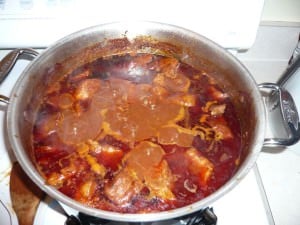 Notes
You can skip the beans if you really have to.
If you want it less spicy, reduce the chipotle (I wouldn't go below 1 tablespoon, but that's just me), if you want to kick the heat up, add more. Or, add a couple of minced jalapenos with the onions.
I recommend buying chili powder (or any other spice you use in large quantities) in bulk - I can get Horizon bulk spices at my local health food store, Mustard Seed Market. The price is much, much better than buying McCormick's spices in the spice aisle of your grocery store. Or, mail order your spices from Penzeys. I make Chili a lot, so paying $4 for the little jar just isn't cost effective for me.
You can substitute cubes of Beef Chuck for the pork, skip the beans and sugar, and you have Texas Style all beef chili. But that's a recipe for another time. Or, as Alton Brown recommends, you can go with ⅓ pork, ⅓ beef chuck, and ⅓ lamb. But...one reason I keep coming back to this recipe is because pork shoulder is cheaper than the other two by far!
For a final porky/smoky touch, use bacon fat instead of the vegetable oil. If you really want to do it right, start the recipe by cooking 8 pieces of bacon. Reserve the fat, use it for the cooking, and mince the bacon and sprinkle it on as a garnish when you serve. (I think I feel my arteries hardening just suggesting this. But it's also making me drool.)
I usually make this recipe for a crowd - if you want to scale it back (serving 6-8), cut back to 3 pounds of pork, 2 onions, and 1 can each of tomatoes and beans.
Inspired by a recipe in Cook's Country magazine
.
*Enjoyed this post?  Want to help out DadCooksDinner?  Subscribe to DadCooksDinner using the RSS or Email options on the right, link to this post from your blog, recommend DadCooksDinner to your friends, or buy something from Amazon.com
through the links on this site.  Thank you!