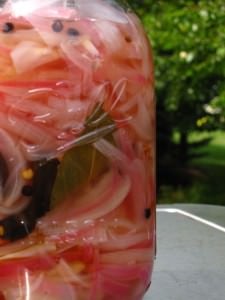 Pickled red onions are the one homemade pickle that I have made in the past. They're a common Mexican side dish, and I've often made them to serve with grilled Mexican meals. Also, I used this recipe to preserve all the small red onions that came out of our garden last year.
*That's something you'll hear me say a lot this week - pickling is a great way to use the bounty of your garden. We're getting overrun right now, and pickling is a great way to preserve produce for later in the year.
My brother-in-law Travis made some pickled red onions while he was at our summer cottage, and I had them a about a week later on a hamburger. After that, I was putting them on my sandwiches for the rest of the week - they make a great sandwich topping.
*Thanks, Travis!
This recipe is an based on one from David Lebovitz, who I've mentioned before - David is "our man in Paris". I trust his information on food in the City of Light more than any other source.
*Oh, and his recipes happen to be great as well. Especially if you love chocolate
or ice cream
.
Recipe: Pickled Red Onions
Equipment:
Ingredients:
2 large red onions, thinly sliced
1 crushed clove of garlic
1 dried chile pepper, rinsed
Pickling Liquid:
2 cups white vinegar
0.25 cups sugar
1 teaspoon table salt
2 bay leaves
1 tablespoon coriander seeds
1 tablespoon black peppercorns
10 whole cloves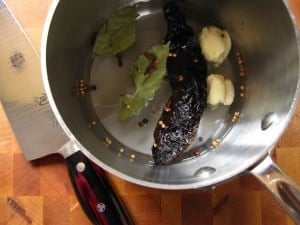 Pickling liquid - I put the garlic and pepper in...
Directions:
Click here for the basic technique of pickling vegetables.
1. Prep the vegetables: Put the sliced onions, crushed garlic and dried chile pepper in your jar.
2. Make the pickling liquid: Combine the Pickling Liquid ingredients in a medium saucepan, and bring to a boil over high heat. Reduce the heat, and simmer for 5 minutes to open up the flavor of the spices.
3. Combine the liquid and the vegetables: Carefully pour the pickling liquid into the jar until the vegetables are covered. (Optionally, pour pickling liquid through a fine mesh strainer first, to strain out the herbs and spices; your pickled vegetables will look less rustic that way.) *I pour the pickling liquid from my sauce pan into my Pyrex 2-Quart Measuring Cup
, and from there into the jar. The spout on the measuring cup makes this much less messy.
4. Refrigerate: Let cool at room temperature, close the lid on the jar, and refrigerate. It's best to refrigerate for at least one day, and preferably one week. They will last, refrigerated, for up to 3 months.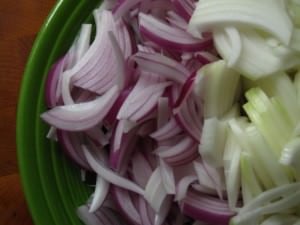 Red (and sweet) onions ready to go
Variations:
*I used a mix of red onions and sweet (Vidalia) onions. It's traditional to use all red onions, but the sweet onions worked fine. The only difference I noticed is that the red onions color the pickling liquid, giving the onions a garish red color; this color is a little muted in the batch in my pictures. Next time I'm going to remember to buy enough red onions...
*Use different herbs and spices. David Lebovitz adds allspice berries instead of the coriander. *Slice the onions into 8 wedges per onion, instead of thin slices. This looks better for presentation, but I like the ease of use when you use thin-sliced onions.
*Add lime juice to the brine ingredients. This is also traditional in Mexico.
Notes:
*As I mentioned in the opening, this is a traditional side dish in Mexico; it goes great with tacos, especially beef tacos.
*I have found them useful anywhere you would use regular or grilled onions - they go particularly well on hot dogs or hamburgers, or as a side dish with grilled beef, chicken or pork. Lebovitz even recommends them as an addition to potato salad, which sounds delicious.
*Ideas for next time: I'm going to try some lime juice and water in the pickling liquid; this is the only recipe I've seen that uses 100% vinegar.
Questions? Comments? Other ideas? Leave them in the comments section below.
Related Posts: Click here for my Pickled Vegetables basic technique.


Adapted From:
Pickled Red Onions [davidlebovitz.com]