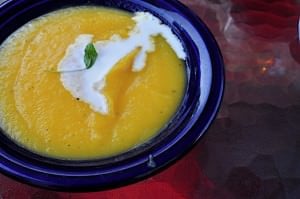 Diane had an unexpected bonus in our garden this year. Tim, our youngest, planted a seed while he was helping Diane, and it gave us a mystery squash that we were puzzling over for most of the summer. We assumed it was a rogue zucchini, but there was only one of them, and it kept getting bigger and rounder. It had tendrils reaching out to our deck, and was taking over one side of the 4 foot garden box it was planted in. Eventually, it became obvious, even to a garden novice like me - Tim had planted a pumpkin!
Tim was so excited. He loves helping mom with the plants, and now he had a pumpkin of his very own. Every time he saw it, he would wiggle with excitement. Finally, it was a nice, bright orange, and it was time to pick it. Now what? I had to do something worthy of Timmy's pride and joy.
I went with a recipe I learned from Patrick Payet while I was in Provence. This recipe that taught me the value of patience in cooking. The pumpkin simmers for a while, then is pureed, then the puree is returned to the pot and simmered some more. When the puree went back in the pot, Patrick had me taste it. It was bland and watery; there wasn't much flavor. Mentally, I wrote the dish off. "This one isn't going to work", I thought. Then it simmered down, and I learned that extra twenty minutes makes all the difference. The soup went from watery and bland to thick and full of pumpkin flavor. Sometimes, all a dish needs is a little more time to come together.
So, are you looking for a recipe to use those beautiful pumpkins you see at the Farmers Market, or that you received in your CSA? Try this one out.
Recipe: Pumpkin and Squash Soup

Adapted From: Patrick Payet, Famous Provence
Ingredients:
1 small pumpkin (4 to 5 lbs)
1 butternut squash (3 to 4 lbs)
1 large onion
2 cloves garlic
1 large red potato
1 large sprig fresh thyme
1 large sprig fresh sage
2 sprigs parsley
1 bay leaf
1 tablespoon olive oil
5 cups water
2 tablespoon brown sugar
Kosher salt, pepper, and balsamic vinegar to taste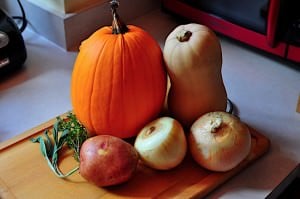 Directions:
1. Prep the vegetables: Peel and seed the pumpkin and the squash, and cut into 1" cubes. Peel and slice the onion thin, peel and crush the garlic clove, peel and dice the red potato. Tie the thyme, sage and parsley with butchers twine, to make a bouquet.
2. Saute the vegetables: Heat the 1 tablespoon olive oil in a large dutch oven over medium high heat until shimmering. Add the onion and ½ teaspoon kosher salt and saute until softened, about 5 minutes. Add the garlic and saute for 1 minute, or until you can smell the garlic. Add the pumpkin and squash and saute, stirring, for 5 to 10 minutes, until the squash is slightly browned.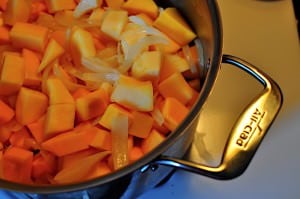 3. Cook the squash:Add the potato, herb bouquet, bay leaf, and enough water to just cover the squash - 5 cups of in my dutch oven. Bring to a boil, then reduce the heat to a strong simmer and cook, stirring occasionally, until the pumpkin and squash are cooked through, 20 to 45 minutes.
*Yes, that's a wide time range - it depends on your squash and pumpkin. When you can crush a piece of pumpkin in your tongs, it is done.
4. Puree the soup and simmer until thick: Remove the herb bouquet and bay leaf. Blend the soup until completely smooth. I do this in my pot with a stick blender
, but you can also do this by transferring the squash to a blender, in batches, using a slotted spoon. Bring the pureed soup back to a simmer and cook, stirring often, until the soup is thickened, about another 20 minutes. (If you have a splatter screen
, now is the time to use it.) Stir in the brown sugar. Taste, and add salt, pepper, and balsamic vinegar as needed.
Variations:
*Chicken or vegetable stock: If you have homemade chicken or vegetable stock stock on hand, substitute it for half of the water. This adds extra body to an already rich soup.
*All squash soup: No pumpkin? That's OK. Substitute 5 pounds of butternut squash, or any other fall squash.
*All pumpkin soup: No squash? That's OK. Add another 3 to 4 pounds of pumpkin. (I'd just get a larger one, say eight to ten pounds.)
Notes:
*As I mentioned in the opening, the key to this soup is the extra simmering after it has been pureed. The difference before and after the simmer is amazing - taste as you go to see what I'm talking about.
*Make sure the soup is seasoned properly at the end - there are a lot of vegetables in there, and they need a good amount of salt and pepper to punch up the flavor. I also like to add a shot of balsamic vinegar, for the sweet/sour combination it adds to the soup.
*A dollop of sour cream or heavy cream when serving adds a nice contrast to the soup, and the creamy dairy flavor adds another level of flavor.
*Peeling and seeding a pumpkin and squash can be work, so if you are lucky enough to have a store that sells pre-seeded sections of pumpkin and squash, buy them. When I was taking my cooking class with Patrick, the local grocery store in Cavaillon had beautiful looking pumpkin sections, shrink-wrapped and ready for cooking.
What do you think? Questions? Other ideas? Leave them in the comments section below.
Related Posts:
Quick Gazpacho
Adapted from:
Patrick Payet, Famous Provence
*Enjoyed this post? Want to help out DadCooksDinner? Subscribe using your RSS reader or by Email, recommend DadCooksDinner to your friends, or buy something from Amazon.com through the links on this site. Thank you!