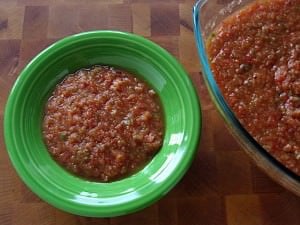 Gazpacho, the famous cold tomato soup of Spain, can seem strange to American taste buds.
*I was raised to expect tomato soup to come from a can with a red and white label (just like Andy Warhol). It was also be perfectly smooth, and served with grilled cheese sandwiches.
If you've never tried gazpacho, don't let the unfamiliar combination of cold and tomato stop you. Gazpacho is a wonderful first course or side dish, with sweet tomatoes and sour sherry vinegar balanced out by the richness of olive oil. It is one of Spain's most famous food exports for a reason; it is a classic combination of flavors.
Gazpacho is obviously at its best with fresh, ripe summer tomatoes. In my humble opinion, it is not worth the effort to make gazpacho with those reddish, cardboard things they pass off as tomatoes grocery store tomatoes. They just don't have enough flavor, and without the sweet flavor of tomatoes, you don't have gazpacho. You have a very chunky vinaigrette.
When I'm outside tomato season, I rely on canned tomatoes. If you get good quality canned tomatoes
, you can make a decent gazpacho.* And with canned diced tomatoes and a food processor, this recipe comes together with almost no effort. *It is not as good as with fresh, peak of ripeness tomatoes, obviously...but that's a recipe for another day.
Recipe: Quick Gazpacho

Equipment:
Food Processor (I like my KitchenAid, but Cuisinart is also a good brand.)
Ingredients:
4 cloves garlic, peeled
2 bell peppers, seeded and cut into large pieces (I like 1 red and 1 green pepper)
½ seedless cucumber, cut into large pieces
½ medium red onion, peeled and cut into quarters
½ teaspoon Pimenton de la Vera (Spanish Smoked Paprika)
2 teaspoon kosher salt
½ teaspoon ground black pepper
2 slices of good bread, crusts removed (leftovers from an Italian or French loaf are good for this.)
1 28oz can diced tomatoes (Get a good brand, like Muir Glen, or San Marzano)
¼ cup sherry vinegar
¼ cup extra virgin olive oil
More salt, pepper, and sherry vinegar to taste; more olive oil for serving.
Directions:
1. Dice the aromatics using the food processor: Drop the garlic through the feed tube of a running food processor, and let run until the garlic is completely minced. (It will stop "bouncing around" in the processor when it's done.) Stop the processor, and add the bell pepper, cucumber, and red onion pieces, along with the paprika, salt and pepper. Pulse with one second pulses, scraping down the side if necessary, until diced. (Don't turn it into soup, though; stop when you have a good dice.)
| | | |
| --- | --- | --- |
| Minced garlic | Peppers and cukes in chunks | Diced aromatics |
2. Blend the gazpacho using the food processor: Add the bread, and pulse a couple of times to break it up. Add the tomatoes and sherry vinegar, and turn on the processor. Pour the olive oil in a slow stream through the feed tube of the running processor, then leave the processor running until everything is well blended; this should take 30 seconds to 1 minute total. Taste the gazpacho - you should get a balance of sharp vinegar, fresh vegetables, and sweet tomatoes. If necessary, add salt to bring up the sweetness level, pepper for a little more hot bite, and vinegar if it needs more of a sour kick.
Tomatoes and bread

Well blended and ready
to serve
3. Rest and serve: If you have the time, let the gazpacho rest in the refrigerator for an hour. (This will give the flavors time to mingle, but if you're in a hurry for dinner you can skip it.) Serve cold or at room temperature with a drizzle of olive oil on top of each bowl.
Variations:
*Spicy Gazpacho: If you want to give your gazpacho some more kick, add a few shots of hot pepper sauce when you're tasting for flavor. Or, add a jalapeno or two with the bell peppers.
*Or both - you know your heat tolerance better than I do.
*Cumin: Substitute cumin for the smoked Spanish paprika.
Notes:
*I know I sing the praises of fresh, ripe tomatoes in the opening, but this recipe is surprisingly good with canned tomatoes.
*Why wouldn't I wait until tomato season? Well, let's say (um...hypothetically...yeah, that's it) you promise to have some friends over for a Spanish themed party. A few iced bottles of Cava, a first course of gazpacho and some manchego cheese, and then a grilled paella. When you tell everyone about this great idea, it is the middle of July. Then life gets in the way, various schedules collide...and you're having your party in November.
*And then you forget you took those pictures for the blog until you're looking for an idea for a post in early May...
What do you think? Questions? Other ideas? Leave them in the comments section below.
Related Posts:
Grilled Paella
Adapted from:
Cooks Illustrated
: Quick Food Processor Gazpacho (July 2001)

*Enjoyed this post? Want to help out DadCooksDinner? Subscribe using your RSS reader or by Email, recommend DadCooksDinner to your friends, or buy something from Amazon.com through the links on this site. Thank you!