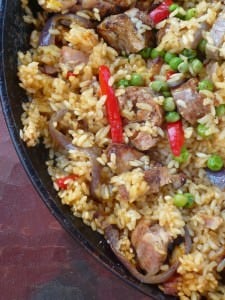 Paella on the grill is one of the recipes I use to show off. It looks stunning when you are done with it; I've been told that it looks too good to eat.
*Well, make that almost too good to eat.
It's also a great recipe for entertaining. It's a one-dish meal from the grill, and a big paella can feed a crowd. You don't have to run around cooking a bunch of different things while your guests enjoy themselves.
*Umm...not that I ever do that.
Make some gaspacho ahead of time, toss a salad, and when it's time, cook and serve the paella. Add some sangria, or a good Spanish red wine, and you've got an impressive party that looks like you slaved away for hours.
Recipe: Grilled Paella with Chorizo and Chicken
Equipment:
Grill, preferably charcoal (My favorite is the Weber Kettle).
Large Paella pan (I use a 13" pan, here, and this recipe just fits in it.)
Ingredients:
2 tablespoon extra virgin olive oil
1 lb chorizo sausage (Uncooked, Spanish style, if you can find it.)
1.5 lbs boneless skinless chicken thighs
salt and pepper
1 onion, sliced into ¼" thick strips
1 red bell pepper, sliced into ¼" thick strips
4 garlic cloves, minced or pressed
2 teaspoon Smoked Spanish Paprika (Pimenton de La Vera)
3 cups short grain rice (Valencia is authentic; Arborio is easy to find; I use CalRose from the Chinese Grocery because I always have it on hand.)
½ cup white wine
½ teaspoon saffron threads
6 cups hot chicken stock or water (Homemade stock please. If not, use water.)
¼ cup cooked green peas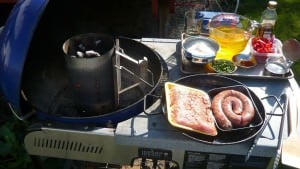 Ready to go: charcoal has grey ash; ingredients are prepped and waiting
Directions:
1. Prepare your ingredients: The key to this recipe is having all your prep work done before you start cooking. First, cut the chorizo into 6" lengths, and salt and pepper the chicken thighs; set aside on a plate. Chop all the vegetables as directed; put the onion and bell pepper in one bowl, and the garlic and paprika in another bowl. Heat the chicken stock (or water), and put the saffron threads in the stock to soak.
2. Prepare the grill: Set your grill up for cooking on medium-high heat. For my kettle grill, this means filling a Weber charcoal chimney
with charcoal, lighting it, and waiting for it to be covered with white ashes. Then, I spread it over ⅔rds of the grill grate in an even, single layer of coals.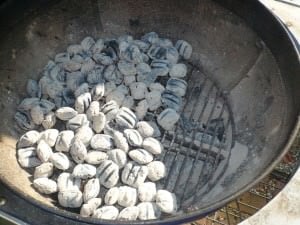 4. Brown the meat: Put the paella pan over the lit coals, then add 1 tablespoon of the olive oil to the pan. Wait for the oil to heat up enough to start shimmering, usually about 1 minute. Add the chorizo to the pan and brown it well on each side, about 2 minutes per side, then remove to a plate. While the chorizo is in the pan, put the chicken on the grill grate, next to the pan. Brown it well on each side, again about 2 minutes. Remove to the plate with the chorizo. Later, while the rice is simmering in step 6, chop the chicken and sausage into 1-2" pieces.
Sauteing the sausage and grilling the chicken
5. Saute the aromatics: You want about 2 tablespoon fat in the pan; remove fat if you got it from the chorizo, or add more olive oil if you need it. Add the onions and peppers to the pan and cook, stirring, until softened and lightly browned, about 5 minutes. Make a hole in the center of the onions, and add the garlic and paprika. Saute for about a minute, or until fragrant, then stir into the onions.
Onions and peppers are softened, and ready for the rice
Rice is shiny, ready for the first serving of stock

6. Cook the rice: Add the rice, and cook, stirring, until the grains are shiny, about 1 minute. Add the white wine, and bring to a boil. Add stock or water until it comes to the top of the rice, and 1 teaspoon salt, and cook, simmering, for 15 minutes. Add more stock whenever the rice is starting to look a little dry; it will absorb most of the stock/water during the cooking time. Rotate the pan 90 degrees every now and again to heat the pan evenly.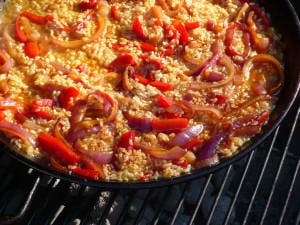 Looking a little dry; almost time for more stock
7. Finish the meat: Add the chicken and chorizo to the rice, nestling them into the rice as deep as you can. Add one more pour of the stock or water, if you have any left. Cook for another 10 minutes, rotating the pan occasionally, until the rice is tender. Ideally, you will have the rice just starting to brown on the bottom when it's tender on the top.
8. Serve: Taste for seasoning, and add salt and pepper as needed. Scatter the cooked peas on top of the pan, and take the entire pan to the table to serve.
Variations:
*Seafood: Skip the chicken, and the chicken broth. Use water, and/or clam juice for the liquid. Add ½ pound of peeled shrimp, a dozen mussels, and a dozen clams for the last five minutes of cooking time. Put the clams/mussels with their hinges down into the rice, so they open "up" towards the top.
*Turista: Don't skip the chicken and broth; add the seafood from the seafood variation as listed above.
Notes:
*For this recipe, you want uncooked (or semi-cured), Spanish style chorizo. If you can't find that, then cured Spanish chorizo is a good second choice; dice it into about ¼" dice, and add it with the garlic and paprika instead of cooking it earlier. Don't use Mexican style chorizo in this recipe; I'd substitute an uncooked italian "sweet" sausage if you can't find any Spanish chorizo.
*Pimenton de La Vera is the wonderful smoked paprika from Spain; you want the distinctive, smoky taste that it gives you. I get mine from Penzeys spices, and La Tienda is another good source if you can't find it locally.
*Paella is to Spain what Chili is to Texas - everyone believes they have the "correct" version; everyone else is just not doing it right. The paella that we're used to having in the US is called "paella turista" in Spain.
*According to NPR, that loosely translates as "Paella for Tourists." Not that there's anything wrong with that.
*In Spain, they tend to stick with either a seafood Paella or a meat Paella. For this recipe, I went with a meat Paella - chicken thighs and chorizo sausage. This wasn't for authenticity; it was because seafood is too "icky" for my kids to eat. If I'm making Paella for a party, I'll make the "Turista" variation. It's what everyone expects when they hear "paella", and it looks great.
[Update 5/10/10]: Looking for a good source of Paella pans and ingredients? Check out PaellaPans.com.
Questions? Comments? Other ideas? Leave them in the comments section below.
Related Posts:
Here's my recipe for Grilled Flank Steak with Chimichurri
Here's my recipe for Grilled Garlic Bread (go with the Pan Con Tomate variation)
Adapted From:
Paella Perfect [NPR.org]
Paella on the grill [Steven Raichlen, Barbecue U]
Good Times, Good Grilling
[Cheryl and Bill Jamison]
*Enjoyed this post? Want to help out DadCooksDinner? Subscribe using your RSS reader or by Email, recommend DadCooksDinner to your friends, or buy something from Amazon.com through the links on this site. Thank you!