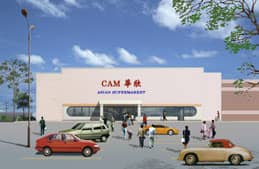 It's Technology Free week, where we try to get the kids to detox from the TV, Wii and iPhone.*
*Yes, I'm cheating. Shhh.
**[Note 4/30/2009]...and I got busted while I was posting this. Ben caught me, and said "Dad! You're using the computer!"
I love going to Cleveland Asia Market. (website here) It has the best part of going to an ethnic store - you get to feel like you're a world traveller, without needing a passport. And! It has good lighting, wide aisles, and signs in English and Chinese.*
*At least I think they're Chinese. I feel very provincial by not knowing what language they're in. Which reminds me of a joke:
Q: What do you call someone who speaks two languages?
A: Bilingual
Q: What do you call someone who speaks one language?
A: American
I'll be here all week - drive safely, and don't forget to tip your waitress.
[Added 4/30/09]: Joking aside, having the price tags under every item in English helps out a lot. A common problem I have in Asian grocery stores is identifying things - is that fish sauce, or soy sauce, or black vinegar? Since most of the ingredients were intended for sale in their original country, the packaging is all in Chinese (or Japanese, Korean, Thai, etc...).
As I said in my previous Ethnic Market post (here) - you can get these ingredients in American megamarts nowadays, but not as cheap, or in such depth. If you're in the Cleveland/Akron area, it's worth the trip!
Cleveland CAM Asia Supermarket, at 21200 Miles Rd, Cleveland, Ohio (see map below)
My top ten list of favorites are, in no particular order:
1. Kikkoman Soy Sauce- In large jugs! I can get 12oz from my grocery store for about $3.50, or a 2 quart jug for $6 here.
2. Hoisin Sauce - the barbecue sauce of china. Or, at least, that's what my kids consider it. Essential for quick stir fries.
3. Big bags of rice - As I've mentioned before, my kids eat a lot of rice. I buy 25lb pound bags of Calrose rice (for medium-grained sticky rice, great with stir fries) and Jasmine rice (because I love the flavor).
4. Asian Noodles - You think the Italians love noodles? Where did Marco Polo get the recipe?* There are more shapes, styles and sizes than you can shake a chopstick at.
*Might not be true. But it makes a good story, so I'm going with it.
5. Shriracha sauce - Thailand's version of tabasco sauce. Great for giving food a bit of a kick and an asian flavor at the same time.
6. Rabbit - Or duck, or chicken feet...if you want an offbeat animal, or animal part, (and you don't want to pay exorbitant Gourmet Market prices) get to your local Asian market.
7. Thin sliced beef short ribs - I'm still working on my recipe for grilled Korean short ribs, but don't let that stop you - google "Korean Ribs" and try a recipe.
8. Dried mushrooms - Again, don't pay Gourmet Market prices for dried portobellos; I've heard that most of the "portobellos" are shipped from China.* Go to the source, and you can get dried mushrooms for a couple of dollars a pound.
*May not be true. But the mushrooms sure are cheap, and I can't tell the difference?
9. Candy - A great tip I learned from a friend* was that one of the most interesting souveniers you can bring back from a trip is...the local candy. Green Tea Kit-Kats, anyone? Also worth a look is the freezer section, just for the "freezer dim sum" options.
*Hi Brian!
10. The fish department - Like the "offbeat animal" and "candy" section, I just love looking. To paraphrase Tony Bourdain, the asian definition of "fresh fish" is "it entered the kitchen, alive, after I placed my order."
That's just the first ten I could think of* - every time I go there, I see something else I should try.
*Fish Sauce! And rice vinegar. Mirin. Miso paste. Oh, and the housewares aisle - if you need a wok, or chopsticks, a spider, or a fuzzy logic rice cooker. And...

[Added 4/30/09]: I got a question from Pam, and I could hear the disgust in her voice (even though I was reading an email):
"Why would you buy spiders from a Chinese grocery?"
It's not an exotic cooking ingredient - I'm not making a spider stir fry. A spider is a common name for a Chinese bamboo skimmer, that's very useful when deep frying. It's one of these:

Here's the map:

View Larger Map
*Enjoyed this post? Want to help out DadCooksDinner? Subscribe to DadCooksDinner using the RSS or Email options on the right, link to this post from your blog, recommend DadCooksDinner to your friends, or buy something from Amazon.com
through the links on this site. Thank you!