Susana Trilling's cooking school, Seasons of My Heart, has been on my bucket list for a while. I learned about it years ago; probably from Rick Bayless, but maybe from Susana's cookbook, which I picked up at the library. Oaxaca is acclaimed as the best food city in Mexico, famous for its seven different types of mole, the complex sauce based on chiles, nuts, seeds, and chocolate. And Susana is the expert on Oaxacan cooking.
I would occasionally check the Seasons of My Heart website, looking at the list of classes, dreaming about an escape to Mexico. (Especially this time of year - in February, highs in the 80's sound fantastic, and that was before this brutal winter.) Late last year, I saw it - Susana was hosting a week long chef's intensive tour of Oaxaca for culinary professionals. A whole week? In a cooking school in Mexico? I'm so there.
Seasons of my Heart has lots of shorter, less intense classes; half day classes, Wednesday market trips with cooking lessons, and week long tours that aren't "chef's intensive". Check out the schedule on their website for more details.
What am I doing?
What makes a culinary professional? For this class, a membership in the International Association of Culinary Professionals. Hey, I make a little money food writing for the blog, so I'm a professional, right? I joined the IACP (which I've been meaning to do anyhow), and then immediately signed up for the class at Seasons Of My Heart.
I'm sitting in my hotel room in Oaxaca, one hour before the class is meeting for the first time, having a panic attack. I'm an impostor - who am I to call myself a culinary professional? I'm a blogger, an enthusiastic and adventurous home cook, a part time food writer and photographer…but a professional? My only professional food experience is working the drive through at McDonald's as a teenager. Sure, I make a little money on the blog, but food writing is a side job for me. I can't afford to quit the day job any time soon. The other students on the trip? They are real professionals, people who make their living through food. Would they see right through me?
Even worse, I find out that they all know each other - socially, professionally, or both. Susana catered the wedding of two of my fellow classmates, and a bunch of the rest of them attended. There are ten of us, and I'm the odd man out - the only one who doesn't know everyone else on the trip.
More margaritas? I drank too much last night.

What about the mezcal tasting we went to this afternoon?

Oh, that was only a tasting. That doesn't count.
I'm panicking for no reason, of course. Cooking professionals? Yes. That means food lovers. My tribe. Usually, I'm the only food fanatic in the room; now we're travelling in a pack. It's like meeting a bunch of friends I didn't know I had. Even better, they worked hard to make sure I felt like part of the group.
Which, given my introvert tendencies, can be tough. I clam up when I'm nervous. Thanks for making me feel like part of the team, everyone!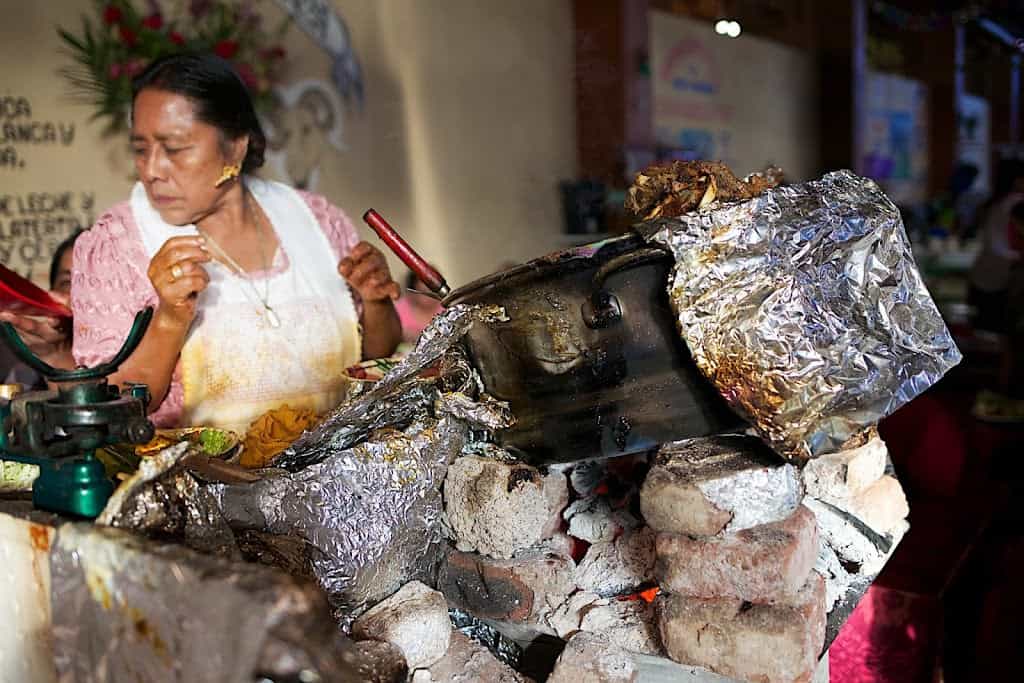 Barbacoa de borrego at the market
Oaxaca Tours
The class was divided into two main parts - touring Oaxaca, and hands on cooking at the school. Every day, after breakfast at the hotel, we head out for a tour.
The breakfasts at the hotel were great - huevos rancheros, chilaquiles, huevos divorcidados, huevos al gusto - but I had to skip breakfast the last couple of days, to pace myself for the eating to come.
Pepper vendor at the market
Watch out in the markets. If someone throws a baby at you, they're trying to distract you and pick your pocket.

(later, on the way home from the market)

Hey, no one threw baby at us...and I'm kind of disappointed.
Some days were market tours, wandering through the crowded stalls, picking out ingredients for later, tasting the foods as we went. Then we'd grab a bench near the market's food stalls and sit down for plates of antojitos - tacos, empanadas, tlayudas, and other little bites of Mexican street food, served with shredded fresh vegetables, spicy salsas and thin guacamole salsa.
In the market, I tried a spiced grasshopper, fried and sprinkled with a spice blend. They said everyone who eats a grasshopper comes back to Oaxaca. I hope so…it was crunchy, like a potato chip, very spicy…and I had to work hard to not think about what I was actually eating.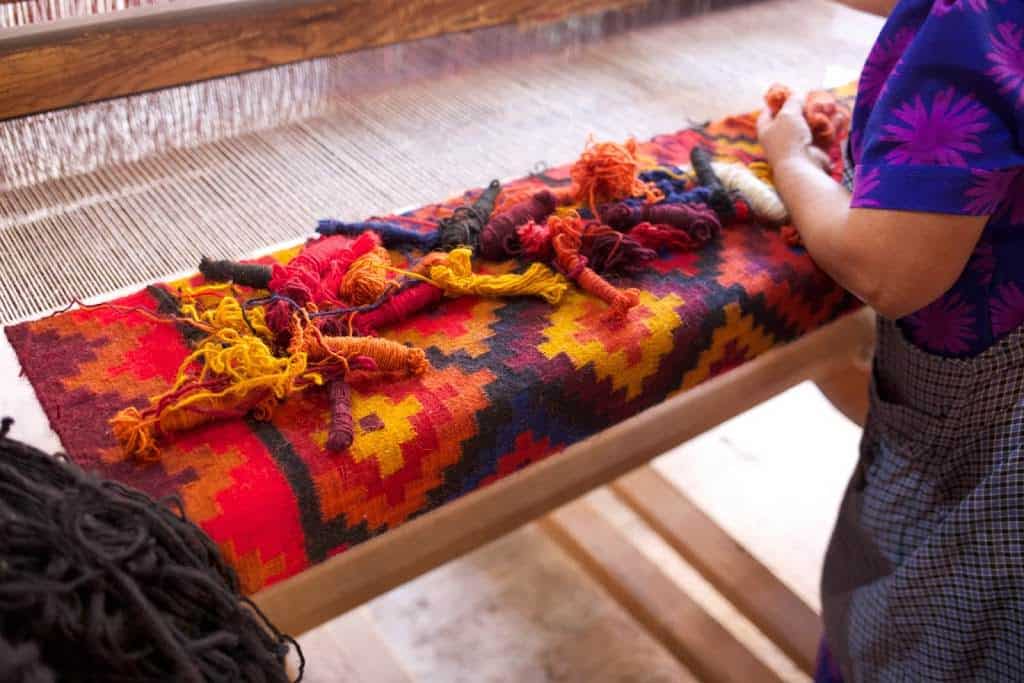 Working on a rug
Other days we visited local artisan villages. We saw rug weavers, wood carvers, and painters. Even better, they took us into their homes and cooked us breakfast, showing us how traditional mexican breakfasts were made, like higaditos (egg and shredded chicken soup), tlayudas (a Oaxacan specialty, similar to quesadillas, toped with thin-sliced grilled beef), and tejate (cacao beans ground until they liquefy, then whipped by hand into a filling drink).
Sometimes they even let us help, like when we pressed and toasted the huge tortillas used to make tlayudas. And, of course, when we were done eating, we had a chance to buy some art. (I had to restrain myself, particularly at the wood carvers. The carvings were a riot of colors, and I now I want to re-do my house in that wild color scheme.)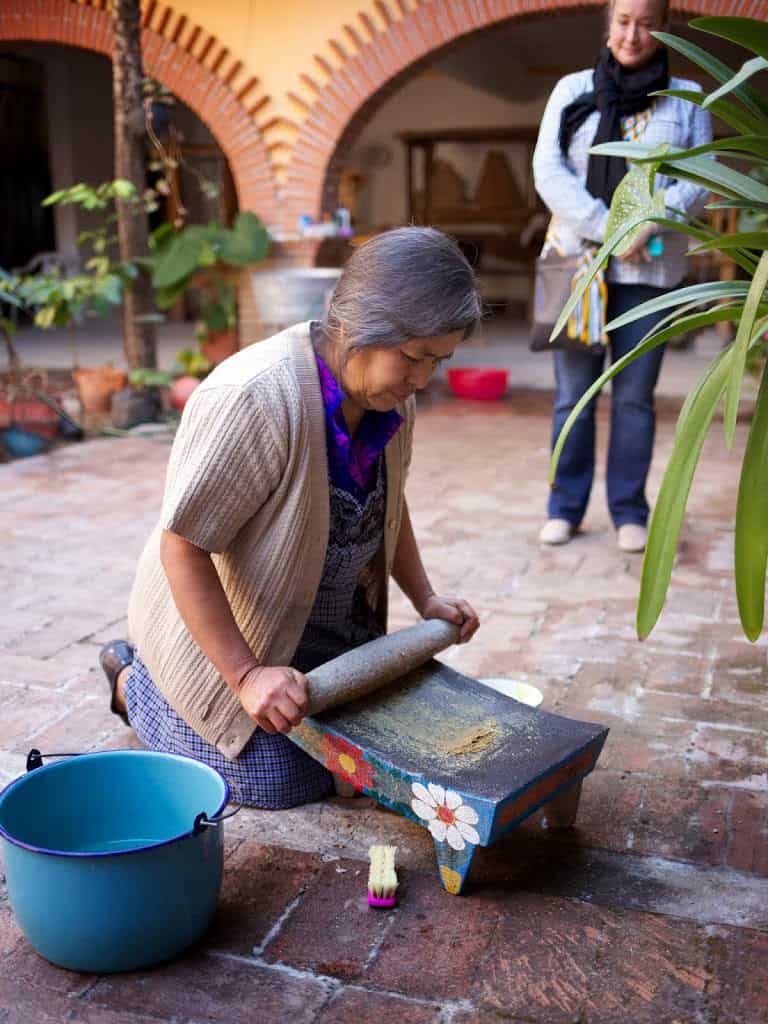 My knees hurt just looking at this picture
I was amazed at the effort it takes to make a typical Mexican breakfast. Some meals needed hours of grinding on a flat stone metate - something I can barely do for a minute before my arms cramp up. This is considered women's work? Those the wives and mothers have forearms like steel cables.
Then there was the eating. We dined at high end Mexican restaurants, the food artfully arranged on the plate, the chef combining traditional Oaxacan flavors with modern culinary techniques. On the other end of the scale, we ate at humble food carts, eating minced cow head tacos, served with a cup of warming broth with a little more minced meat in there.
If you want to, you can ask for your favorite part of the cow's head. I tried cheek, tongue, and…eyeball. It's considered a delicacy, and I'm glad I tried it. Once.
We sampled mezcal, the traditional alcohol of Oaxaca. Mezcal is similar to tequila, distilled from the maguey, a relative of agave. This is not the rotgut that I tried to drink in college, the one with the worm at the bottom of the bottle. We visited a distillery and tasted the sweet heart of the maguey plant. They showed us how it is smoke roasted, crushed to extract its juices, fermented, and aged in barrels to make a drink full of smoky flavor and complexity. (And the worm? It loves the sap of the maguey plant, so some distilleries leave a single worm in each bottle.) Tequila? Boring. You can have it. I'm a mezcal fanatic now.
Well, OK, twist my arm, and I'll force myself to have a margarita.
Cooking School
Don't worry, it will still taste good.

Don't say that. I know what that means. It means I messed up!
Now, I was there to eat…but after these morning tours, the idea of eating again, ever, was the last thing on my mind. I was stuffed and ready for a nap. We'd get in the van and head back to the school for our evening of cooking. Jesus would pass around a sip of mezcal and a piece of chocolate, and suddenly I'd perk up again. Susana would talk us through the evening's recipes, we'd divide them amongst ourselves, and get to work.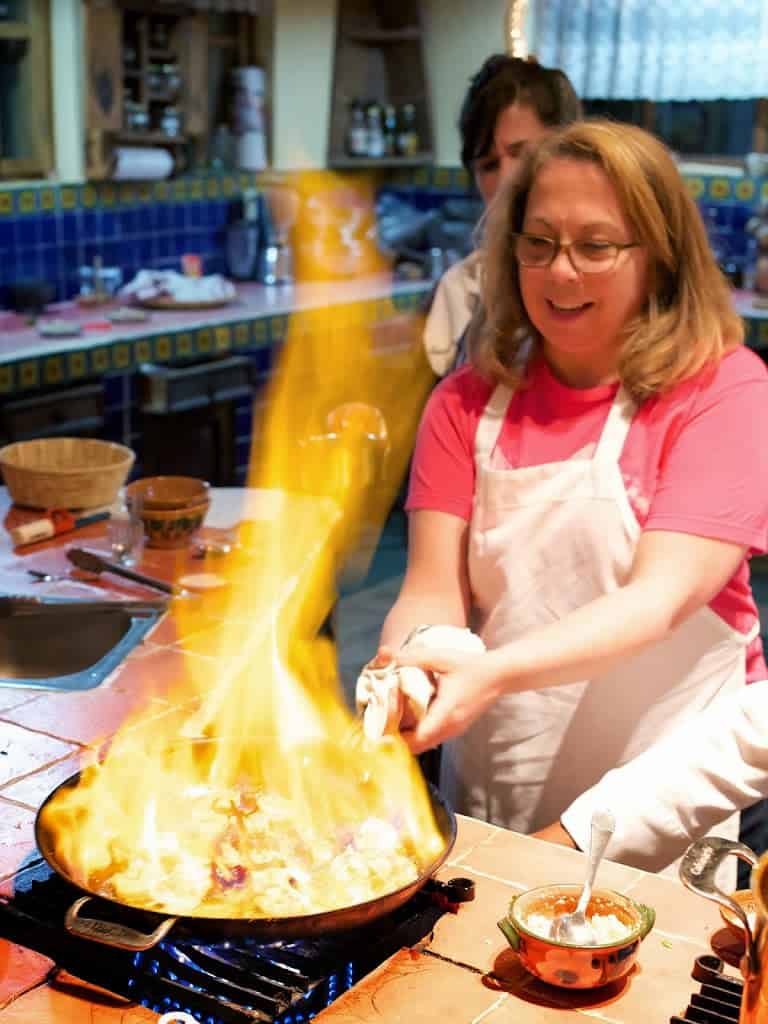 Shrimp flambé with mezcal.
There were about eight recipes every day, split among the ten of us. Most of the time, you had your own recipe. Some were complex enough to have a team of two, and if there was a recipe that took a lot of hands, we'd all gather at the big table in the center of the kitchen to help. (Some things, like folding tamales or rolling molotes, are best made in an assembly line.)
We had our choice of agua fresca, cerveza, or margaritas to quench our thirst while we worked on dinner. Susana and her assistants, Norma, Lorenza, and Jesus, would mingle, answer questions, keep an eye on us, and help out where we needed. (And they washed all the dishes!)
So, what did we cook? Just about everything. Here's our menu for the first day, to give you an example:
Salbutes con Salsa de Chile Habaerno
Sopa de Ajo con Flor de Calabaza
Ensalada de Piña, Jicama y Aguacate
Tamales de Frijol
Ensalada de Nopales Asados
Tamales de Rajas
Tamales Oaxaqueños
Crepas Rellenas de Requesón y Cubierta de Peras Bañadas en Mezcal
A lot of recipes centered around the comal, a large, flat clay disk heated over an open wood fire. The comal is a skillet on a large scale, used to toast and blacken foods, and the open fire gives them a hint of wood smoke flavor.
I want one in my back yard, but I don't think I have the space. I'll have to improvise, using my kettle grill with some wood chunks thrown in the coals.
Aprons off! Come, sit down.
After all the cooking, we would gather at the table to eat. (While Jesus, Norma and Lorenza would plate our dishes and serve us. Thank you!) It was another wave of food, and a grand tour of Mexican cooking.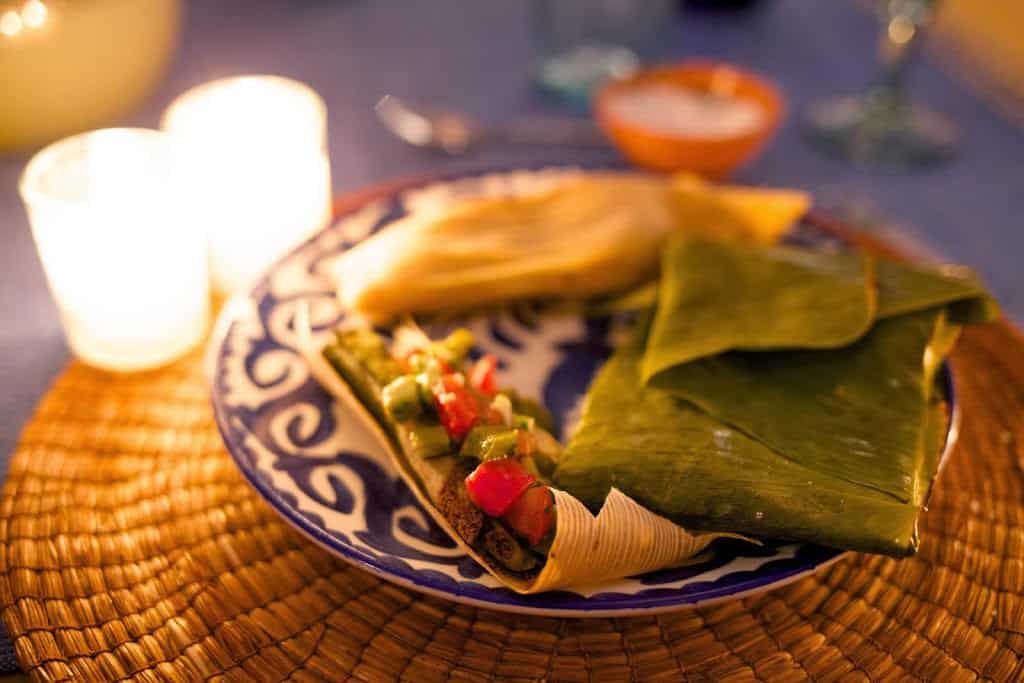 Tamales, three ways
We had a day centered around pre-Hispanic tamales (that's the one from the menu above), a day centered around chiles, a day of antojitos, and, the grand finale…mole day.
Pronounced moe-lay, and rhymes with olay. Does not rhyme with hole. Not pronounced like the small, furry rodent. No matter how many times my kids cracked up about small rodent sauce.
Blackening the chiles...and I do mean blackening.
In Oaxaca, you're judged by how black your mole negro is. If it's a little red, they know you don't care enough to put in the work.
That was the one I was waiting for. Three of us got to work on Mole Negro, the famous black mole of Oaxaca. And…I was sure we were ruining it. Normally, recipes warn you not to burn chiles when you're toasting them. Lorenza kept telling us to put them back on the comal, that they weren't black enough yet. Then we put the seeds from the chiles on the comal, with instructions to cook them until the caught fire…and the fire burned out. Also: tear gassing everyone downwind of us. By the time we were done with this step, I expected mole negro to taste like the ashes on the bottom of my grill.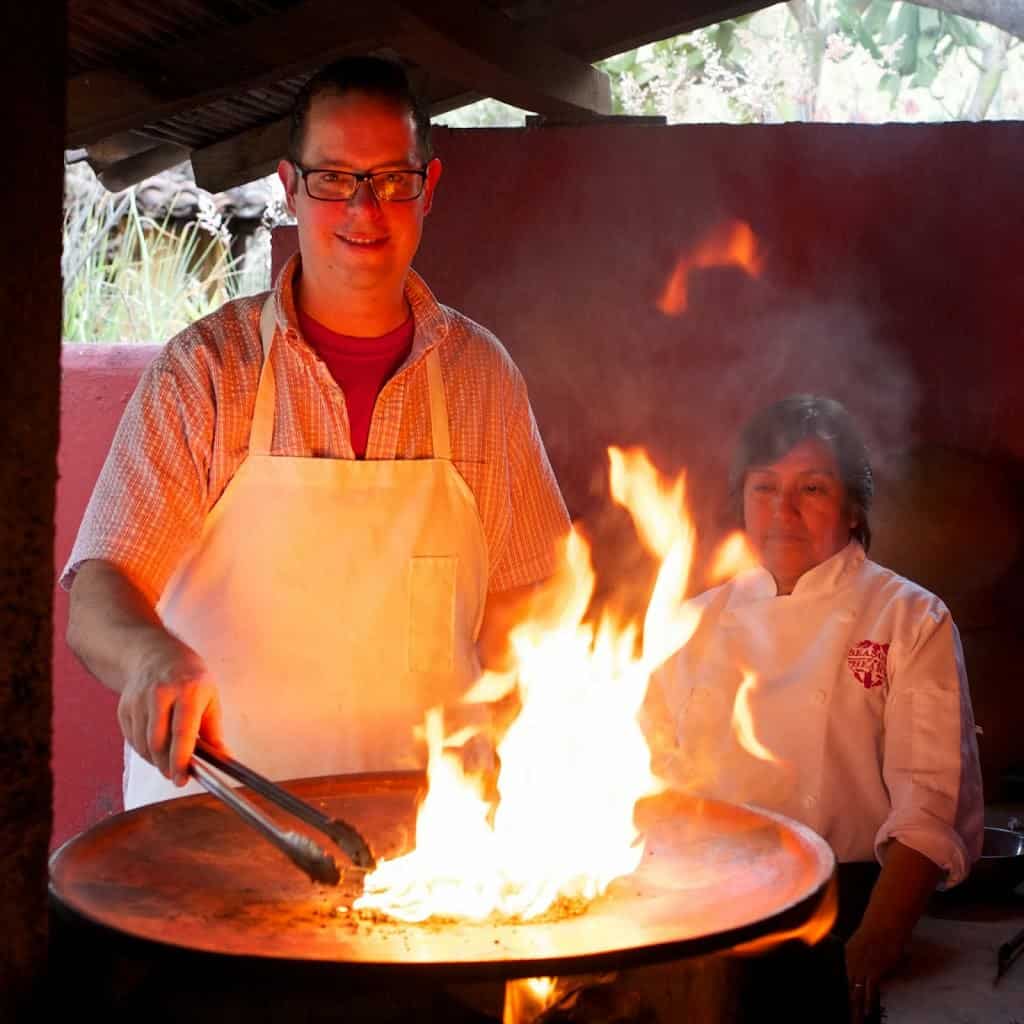 Thought bubble: "We are so doomed."
But, after toasting, sauteing, and blending up the rest of the ingredients with the blackened chiles to make a thick chile paste...it started to smell pretty good. Then it was time to simmer. The thick chile paste was thinned out with chicken stock, sweetened with chocolate, and reduced for hours. We all took turns stirring, scraping the bottom to make sure it didn't burn. (Which, after how the recipe started, seemed ironic.)
The thick, glistening black sauce that resulted from all that work was poured over roasted chicken, which we ate using tortillas as spoons. Oh, my. Now I know why mole negro is the ultimate in Oaxacan cuisine.
Thank you
Travelling is homework for life.
I struggled with this post; I feel like it will take years to absorb everything I learned on this trip. There are so many things I forgot to mention, like our tour of the ruins of Monte Alban, the cheese making demo, and making our own Mexican chocolate. (Wait…I forgot chocolate? That's criminal.)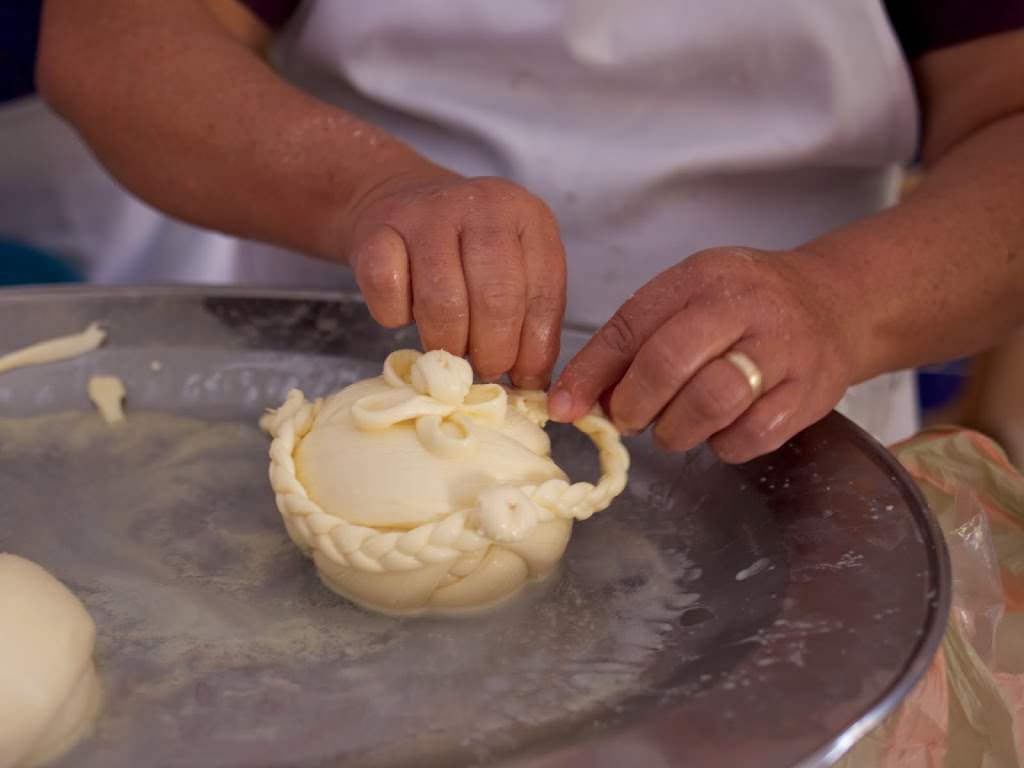 Cheese making demonstration
I need to end with thanks to everyone on the trip:
David, our driver, picking us up every morning and keeping a careful watch on us for the rest of the day, as we wandered in all directions like a herd of cats.
Jesus, Norma, and Lorenza, the cooking school assistants, helping us out in the kitchen and putting up with our (OK, my) fumbling kitchen Spanglish, all with smiles and great humor. (And did I mention they do dishes?)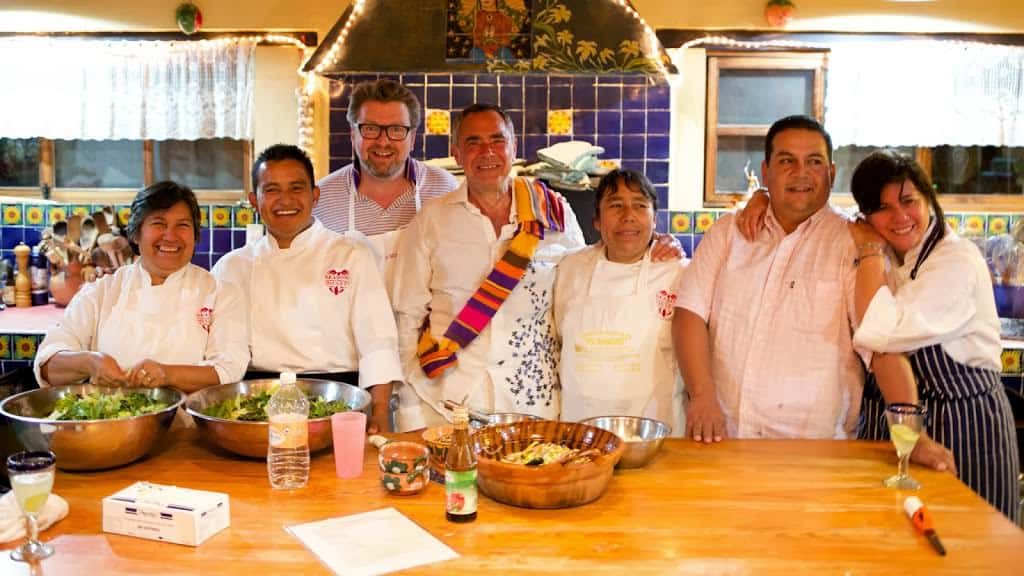 Lorenza, Jesus, Lars, Scott, Norma, David, and Susana
Nicole, Susana's intern, who organized us via email before the trip, and shared her sunny personality during her last week in Oaxaca with us. (She made a special stop for me, visiting the English language bookstore that had a few remaining copies of Susana's out of print cookbook. Thank you, Nicole!)
My fellow classmates: Cathy, Cynthia, Cynthia, Hanna, Kirsten, Ray, Lars, Scott and Shelly. Amongst them were cooking teachers, cooking school managers, professional chefs, restaurant reviewers, caterers, cookbook authors, magazine editors, cookbook publishers, professional eaters, professional musicians, and four former IACP presidents. (And Norwegians, Tejanos, Baltimorians, and rabid Seahawks fans, to go with this Ohioan. Obviously, everyone wore multiple hats, and I'm sure I left out a bunch of things they've done. These people were an inspiration.)
Thank you for quickly nicknaming me "Grilling Daddy", designating me the class photographer, and generally making me feel wanted. (Sorry about all the blurry pictures...) And, thank you for sharing a honeymoon and a 50th birthday party with us on the trip - we were honored.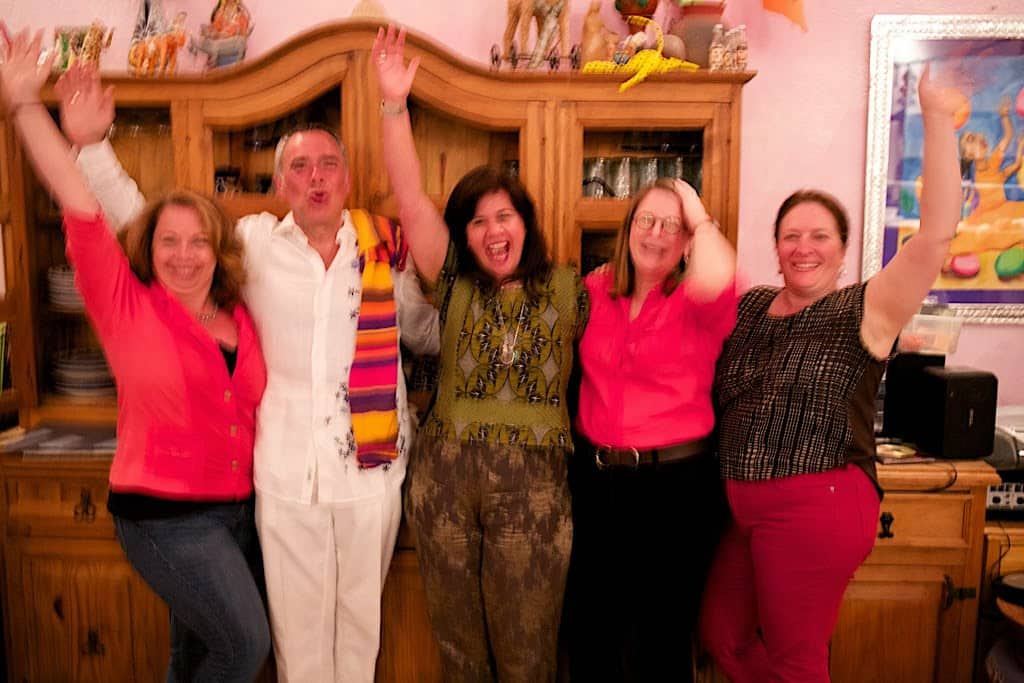 It's out of focus, motion blurred...and captures the spirit of the
tour better than any other picture I took.
Finally, Susana, our host. Thank you for sharing your knowledge, skill, and love of Oaxaca and cooking with us. I ate a grasshopper - that means I get to come back, right?
Resources
Enjoyed this post? Want to help out DadCooksDinner? Subscribe to DadCooksDinner using the RSS or Email options on the right, recommend DadCooksDinner to your friends, buy something from Amazon.com through the links on this site, or donate through my tip jar. Thank you.