I'm on a road trip! Which, this time around, is a euphemism for "At a conference for the day job."
An army marches on its stomach. - Napoleon Bonaparte
I travel to see new places, meet new people...oh, who am I kidding. I travel to eat. Seattle has a fantastic food scene, and I have too many suggestions to do all of them justice. But I've been eating a lot! And taking pictures! So I have to show them to you now!
(Pulls out slide show, sees everyone edging towards the exits, reluctantly puts slide show away.)
OK, how about just a few highlights:
Caution: Low Flying Fish
Watch Out for Low Flying Fish
[YouTube.com]
My favorite place to visit in Seattle is the Pike Place Market - and not just for the flying fish show at the Pike Place Fish Market. (Though they have a great time, flinging fish around and chatting up the crowd. Check 'em out. And get an oyster shooter while you're there. Or a whole sockeye - they ship anywhere in the US. They are there to actually sell fish, after all.)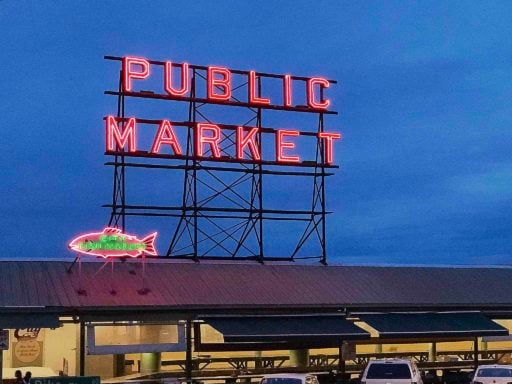 Right around the corner from the market - or, maybe in the market, I'm unclear as to the actual boundaries - is the original Sur La Table store. This is a dangerous place to visit - there are always more kitchen gadgets that I HAVE TO HAVE RIGHT NOW GIMME GIMME GIMME...ahem. Sorry. I restrain myself by thinking about going through airport security. 1A reader said: "Don't worry - Sur la Table will ship it home for you." Argh! You're not helping!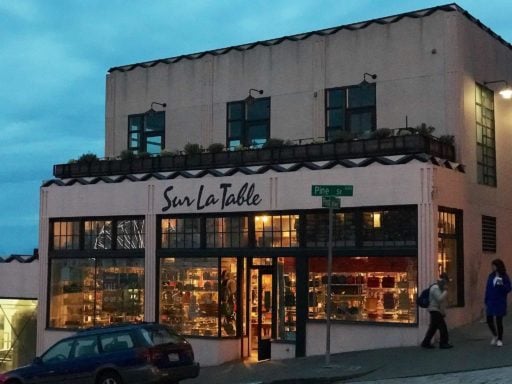 As for dining options, there are too many to count. I got multiple suggestions for the Steelhead Diner, right across the street from Sur La Table, and it was fabulous. My other favorite is Miller's Guild, a steakhouse right around the corner from my hotel. The center of the kitchen is a massive Grillworks wood grill, and they specialize in aged beef - the aged tomahawk steak look amazing. (But my wallet chickens out at the throat-clutchingly high price of aged beef, so I get by with the bavette steak - which is also great.)
I'm here for a few more days, and planning to eat my way across the city. And take the http://www.seattlemonorail.com - it runs right outside my hotel window. I don't care where it goes - I have to ride it. It's a Monorail!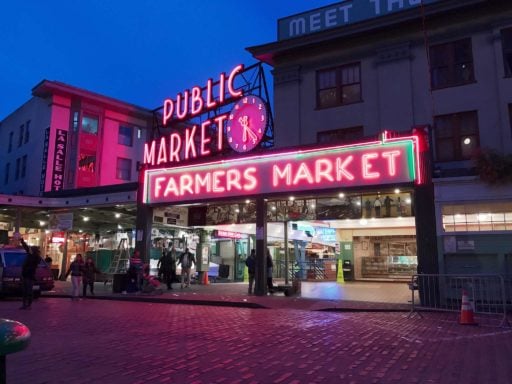 What do you think?
Questions? Other ideas? Leave them in the comments section below.
Enjoyed this post? Want to help out DadCooksDinner? Subscribe to DadCooksDinner via eMail or RSS reader, recommend DadCooksDinner to your friends, and buy something from Amazon.com through the links on this site. Thank you.