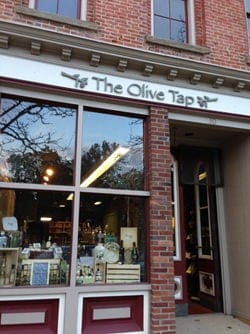 One of the things I enjoyed the most on my trip to France was tasting olive oil in Provence.
I mentioned I took a cooking class in Provence, right? Right.
In Provence, there were a couple of stores that specialized in olive oil. They were set up to allow tasting of all their oils, and the flavor differences between them was just amazing. I brought three liters of olive oil back with me. I had more olive oil in my suitcase than anything else, including clothes!
Sadly, those wonderful oils ran out last summer. I've bought some
high-quality oil
since then, but it's always been hit ormiss- I wanted tohave the chance to taste the oil, just like I did in Provence.And then, right after I finished my
Vinaigrette Week
 recipes, I got the latest edition of Jane Snow's
newsletter
. Lo and behold, she was talking about a store that specialized in olive oil, that was only a 20 minute drive from my house:
The Olive Tap
. It was fate! I had to stop in.And...I found what I've been looking for. They had ten different "plain" olive oils from all over the world. They are stored in large jugs with spigots; you can taste them, pick the one(s) you want, and then pour them into a waiting bottle. They also had flavored olive oils - hot pepper, basil, blood orange, chipotle, meyer lemon, and many others. (I particularly liked the chipotle and the lemon.)
They also had a bunch of balsamic vinegars, both plain and flavored. I tasted, sampled, and this is what I bought:
The Olive Tap (website here)
1031 N. Court St.
Medina, OH 44256 (Map Below)
My Five choices:
1. Arbequina extra virgin olive oil from Spain - buttery, fruity olive oil
2. Athenolia extra virgin olive oil from Greece - peppery, spicy olive oil
3. 18 year aged Balsamic vinegar - sweet and thick
4. Fig Balsamic vinegar - fruity and perfect for a
Fig Balsamic Vinaigrette
5. Myer Lemon olive oil - flavored with lemon; I can't wait to use it on some grilled vegetables
Notes:
Good olive oil should only be used when you're NOT cooking with it. The high heat cooks out some of the complex flavors that make it taste so good. That's my excuse for having the big jug of Trader Joe's spanish olive oil on hand; I use it with a lot of my cooking.
I keep the good olive oil for use as a drizzling sauce, or in plain vinaigrettes, where you can taste the complexity.
*Oh, and the 18 year Balsamic drizzled on fresh strawberries is an Italian classic. I can't wait to get some fresh strawberries this summer to try it out.
The Olive Tap: