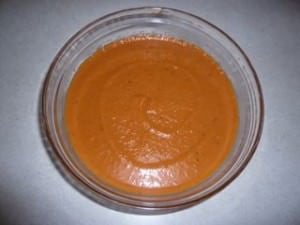 When I am asked to bring an appetizer, this is usually the first thing I think of.* Other than roasting the peppers, it's "dump and process". I like that when I'm rushing around, getting ready to go to someone's house!
*OK, the second thing. The first thing is a cheese plate with some good blue cheese, hard cheese, and goat cheese, and a sliced baguette on the side. Mmm. Cheese.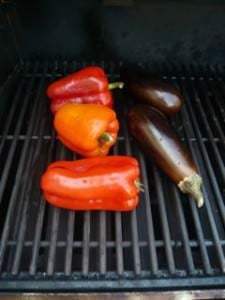 Equipment:
Ingredients:
3 red peppers
2 cloves garlic
1 can (15oz) chickpeas
⅓ c extra virgin olive oil
juice of 1 lemon
½ teaspoon fresh ground black pepper
Salt to taste (depends on how salty the chickpeas are - I usually add ½tsp kosher)
Directions:
1. Roasting the peppers:
Preheat your grill to medium - direct heat. Cook the peppers until blackened on all sides (usually about 5 minutes a side). You want to get them good and burned - it's OK! Let the peppers sit until cool enough to handle. Pull out the stem, core and seeds and discard. Peel the blackened skin off (I just use my fingers, and it's OK if you have a few blackened bits left).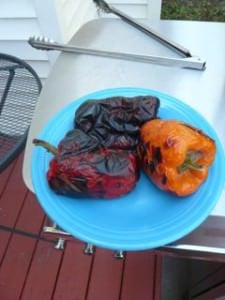 This is how they should look coming off the grill.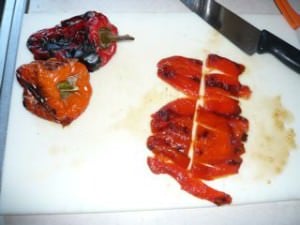 2. Preparing the dip:
Drop the garlic through the feed tube into a running food processor, and wait for the garlic to be completely minced, usually about 10 seconds. Put chickpeas, roasted red peppers, lemon juice and black pepper in the processor, and pulse a couple of times to mince. Turn on processor and drizzle olive oil through feed tube, adding just enough for the other ingredients to come together into a dip-like consistency. Taste for salt - add salt and pulse to combine.
Notes:
*I usually serve this with pita bread, cut into triangles and vegetable crudites (baby carrots and celery go particularly well). It is also good with tortilla chips or crackers.
*If you don't want to roast the peppers, you can substitute 16oz of canned or jarred roasted red peppers, drained. Roasting your own peppers gives you a much better tasting dip, in my opinion.
*This is also the recipe for Hummus - just replace the red peppers with roughly ¼ cup of tahini (sesame paste).
*Roasting extra red peppers is a good thing to do - you can always find a use for them in a salad or a sandwich. When I have some extra red peppers on hand, and I'm preheating my (gas) grill for something else, I put the peppers on right after I've lit it. I turn them every five minutes (or so), and they're nice and black right when the grill is ready for my "real" cooking.
(Adapted from
BBQ USA: 425 Fiery Recipes from All Across America
by Steven Raichlen)