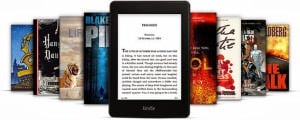 A question I get from time to time:
Do you offer the Kindle version of your cookbook at a discount for people that already have the softcover version?
Until today, no. There was no way for me to do it - the only thing I could think of was buying an Amazon gift card (out of my own pocket), and sending it to them, and…well, that's too much work, and too expensive.
I make a little under $3 for each book sold; a discount that came out of my pocket would wipe out the profit on the book.
Amazon fixed this for me with their new Kindle MatchBook service.
Get it? Kindle? Matchbook? Someone at Amazon loves their puns. Kindle, Fire, Matchbook. Or they have a pyromaniac in the marketing department.
Kindle Matchbook lets authors offer discounted copies of the Kindle edition to anyone who bought the paper version through Amazon. So, now if you buy a paperback copy of Rotisserie Grilling from Amazon, you can get the Kindle edition for $1.99.
Even better: this offer is retroactive. If you ever bought a paperback copy of Rotisserie Grilling, the discounted Kindle edition is now available to you. Go to the Kindle Edition on Amazon and you should see see "Kindle Matchbook" pricing - "$1.99 because you've purchased the print edition".
And, as an aside - there are a lot of books signed up for MatchBook. You can check if any other books you've bought from Amazon are available through MatchBook on this page:
Click on the "Find your Kindle MatchBook titles" button on that page, and it brings up a list of all the books you've ever bought on Amazon that are eligible for Kindle Matchbook.
If you already bought both a paperback copy and the Kindle edition…sorry, there's no way I can make the Kindle discount retroactive. All I can say is thank you for supporting me and my writing!
Why would you want the ebook if you already have the paperback? Well, other than the points I brought up in my Kindle Cookbooks vs Real Cookbooks post, I can think of two reasons:
Color pictures in the Kindle edition. I had to print the paperback in black and white to keep the price at $10 - it would cost roughly $25 if I printed it in color. But, the Kindle edition (and other e-book editions) don't have that problem, so if you want to see the pictures in glorious color, get the Kindle edition
Kindle edition is searchable - looking for that witty turn of phrase I put in there? Or that recipe that includes chipotle powder? Search is your new best friend. I'm constantly using text search in my Kindle cookbooks.
And, if you haven't already bought Rotisserie Grilling, now would be a great time…hint, hint…
---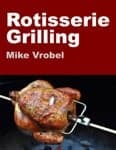 Check out my cookbook, Rotisserie Grilling.Everything you could ask about the rotisserie,
plus 50 (mostly) new recipes to get you cooking.

It's available in paperback, or as a Kindle e-book, so you can download it and start reading immediately!
---
*Enjoyed this post? Want to help out DadCooksDinner? Subscribe to DadCooksDinner using the RSS or Email options on the right, recommend DadCooksDinner to your friends, buy something from Amazon.com
through the links on this site, or donate through my tip jar. Thank you.