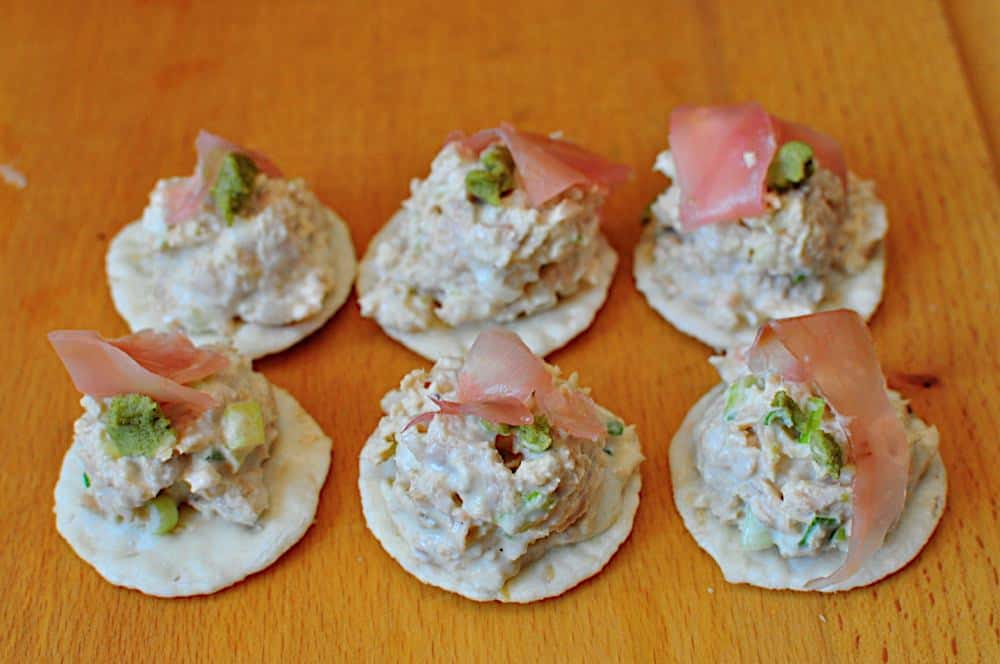 Here is a recipe I tested from Pam Anderson's Perfect One-Dish Dinners
. This is an appetizer that Pam published on ThreeManyCooks.com as Poor Man's Sushi. I can only imagine the internet perfectionists that it brought out of the woodwork:
But this isn't sushi! It doesn't have raw fish in it! And...sushi means the sweet vinegar rice in Japanese, and there is no rice in it!
OK, OK, that might have been me when I first saw it. But Pam had never led me wrong in the past, and I already had most of the ingredients in my pantry. So I tried it out.
What I found is a remarkable appetizer. They're homemade, make good use of pantry ingredients, and can be thrown together in almost no time. It's not really sushi, but you get the flavors of sushi on a bite sized nibble - a hit of wasabi, pickled ginger, fish, all on a crunchy rice cracker. They are the perfect appetizer for an Asian themed party...if your guests aren't food purists who will lecture you on what sushi really is.* If they are purists, just cram one of these into their mouth; it will quiet them down, and once they taste it they may stop the lecture.
*Umm...like me. Really, I'm working on getting over myself. But it's a long road.
Now, I couldn't just leave Pam's recipe alone. I'm too much of an improviser, thanks to her How to Cook without a Book
. The first thing I did was up the wasabi. I love the subtleties of great sushi, but even average sushi is OK with me as long as it serves as a wasabi delivery system. I added a small pea of wasabi to the top of every nibble to up the horseradish kick.
Next, I made a change to the fish. Pam made the original with canned tuna; I had salmon in a pouch in my pantry. The pouch salmon worked perfectly; it was already drained, I just had to mash it to be ready to go. I've made the recipe both ways now, with pouched salmon and tuna, and I have a slight preference for the taste of the salmon version.
*If you do go with tuna, make sure to buy sustainable tuna, please! Look for the MSC symbol on the can or pouch, and your tuna will be OK. All Alaskan salmon is sustainable, so you don't have to worry as much about it.
This recipe has become one of my standards. When I need an appetizer for an adventurous group that enjoys a healthy kick of wasabi, this is what I turn to.
Recipe: Salmon Salad Bites with Sushi Flavors

Cook time: 10 minutes
Adapted From: Pam Anderson Perfect One-Dish Dinners
Ingredients:
2 (6 ounce) pouches skinless, boneless salmon (or canned skinless boneless salmon, drained)
2 scallions
½ cup mayonnaise
1 tablespoon + 1 tablespoon wasabi powder (or use pre-mixed wasabi in a tube)
Sesame rice crackers
Pickled ginger
Directions:
1. Mix the salmon salad:Put the salmon in a medium bowl, and mash with a fork. Slice the scallions thin, and add to the bowl with the salmon. Add the mayonnaise and 1 tablespoon of wasabi powder to the bowl with the salmon. Stir until evenly mixed. This can be made up to 24 hours before serving - keep refrigerated until it is time to assemble the bites, below.
2. Assemble the salmon bites: Make wasabi paste by mixing the remaining 1 tablespoon of wasabi powder with 1 tablespoon of hot water. On each sesame rice cracker, put 2 teaspoons of the salmon salad, and top with a small pea of wasabi paste and a piece of pickled ginger. You should get about 24 salmon bites from the recipe.
| | | |
| --- | --- | --- |
| 2 teaspoon of salmon salad | top with pickled ginger | ...and extra wasabi |
Variations:
*Wasabi! I like a lot of kick in my salmon bites; that's why I add the extra pea of wasabi on the top. Since some of my guests don't appreciate that extra wasabi heat, I usually make half the batch without the extra wasabi on top.
*Spicy bites: Want some long burn to go with the wasabi kick? Put a drop of sriracha
sauce on the top of the bite with the wasabi and pickled ginger. Or, to really feel the burn, draw a squiggle on the top with sriracha. (If you go with the squiggle, know that you're in for some Serious Heat.)
*Tuna salad bites: In the original, Pam Anderson used tuna instead of salmon. Like I said in the opening, I prefer the salmon version, but tuna works well in the recipe.
Notes:
*My 2 teaspoon cookie scoop
is perfect for making these bites - it is exactly the right size, and it makes topping the crackers easy.
*Make sure you get skinless, boneless salmon. It's a pain picking the skin and bones out before mashing...not that I've ever had to do that because I didn't pay attention at the grocery store.
*I keep meaning to add soy sauce to the mix, because that is another flavor I love with my sushi. But...I always forget. I'm planning on adding a teaspoon to a tablespoon of soy sauce with the mayo next time.
What do you think? Questions? Other ideas? Leave them in the comments section below.
*Comments that are long winded rants about how this isn't Real Sushi will be deleted. Unless they're funny, in which case I may let them through.
Related Posts:
Review: Pam Anderson's Perfect One-Dish Dinners
Adapted from:
Adapted From: Pam Anderson Perfect One-Dish Dinners
*Enjoyed this post? Want to help out DadCooksDinner? Subscribe using your RSS reader or by Email, recommend DadCooksDinner to your friends, or buy something from Amazon.com through the links on this site. Thank you!