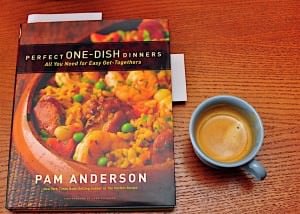 Pam Anderson's new book - Perfect One Dish Dinners
(With bookmarked recipes to try out, and my morning coffee)
*Disclaimer: Pam is one of the major influences on my cooking, and one of my blog buddies. Pam's How to Cook Without a Book
taught me the difference between following recipes and knowing how to cook, which was one of the major steps I took on the path that led to this blog. So I'm not sure I can be perfectly objective about this one.  That aside, I think this is one of her best cookbooks.
Usually, when I read a cookbook, I page through it and look for recipes that interest me. Not this one. Pam Anderson's Perfect One-Dish Dinners
grabbed me with the first recipe - Frogmore Stew, a one-pot seafood and sausage boil. From there, I kept turning pages and saying:
 "I have to make that Choucroute. No, I'll do the Cassoulet. Ooh - Tamale pie! Wait...I'll try the Osso Bucco with polenta first. But...those Lamb Shanks with tomatoes and white beans are too good to pass up..."
By the time I finished flipping through the book, I was fired up to cook dinner...for the next six months.  All at once.
This book is a treasury of comfort meals, but they are comfort meals from across the globe, and for all seasons; they aren't all heavy stews for the fall and winter. There are a lot of spring and summer recipes, like spicy coconut shrimp stew, roast salmon with potatoes, asparagus and lemon-dill-caper drizzle, and coq au vin blanc with spring vegetables.
More important than the individual recipes is why Pam put this book together. She was looking for recipes that make entertaining less stressful. By centering a party around a one-dish main course, she simplifies the process - no struggling to get a bunch of different dishes cooked at the same time, because the whole meal is in one pot.  The chapters are built to show how a dinner party could be put together around that one dish. Each chapter starts with the one dish main course, and follows with a related appetizer, salad, and dessert. As an example, here are the recipes in the Salsa Verde Chicken with Dumplings chapter:
Salsa Verde Chicken with Herbed Cornmeal Dumplings (main)
Pimento Cheese with Green Olives and Flatbread Crackers (appetizer)
Baby Spinach Salad with Mango, Avocado, Red Onion and Orange Vinaigrette (salad)
Miniature Lemon-Raspberry Cakes (dessert)
Where possible, she adds an "instant" replacement for the appetizer and dessert made mostly of store-bought ingredients. That way, if you really don't have time to prepare all the courses, you can replace them quickly without losing the effect of the whole meal. (Example: the instant alternative to the Pimento Cheese with Green Olives is a box of boursin cheese with a sprig of fresh dill on top. It's not as elegant, but it is much quicker.)
It's a great approach, because it lets the cook choose the level of complexity of the meal. For a family dinner, make the one dish main course, plus the related side salad. For a low effort dinner party, add the suggested instant appetizer and dessert. If you want to go all out, add the suggested appetizer and dessert, and you have a four course meal that is mostly hands-off once the guests arrive.*
*Which is something I need to focus on when I'm entertaining. I'm notorious for spending most of my dinner parties fussing away in the kitchen.
On top of the great concept, Pam has a couple of interesting techniques in this book. I'm going to try them out, to see if they should become part of my basic techniques.
The first technique is how she does oven braising. Like Pam, I've always been a fan of simmering my braises, stews and chilis in the oven instead of on the stove top. I put them in a 350F oven, and the even heat simmers them without needing any stirring. Pam has an interesting twist on this technique. She covers her braises with aluminum foil, pushing it down on top of the surface of the food, puts the lid on the pot to seal the foil, and then puts the pot in a 450F oven. She says the sealed aluminum foil traps the steam in the pot, and this steam gives you an improvised pressure cooker - it speeds up the cooking, and helps tenderize the meat.
*Of course, I'm a big fan of pressure cookers, so I'm going to be adapting a few of these recipes to work with my PC.
The second technique that grabbed my attention is how Pam uses roasting pans. She suggests using a heavy roasting pan instead of a dutch oven in the larger recipes. By searing across two burners, covering the pan in aluminum foil, and braising in the oven, she cuts down on extra pans, gets a lot more surface area for browning, and can fit enough of a one-dish meal into the pan to serve eight or more. She also combines this with the previous idea, of wrapping with foil and braising at high heat for a pressure cooker effect. She braises in the roasting pan, covered with a layer of foil pressed right against the food, with a second layer on top as the lid.
*I really want to try this technique out; it seems like a great way to get more out of a roasting pan. Unfortunately, I don't trust my current roasting pan on the stove - it is thin steel. I'm trying to be patient and wait for the December All-Clad Factory Sale to get one of their new flared, fully clad roasting pans at a discount. But, as usual, I'm weakening every time I walk past Williams-Sonoma.
I've tested a handful of recipes from the book, and they've all been fabulous. Pam works hard to get the recipe as simple as it can be without losing the essential flavors of the dish, and that shines through here. The recipes are straightforward, but not over-simplified.
In summary, if you are looking for a great collection of one-dish meals with a global variety of flavors, and simple to elegant side dishes that pair with them, buy this book.


Highly recommended.
PS: Visit Pam and her daughters, Maggy and Sharon, at ThreeManyCooks.com
Pam Anderson: Perfect One-Dish Dinners: All You Need for Easy Get-Togethers


Related Posts:
Salmon Salad bites with Sushi Flavors (aka Mock Salmon Sushi) [Coming Tuesday]
Lamb Shanks with Tomatoes and White Beans, Pam Anderson style [Coming Thursday]
*Enjoyed this post?  Want to help out DadCooksDinner?  Subscribe using your RSS reader or by Email, recommend DadCooksDinner to your friends, or buy something from Amazon.com through the links on this site.  Thank you!