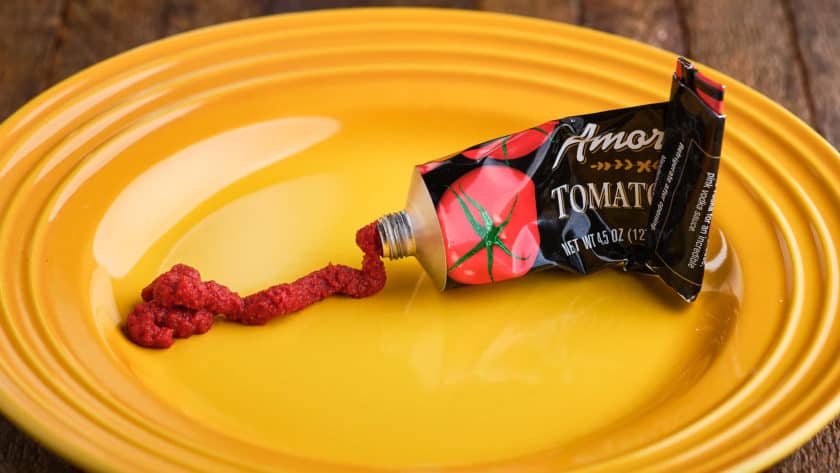 I love tomato paste in a tube. (Yes, I'm weird that way).
I use tomato paste a tablespoon or two at a time. That's not enough for the little 6-ounce cans to be worth it. I put the rest of the little can in the refrigerator…and wind up throwing it away a few weeks later, when I find it buried in the back behind the pickles.
Tomato paste in a tube keeps basically forever. The tube is a sealed environment, protecting the paste and keeping it fresh. (That is, as long as I remember to screw the cap back on, not that I've ever forgotten, oh no, not me.)
Yes, a tube costs 4 times as much as a $0.49 can of tomato paste, but it is less wasteful, and more convenient, to have tomato paste hanging out in the deli tray in my refrigerator, just a squeeze away.
I buy Amore brand tomato paste, because it's the only one my local grocery stores stock. I know I've used Cento in the past, and I think I used San Marzano once or twice, both purchased from Italian specialty stores. I haven't noticed much of a difference between the brands, so go ahead and buy whichever one you can find. All of them were good, and more convenient than the little can of paste.
What do you think?
Questions? Other ideas? Leave them in the comments section below.
Related Posts
Things I Love: Oxo Mini-Whisk
Things I Love: Flat Edged Wooden Spoon
Things I Love: Victorinox Paring Knives
My other Instant Pot Pressure Cooker Recipes

Enjoyed this post? Want to help out DadCooksDinner? Subscribe to DadCooksDinner via email and share this post with your friends. Want to contribute directly? Donate to my Tip Jar, or buy something from Amazon.com through the links on this site. Thank you.