Most of the time, I don't need a big whisk. I'm mixing a stir-fry sauce, a cornstarch slurry, or melted chocolate. That's why I reach for this Oxo 9-inch silicone whisk.
(Disclaimer: this post is not promoted by OXO. I bought all the whisks with my own money. I am an Amazon affiliate, so if you buy something through one of the links on this page, I get a small commission, and you help support DadCooksDinner at no extra cost. Thank you!)
Larger whisks are awkward in a small bowl (or a measuring cup). They are also top-heavy in a smaller container; when I try to leave them in the bowl, the weight of the handle catapults sauce all over my kitchen counter.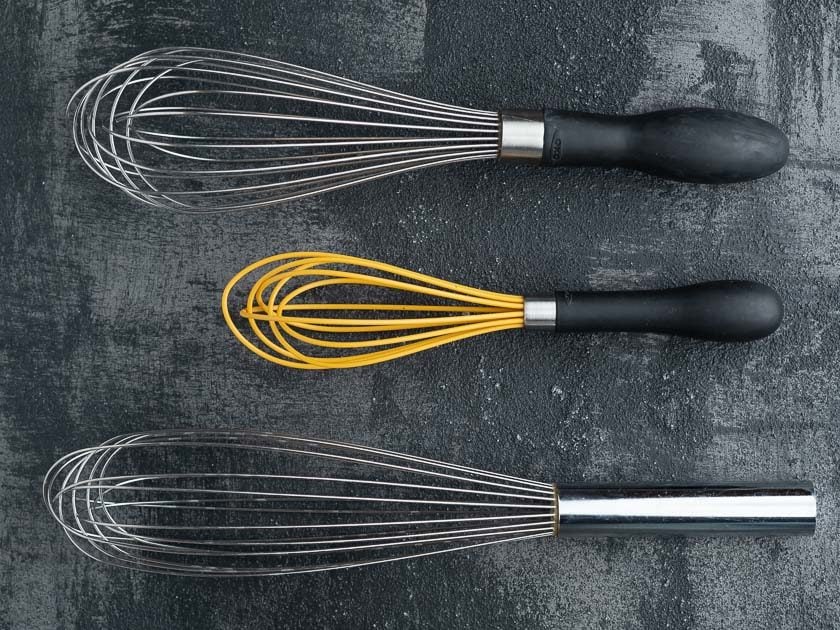 The mini-whisk just feels better with my cooking style. The silicone coating protects nonstick surfaces, so I can whisk a sauce right in the pan. The smaller size fits well in my utensil drawer. And it's a sunny yellow, something I need this time of year, when the winter prediction is It's gonna be cold, it's gonna be grey, and it's gonna last you for the rest of your life.
Ahem. Sorry. Getting a little sick of Gray February here in Northeastern Ohio. Where was I? Right, whisks.
Check out this Oxo mini-whisk. You won't be disappointed.
OXO Good Grips Silicone Whisk, 9", Yellow [Amazon.com]
What do you think?
Questions? Any favorite kitchen gadgets you want to tell us about? Talk about them in the comments section below.
Enjoyed this post? Want to help out DadCooksDinner? Subscribe to DadCooksDinner via email and share this post with your friends. Want to contribute directly? Donate to my Tip Jar, or buy something from Amazon.com through the links on this site. Thank you.