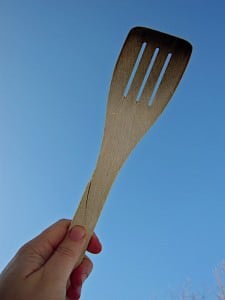 Things I Love: Flat Edged Wooden Spoon
I've been showing you expensive things that I love: my Thermapen, All-Clad Stainless cookware, Shun Bob Kramer Knives. My flat edged wooden spoon is not expensive, but I love it just as much.
I've replaced every piece of kitchen equipment bought before I became a real home cook.* Everything except this simple, flat edged spoon. It was was part of a stir-fry set I bought just after Diane and I got married. It fits in my hand like it was carved just for me, and the slant to the flat edge is perfect for a (right-handed) scrape of the pan.
*Yes, even the stove and the dishwasher. The microwave was the last hold out from our wedding presents, but it finally gave up the ghost a few years back and had to be replaced.
**Oh, and the refrigerator. We did buy a new one, but the old one just moved down into the basement, to give us backup storage and an extra freezer. I don't know what we'd do without the second refrigerator - with the five of us, it feels like we'd just have room for milk and eggs.
I use this spoon to deglaze pans when I'm making a pan sauce, and to stir simmering pots with ingredients that might burn. The flat edge scrapes the bottom of pans without scratching them, and I can feel if anything is sticking to the bottom of the pan - the wood transfers a rough feel to my hand. I just have to keep scraping until the rough feeling is gone, and the risk of burning has passed. It is the key to pan sauces and braises - once you have a good browned fond on the bottom of the pan, the flat edge helps lift it off and incorporate it into the sauce.
I worry that I only have the one spoon. I hate it when it's in the dishwasher and I need it. Even worse, it's developing a crack (see the middle of the handle in the pictures.) I've bought many other spoons, but none of them have that "fits just right" feel that this one has. The closest I've come is the Mario Batali risotto paddle
(see picture below). It works almost as well, and has the slight angle and flat edge that I like. But it is made out of a soft beechwood; the scraping edge of the spoon is starting to wear down already, and has developed an interesting warp on one side. I've only owned it for six months, so I don't think it's going to last.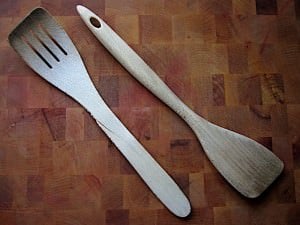 The last time I was at Sur La Table, I saw an exact duplicate of my favorite, and I'm going to get a spootle from Jonathan Spoons
as recommended by DineInDiva in her blog. I want to try them out, but I don't think they'll be able to replace my old friend.
[Update] It's a sad day at DadCooksDinner. Since I wrote this post, my old friend split in half along that developing crack. Sigh. After a moment of respectful silence, I ordered both spoons I mention above. I just hope one of them feels as good in my hand as this spoon did.
What do you think? Do you have any kitchen gadgets that feel less like a tool, and more like a member of the family? Tell us about them in the comments section below.
*Enjoyed this post? Want to help out DadCooksDinner? Subscribe using your RSS reader or by Email, recommend DadCooksDinner to your friends, or buy something from Amazon.com through the links on this site. Thank you!