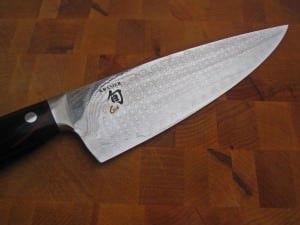 When have you spent too much money on your tools? That's a question I'm often asking myself. I always lust after the latest and greatest kitchen gadget. I try to deal with this by buying the best tool in the first place, since I will probably come up with an excuse to buy it eventually.
*"Buy the best, and only cry once" is the best summary of this approach.  Also, I'm trying to stick with a one in, one out strategy for new kitchen tools.  If I buy a new toy gadget essential tool, I get rid of something to make space for it.
This long winded introduction is because I'm a little embarrassed about the price of this one. I love my Shun Bob Kramer 8-inch chef's knife. Yes, it's a $340 chef's knife. Yes, I know that I was telling you how much I loved the regular Shun chef's knife not that long ago.
*I am fickle with my knives. The regular Shun is a great knife, and if the Shun Bob Kramer didn't exist, I'd still be using it happily. 
**It's a testament to the usability of the plain, boring, cheap Victorinox 8-inch chef's knife
that I used it as long as I did. I still use the Victorinox when I am doing something that might dull the blade on my "good" knives, like cutting a squash or sectioning a chicken. If you don't agree with the "always buy the best" approach, then the $30 Victorinox is the best value knife out there.  It's 90% of the knife that the Shuns are, for a tiny fraction of the price.
I'm obviously a little conflicted about the price of this knife.
*And even then I wouldn't have bought it, except I had a gift certificate burning a hole in my pocket after my last birthday. Thank you, Pat, Erin and Olivia!
But...oh, my. Shun's regular line of knives are gorgeous, but the Shun Bob Kramer knives are works of art. They are made out of Shun's SG2 powdered steel, and clad with a thin layer of stainless Damascus steel.  You get the beauty of Bob Kramer's Damascus steel, the ease of maintenance of stainless steel, and the hardness of Shun's high tech powdered steel.
*Want to know what this all means?  Check out Chad Ward's An Edge in the Kitchen
 for an excellent overview on knives, sharpening, hardness and metallurgy.
The Bob Kramer knife is heavier than the regular Shun, but every bit as sharp. It feels better in my hand, and I love the wider blade. It's a brilliant combination of art and function.  My chef's knife is the most important tool in my kitchen.  It is the tool I use the most, by far.  I want one that feels like it's an extension of my arm, one that just works.*  And if it happens to double as a beautiful work of art?  That's even better.
*Which is the key to a good kitchen knife.  Does it fit in your hand?  Does it feel right?  That's the most important thing about knives.  It's why I stuck with the Victorinox for so long; the only knives I've used that felt noticeably better were the Shuns.  Until they came along, everything else didn't quite fit my hand as well.
**But!  I'm 6'3", so my hands may be larger than yours.  Make sure that you can play with a knife before you buy it, to see how it feels.  At least, if you buy online, make sure the vendor has a good return policy.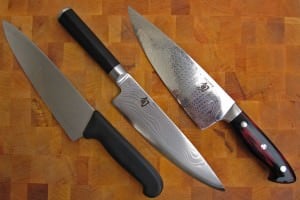 (left to right: Victorinox, Shun, Shun Bob Kramer)
If I could afford one, I would get a real Bob Kramer knife.  One that he has hand forged out of Damascus steel.  I know I was just talking about "buying the best." But.  While the Shun version of his knives cost $340, his hand-forged knives cost roughly that much...per inch of length. For my eight inch chef's knife, that would be a LOT of money.
*Now, maybe someday when this little food blog makes me Rich and Famous...
Here is a video of the master bladesmith at work:
What do you think?  Questions?  Other ideas?  Leave them in the comments section below.
Inspired by:
Shun Bob Kramer Knives at SurLaTable.com
Kramer Knives
Details of the Shun and Bob Kramer collaboration [chadwrites.com]