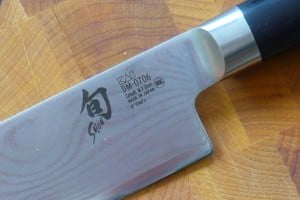 Things I love:
My new Kershaw Shun 8-Inch Chef's Knife
Sharp. Sharp. Sharp!
A chef's knife is the key kitchen tool. (Well, that and a cutting board).* You really can get by with a Chef's knife and a paring knife - every other knife in the block is optional (and some are close to useless. Utility knife? Just use your chef's knife!)
*See Michael Ruhlman's "The Elements of Cooking"
for his essay on how you could outfit a kitchen with only five tools**, and cook most meals.
**Chef's knife, cutting board, 3qt saute pan w/lid, flat edged spoon, oven safe bowl
I've been using my Forschner Victorinox 8-Inch Chef's Knife
for a while. It's a good knife, especially for the price, and it has served me well. But...
I just finished
Chad Ward's "An Edge in the Kitchen"
, and decided that it was time to go from a good knife to a great one. I've lusted after this Shun knife ever since I had a chance to use it while assisting at cooking classes at Sur La Table. It is so sharp, and so quick, I feel like a samurai whenever I'm using it.*
*And as an added bonus, I can imagine that I'm re-enacting the fight scenes in Hero
when all I'm really doing is chopping an onion.
Why is it so sharp? There are two main reasons: Blade angle, and the quality of the steel used in the knife.
Most western chef's knives are sharpened to a 22 degree angle - meaning that the "V" of the knife is 44 degrees. Japanese knives, like the shun, are beveled to a much steeper 16 degree angle, or a "V" of 32 degrees. This is the difference between a razor and a chisel.
How can the Japanese knives have such a steep angle? The quality of their steel. The VG-10 steel used in the Shun knives is much harder than the steel used in western knives, so it can keep that steeper angle longer, without folding over and becoming dull. That's why the western knives have the wider "V" - they don't use as hard of steel, and if they used the steeper "V" they'd dull much quicker.
If you're interested, or would like a clearer explanation of what I'm talking about, see Alton Brown explaining the details of Shun knives.
http://www.kershawknives.com/video/shun/index.html
If you're obsessed, and REALLY into the details, then read An Edge in the Kitchen