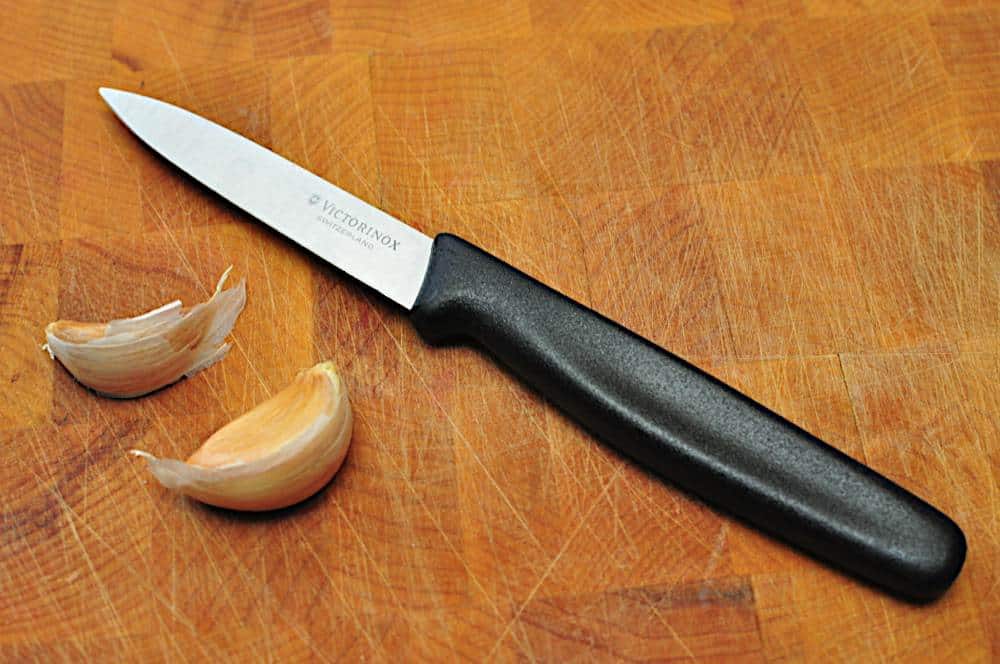 I have two workhorse knives in my kitchen. My chef's knife does eighty percent of the cutting work. The remaining twenty percent is done by my paring knife.
*Well, other than a "Less than 1%" category that falls to my bread knife and my boning knife.
I own a bunch of different paring knives. I have expensive paring knives from Germany and Japan, cheap paring knives from Switzerland and Brazil. I even own an Alton's Angle paring knife, because I had to try out the angle to see if it was worth it.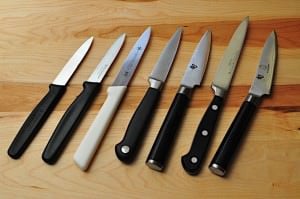 *Yes, I have a knife buying issue. I've kept a tight watch on my purchases, because my knife block is overflowing. Once I get a bigger block, watch out...
**Now, I would be curious to try out a Sheep's Foot paring knife
, as recommended by Kenji Alt.
***Arrgh. There I go again.
Normally, I'm a fan of the "buy the best, and only cry once" approach. My chef's knife is embarassingly expensive, and I love it. But...well...see that array of paring knives up there? I laid them out from least to most expensive, left to right. Which one do you think I reach for every time?
The Victorinox paring knife
, second from the left, is my favorite. It's sharp, light, and effortless to use. With a chef's knife, I want some weight, some heft, so the knife does the work. With a paring knife, that extra weight makes it feel heavy and slow. The Victorinox feels light and swift in my hand.
I use it when I want a really fine mince. (Shallots, usually). I use it to trim meat, because it is so inexpensive I don't feel guilty throwing it in the dishwasher. It is my free-handed cutting utensil; when I need to core an apple, or trim the ends off an onion to throw in the stock pot, it leaps from the block into my hand.
*Yes, I know, shame on me for trimming an onion free-handed. Sometimes I don't feel like cleaning off the cutting board...
How much would you pay for such a versatile tool? Thirty dollars? Forty? Sixty? Here's the best part. It costs $5. That's right - five dollars. Can you pass up such a bargain? (Checks Amazon)...wait, what? They upped the price to eight dollars?
What a rip off! That's robbery! That's...well, that's still a great price for such a good knife. If you have space in your knife block, grab one of these today. As you can see in the picture, I have two. I would get depressed when I reached for it and it was in the dishwasher.
*All joking aside, Victorinox knives are a great deal. If I was just starting out, outfitting my kitchen, the first two things I would buy are the Victorinox Chef's knife
and this paring knife. Later on I would add their boning knife
and bread knife
. That's all you really need.
*Beyond that...God help you if you become a knife addict like me. But have you seen this knife? I'm in love.
Disclaimer: This month I'm writing about essential kitchen tools. As with all my "Things I Love" posts, I am not receiving anything from the manufacturer, and I bought all the items with my own money. I use these tools every day in the kitchen, and I would hate to live without them. I thought, with Christmas coming, you might need a few gift ideas for the cook in your life. And, as always, if you buy something through the Amazon.com links on my site I get a small commission from the purchase. Thank you!
(OK, I'm good with the FCC now.)
Victorinox 47508 3-¼-Inch Paring Knife
*Enjoyed this post? Want to help out DadCooksDinner? Subscribe using your RSS reader or by Email, recommend DadCooksDinner to your friends, or buy something from Amazon.com through the links on this site. Thank you!