Pork and sauerkraut is a New Year's tradition in my wife's family. She remembers the tradition fondly.  Or at least, she does now.  When she was growing up, she wasn't a big fan.  (Sauerkraut?  Eeew!) Her grandma would always hound the kids to eat at least one strand of sauerkraut, "because it brings good luck in the new year". Needless to say, the grandkids weren't convinced.
I grew up loving sauerkraut; I have fond memories of hot dog carts in downtown Cleveland, dogs loaded with everything, where the highlight was the sauerkraut. My love of these hot dogs was a turn-off to Diane when we were dating; she couldn't believe I loved those "smelly dogs" so much. I was thrilled with her family's New Year's sauerkraut tradition. I had to work on Diane, thought; she ate her sauerkraut out of obligation, not because she wanted to. Eventually I was able to find some sauerkraut recipes that she didn't hate. In fact...she kind of likes this one.
3And! Now we I get to torture our kids with sauerkraut on New Years Eve. "Come on, kids, you have to eat one strand. Great Grandma Perchinske is watching you!"
Jackie, Diane's sister, is hosting our New Year's Eve celebration this year. (Thank you, Jackie!)  She asked me for a slow cooker pork and sauerkraut recipe, so I sprang into action in my test kitchen.4My test kitchen is more commonly known as Tuesday night dinner. I loved the result; the key to this meal is the sauerkraut, flavored with bacon, spices, apples, and wine.
Want to guarantee good luck in the new year? Have some pork and sauerkraut! You can only have one strand if you have to. But I'll bet, once you taste it, that you'll have more than that.
Recipe: Slow Cooker Pork and Sauerkraut
Equipment
Print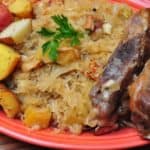 Slow Cooker Pork and Sauerkraut
---
Author:

Mike Vrobel

Total Time:

8 hours 20 minutes

Yield:

6

-8

1

x
Description
Slow Cooker Pork and Sauerkraut recipe, perfect for a relaxed New Year's Day.
---
8 ounces

bacon, cut into 1 ½ inch pieces

2

pounds sauerkraut, drained and rinsed (I prefer bagged sauerkraut)

1

pound new potatoes, scrubbed

2

apples, cored and diced

2 tablespoon

brown sugar

1 teaspoon

thyme

½ teaspoon

coriander seed

½ teaspoon

whole peppercorns

2

bay leaves

3

pounds pork western ribs or pork country ribs

3 teaspoons

kosher salt

½ teaspoon

fresh ground black pepper

1

large onion, diced

4

cloves garlic, crushed

½ teaspoon

kosher salt

1 ½ cups

Riesling or other dry white wine
---
Instructions
Brown the bacon: Put the bacon in a cold fry pan and turn the heat to medium. Cook, rendering the bacon fat and turning occasionally, until the bacon is browned and crispy, about ten minutes. Remove the bacon from the pan with a slotted spoon. Leave 2 tablespoons of bacon fat in the pan and discard the rest.
Prep and layer ingredients in the crock pot: While the bacon is browning: Drain and rinse the sauerkraut, and place in the bottom of the slow cooker crock in an even layer. Scrub the new potatoes and put them in a ring against the outside edge of the crock. Core and dice the apples, and put them in the middle of the potatoes. Sprinkle the brown sugar, thyme, coriander seeds, peppercorns, and bay leaves into the crock. Sprinkle the pork with 3 teaspoons salt and ½ teaspoon ground pepper, then layer on top of the other ingredients in the pot. Put the browned bacon in the pot whenever it is ready; in my case it wound up on top of the apples.
Saute the aromatics: When the bacon is done, add the diced onion and crushed garlic to the pan, then sprinkle with ½ teaspoon salt. Cook, scraping the browned bacon drippings into the onions, until the onion is starting to brown around the edges, about five minutes. (While the onion is cooking, continue with the layering the ingredients step if it is not done yet.) Add the wine to the pan and bring to a simmer. Scrape any remaining browned bits from the bottom of the pan, then pour the onion/garlic/wine mixture into the crock over the top of the pork.
Slow cook the pork: Cover and cook on low heat for 8 hours or high heat for 4 hours.
Plate and serve: Remove the pork ribs to a plate. Remove the potatoes with a slotted spoon, cut into quarters, and sprinkle with some salt and pepper. Remove the bay leaves and throw them away. Stir the ingredients left in the crock into the sauerkraut, then remove the sauerkraut to a serving platter using a slotted spoon. Ladle a cup or two of the liquid left in the crock over the sauerkraut, ribs and pork. Put the pork and potatoes on top of the platter of sauerkraut, and serve.
Prep Time:

20 minutes

Cook Time:

8 hours

Category:

Slow Cooker

Cuisine:

American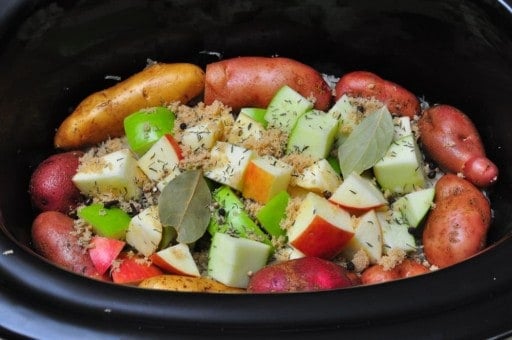 Variations:
Pork Roast: Instead of the pork ribs, use a pork shoulder roast. Increase the cooking time to 10 hours on low or 5 hours on high.
Add smoked sausage: If you have a pound of kielbasa or smoked sausage, slice it and add it on top of the apples. You'll have bacon, smoked sausage, pork ribs, and sauerkraut. What could be better?
Use red wine instead of white wine: Red wine is common in German sauerkraut, so if that's all you have, go ahead and use it.
Notes:
Riesling: Riesling comes in a variety of sweetness levels, from dry (no sweetness) to syrupy sweet (dessert wines). A dry to semi-sweet Riesling is my preference for this recipe. German Rieslings have their sweetness level as part of the name; look for halbtrocken (off-dry), or trocken (dry). Really, any inexpensive white wine that isn't too oaky will work. (The only wine I would avoid is cheap chardonnay, which tends to be heavy on the oak.)
Why a cheap white wine? Because about half a bottle goes into the slow cooker. I want to *drink* the good stuff, not cook it. If you're serving a crowd, get a cheap bottle for the pot, then some better wine for everyone to drink with the meal.
What do you think? Questions? Other ideas? Leave them in the comments section below.
Related Posts:
Slow Cooker Pork Pot Roast
Instant Pot Pork and Sauerkraut
*Enjoyed this post?  Want to help out DadCooksDinner?  Subscribe using your RSS reader or by Email, recommend DadCooksDinner to your friends, or buy something from Amazon.com through the links on this site.  Thank you!