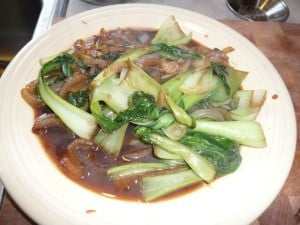 Here is a recipe I use often, for a quick stir-fry side dish. I usually make it after I've made the protein stir fry - I wipe the pan out and move on to the vegetable side. I put this one together from vegetables we got from our CSA share this summer.
My apologies to Pam, who split the CSA share with me. I've had these pictures waiting for me to write up the recipe for quite a while now, and she kept asking me "what are you doing with all these vegetables?!?". I'm embarrassed that it took me this long to get around to the answer to that question.
As I've said before, the key to a stir-fry is the stir fry technique. Organization is key - you need to have all the vegetables prepped before you start. When I do a stir-fry with a main dish and a side, I prep both at the same time - You'll see the vegetables I used in my weeknight chicken stir fry recipe in some of the pictures that accompany this recipe.
Recipe: Stir Fried Bok Choy with Basil-Lemon Sauce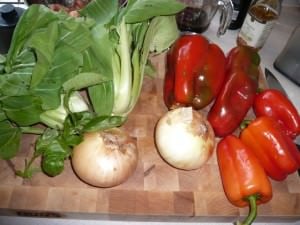 Equipment:

Large nonstick skillet with a lid. (See
stir fry technique
for recommendations.)
Ingredients:
Sauce: (Basil Lemon sauce)
¼ cup soy sauce
Juice from ½ lemon
2 large heads bok choy
1 large onion
1 sprig of basil
2 large cloves garlic
1 teaspoon vegetable oil
2 tablespoon vegetable oil (For veg stir fry)
Veg prepped. Note the red peppers, for my chicken, are also ready to go
Instructions: (Again, see the stir fry technique for an overview)
1. Prep sauce: Put sauce ingredients in a small bowl, and whisk to combine. (I use my liquid measuring cup for this)
2. Prep vegetables: Trim and peel the onion, and cut into ½" thick strips. Trim the root end and most of the white off the bok choy, and clean in a salad spinner if it's dirty. (Note - if you have baby bok choy, the white parts aren't as tough, and you can just trim off the very root end.) Pick the basil leaves from their stems, stack them, roll into a cigar shape, and slice thinly crosswise.
3. Prep garlic: Mince garlic, and mix in small bowl with 1 teaspoon vegetable oil.
4. Cook the onions: Add the 2 tablespoon oil to the pan, and let heat on high until the oil is shimmering. Add the onions, let sit for 1 minute (or until well browned on one side), then stir the onions and cook, stirring occasionally, until they are crisp-tender, usually about another 2 minutes.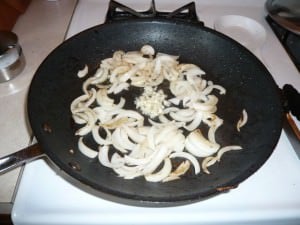 5. Cook the garlic: Make a hole in the center of the pan, and add the garlic-oil mixture. Let sit for 30 seconds, or until you start to smell the garlic cooking. Stir the garlic into the onions.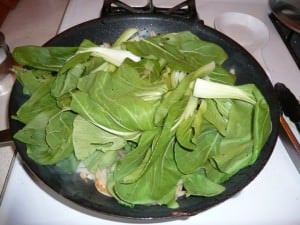 6. Cook the bok choy: Add the bok choy to the pan, stir to combine with the vegetables, then add ½ cup of water to the pan and cover with a lid. Reduce heat to medium, and let steam for 5-10 minutes, stirring occasionally, until the bok choy is just tender. Remove the lid, and if there is a lot of liquid in the pan, let it cook for let cook for another minute or two to evaporate some of the water.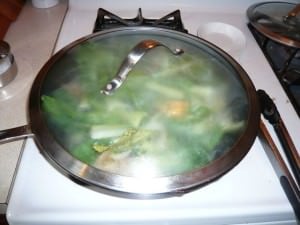 7. Sauce: Pour the sauce into the pan, stir to combine, and let cook for another minute or two, until the sauce is bubbling. Turn off the heat, and stir the basil into the pan.
8. Serve!

Variations:
*Extra quick sauce: skip the sauce above, and use 2 tablespoon oyster sauce and 2 tablespoon soy sauce, whisked together. (Or, just use all oyster sauce).
*Extra flavor aromatics: To the garlic/oil mix add 1" ginger root, peeled and grated or minced, and 2 scallions, sliced thin. (I do this when I have them, but I didn't when I was making this recipe).
Notes:
As I keep saying, stir fry in a nonstick skillet instead of a wok.
I usually add the white bok choy stems to the recipe - cut the root end off, then slice them ½" thick and put them in right after the onions are browned. But, when I was making this recipe, the bunches I had were so large that I just discarded them, because I didn't think I'd have room.
*When I'm buying from the grocery store, I try to buy baby bok choy - they're much smaller, and the stems are more tender. You just have to trim off the root end, and they're ready to cook.
Questions?  Comments?  Other ideas?  Leave them in the comments, below.
Related posts:
Inspired by various sources. See my stir fry post for the list. This recipe is primarily based on a version done by Cook's Illustrated.