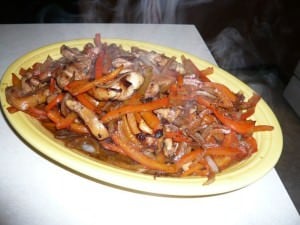 This recipe is one of my go to weeknight meals. Stir-fried chicken, plus a stir fried vegetable side and white rice - I can have dinner on the table in about 45 minutes. The key to this recipe is the stir fry technique; once you have the stir fry technique internalized, this recipe comes together quickly.
Recipe: Stir Fried Chicken with Peppers and Onions

Veg prepped.  Note the bok choy, for my veg side, is also ready to go
Ingredients:
1.5 lb boneless, skinless chicken (thigh or breast)
Marinade:
1 tablespoon soy sauce
1 tablespoon dry sherry
Sauce: (Soy/Sesame sauce)
¼ cup soy sauce
2 tablespoon dry sherry or rice wine vinegar
1 teaspoon sugar
1 teaspoon toasted sesame oil
1 large onion
1 large red pepper
2 large cloves garlic
1 teaspoon vegetable oil
1 tablespoon vegetable oil (For meat stir fry)
2 tablespoon vegetable oil (For veg stir fry)
Instructions: (Again, see the stir fry technique for an overview)
1. Prep protein: Slice the chicken into ½" thick strips, then toss in a large bowl with 1 tablespoon soy and 1 tablespoon sherry.
2. Prep sauce: Combine sauce ingredients in a small bowl, and whisk to combine. (I use my liquid measuring cup for this)
3. Prep vegetables: Trim the onion and peppers, and cut into ½" thick strips.
4. Prep garlic: Mince garlic, and mix in small bowl with 1 teaspoon vegetable oil.
5. Cook the chicken: Put 1 tablespoon oil in a large (12" to 14")nonstick skillet, and heat on high until the oil is just smoking.  Addhalf the chicken, let it sit for 1 minute, or until well browned, then flip and brown the other side, about another minute.  Remove to a plate, then cook the second half of the chicken, and remove to the same plate.  Wipe the pan clean with a wad of paper towels.  (If you have a 14" skillet, youmay be able to do this in one batch - just don't crowd the pan.)
6. Cook the vegetables: Add the 2 tablespoon oil to the pan, and let heat on high for 1 minute, or until the oil is shimmering. Add the onions, let sit for 1 minute (or until well browned on one side), then push to the edge of the pan. Add the peppers to the middle of the pan, and let sit for another minute, or until well browned. Stir the onions and peppers together, then cook, stirring occasionally, until they are crisp-tender, usually about another minute.
7. Cook the garlic: Make a hole in the center of the pan, and add the garlic-oil mixture. Let sit for 30 seconds, or until you start to smell the garlic cooking. Mix into the rest of the vegetables.
8. Sauce: Add the reserved chicken with its juices into the pan, stir to combine, then pour the sauce into the pan, stir to combine, and let cook for another minute or two, until the sauce is bubbling.
9. Serve!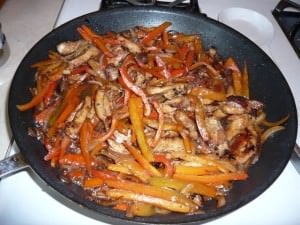 Serving Suggestions:
White Rice
Vegetable side
Variations:
*Extra quick sauce: skip the sauce above, and use 2 tablespoon hoisin sauce and 2 tablespoon soy sauce, whisked together. (Or, just use all hoisin sauce).
*In fact, for the ultra-quick version: Buy pre-cut meat. Buy only ¾lb chicken, so you don't have to cook two batches. Skip marinating the meat. Use the "extra quick sauce" from above. Mince your garlic with a garlic press (Don't use the pre-chopped stuff, it's awful). Buy your peppers and onions pre-sliced from the salad bar at your grocery store.
*Extra flavor aromatics: To the garlic/oil mix add 1" ginger root, peeled and grated or minced, and 2 scallions, sliced thin. (I do this when I have them, but I didn't when I was making this recipe).
*I prefer chicken thighs for this recipe, but chicken breast is fine.  So is pork loin or pork tenderloin.  You can use lean beef as well, but I think the sauce works better with chicken or pork.
Notes:
*Cook in a nonstick skillet instead of a wok. American stoves don't produce enough heat to brown anything in the small, flat bottom of a real wok. If you have a real wok burner, and a carbon steel wok from China, then go for it!*
*But - if you have all that, why are you reading THIS recipe? You already know what you're doing!
*Nonstick cookware safety: Don't heat your nonstick cookware to temperatures over 500*F - it may start to break down, and release harmful gases at that point. That's why we add oil to the pan - it starts to smoke between 350*F and 450*F, giving you a visual guide to when the pan is hot enough to use.
*I make this recipe so often that I went out and bought an All-Clad 13" nonstick french skillet to cook it in, so I don't have to do the chicken in two batches.  The extra space in the pan is great, but the angle on the handle makes this large pan really hard to hold.  I had to carefully adjust it* to make it work for me.
*I put the handle on my kitchen island, and leaned on the pan until it bent down to the right angle.  I can't believe I had to do this to something this expensive...but it worked!
*If your kids are really picky, skip the onions and peppers, but I think they add a lot of flavor to the dish. My kids are usually OK with picking the chicken out of the yucky vegetables.
Other recipes:
Inspired by various sources.   See my stir fry post for the list.  That being said, when I do a weeknight stir-fry, I give a quick thanks to Pam Anderson for introducing me to the technique.