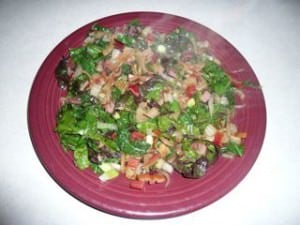 Stir fried swiss chard was an improvisation - I had a big bunch of Swiss Chard in my CSA box, along with some garlic, and I had a chinese themed meal planned. Voila! Since I have my stir fry technique internalized, this was a quick side dish that I put together while I was making my chinese barbecued pork.
*I wish planning dinner was always this easy. Sometimes, it feels like I'm sweating blood, trying to come up with enough meals for the week:
"Tortillas and chicken - no, we did that last week. Shoot, I still need a quick meal for Thursday, when Ben has soccer. Oh, and a starch and a veg side for the hamburgers..."
1 tablespoon vegetable oil
1 onion
1 bunch Swiss Chard, leaves trimmed from stems
⅓ cup water
1tbsp garlic
1tbsp toasted sesame oil
2 tablespoon hoisin sauce
2 tablespoon soy sauce
Directions:
1. Prep the sauce: Combine the hoisin sauce and soy sauce in a small bowl (or pyrex measuring cup).
2. Prep the vegetables: Peel an onion, cut it in half, then cut each half into about 8 wedges, pole to pole. Trim the stems from the chard, separate, and cut the stems into ¼" slices and the leaves into ¼" strips. Mince the garlic, and combine in a small bowl with the toasted sesame oil. Measure out the water.
Trimming the chard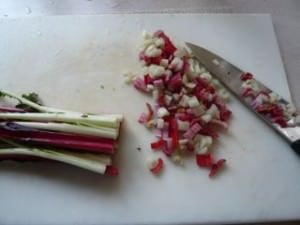 Slicing the stems ¼ inch thick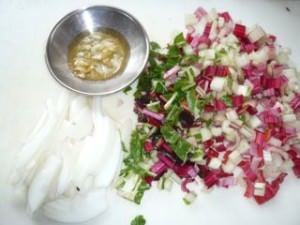 Prepped stems, onions, and garlic/sesame oil
3. Start with the onions: Add the vegetable oil to a 12" nonstick skillet, and heat over high heat until oil is just starting to smoke, 3-5 minutes. Add the onions, and stir fry for 2-3 minutes, until browned and crisp-tender.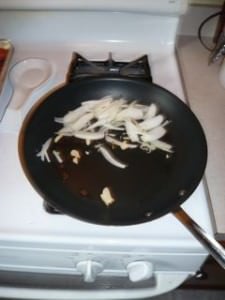 Stir Frying the onions
4. Stir fry the chard stems:
Add the chard stems, toss to coat with oil, then add the ⅓ cup water and cover. Steam, covered, for 3-4 minutes. Remove cover, and stir-fry until stems are crisp-tender, 1-2 more minutes.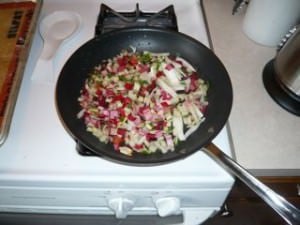 Covered and steaming
5. Add the aromatics: Make a hole in the center of the vegetables in the pan, and add the garlic/sesame mix. Let sit for 30 seconds (or until you can smell the garlic), then stir it into the rest of the vegetables.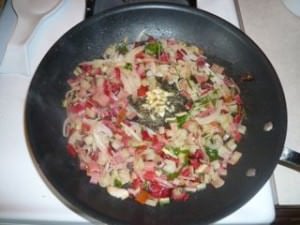 Adding the garlic and sesame oil
6. Add the leaves:
Add the chard leaves, stir fry for 2-3 minutes or until just wilted.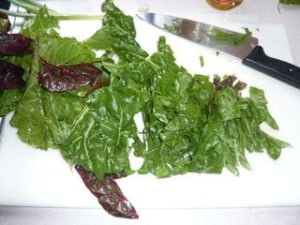 Chard leaf slices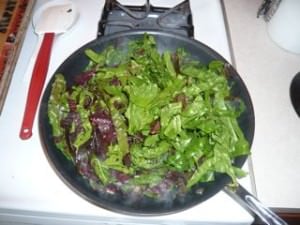 Adding to pan
7. Sauce and serve: Pour the sauce over the contents of the pan, and stir for 1-2 minutes or until vegetables are coated with sauce. Serve.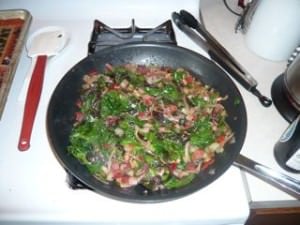 Wilted chard, sauce added.
Notes:
*"Stir fry 2-3 minutes" - When you first add something to the pan, toss it to get it coated with the oil, then let it sit for 30sec to 1 min, or until it starts to brown on the underside. Then, keep it moving, flipping and stirring until it is crisp-tender.
*A lemon-based sauce would go great with this - chard, garlic and lemon are a great combination. Replace the hoisin in the sauce with the juice from ½ lemon, and 1 teaspoon of corn starch
*This is also how I cook Bok Choy - the stems are thicker, the leaves are smaller, but the technique is almost exactly the same. (See the related posts, below...)
Skipped step 1 - no meat
2. Prepped sauce
3. Prepped veg
4. Heat oil in skillet
Skipped step 5,6a - no meat
6b - Onion is the first batch veg
6c - garlic/sesame oil (actually added after next step)
6d - Chard stems are the second batch veg
6e - Chard leaves are the third batch veg
Skip 6f - no fourth batch veg