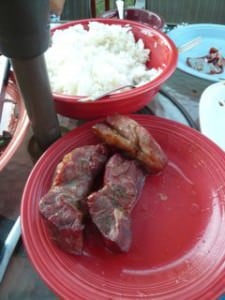 Pork shoulder (aka Boston Butt, or Pork Butt**) is one of my favorite cuts of meat. I'm particularly fond of using it as "ribs" - which are sold in my local grocery store as "western ribs", but are really just 2" thick slices of pork shoulder roast. They cost a LOT less than real ribs do around here - as low as $1.29/lb, where spare ribs never seem to go below $2.19 a pound. When you consider all the extra meat you get out of the western ribs as compared to the spare ribs, it is quite the deal.*
*That's not to say I don't like real ribs - just not often. At those prices, when so much of what you're paying for is bone, I can only bring myself to buy them a couple of times a summer. Where did we go wrong? The ribs are supposed to be the cheap cut, the throwaway part that you can get cheap. I guess they got too popular. Sniffle. I'll be OK, I just need a moment alone...
**You got me. I just like saying "Pork Butt". I get to channel my inner 9-year old. Not that he's ever that far from the surface to begin with.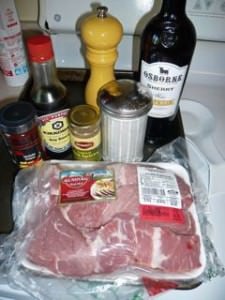 Ingredients:
4lbs "western ribs", or a boneless pork butt roast cut lengthwise into 2" strips
Marinade ingredients:
½ cup sugar
½ cup soy sauce
¼ cup Hoisin sauce
¼ cup 2 tablespoon dry sherry
1 tablespoon toasted sesame oil
1 teaspoon Chinese five-spice powder
1" piece of ginger, grated
3 garlic cloves, minced
Sauce ingredients:
¼ cup marinade, reserved
¼ cup hoisin sauce
½ cup ketchup
Directions:
1. Marinate the pork for 4 hours:
Prepare the pork by poking each piece with a fork - I do it on both sides, roughly every half inch. Put the pork in a non-reactive bowl, pyrex dish, or gallon zip-lock bag. Whisk the marinade ingredients together until the sugar dissolves, reserve ¼ cup for use in the sauce, and pour the rest over the pork. Refrigerate the marinating pork for up to 4 hours, turning it occasionally to make sure it's marinating evenly.
Make the sauce by whisking together the reserved marinade, hoisin sauce, and ketchup. Store, refrigerated, for later.
Forking my pork...OK, I'll stop.
2. Cook the pork: Set your grill up for indirect low heat, and cook for 4 hours, wrapped in foil for the last hour.
Fill a charcoal chimney half full with charcoal (roughly 50 charcoal briquettes), light it, and wait for it to light completely (covered with gray ashes). Divide the charcoal into two piles on opposite sides of the grill, and put an aluminum foil pan (13x9") between the piles. Pour 1 quart hot tap water into the foil pan.
Put the grate on the grill, then the pork on the grate, over the foil pan. Cover the grill, and close the top vent ⅓ closed to slow down the charcoal. (The water in the foil pan and the partially closed vent will even out the temperature.) You are trying to maintain a temperature between 250*F and 300*F.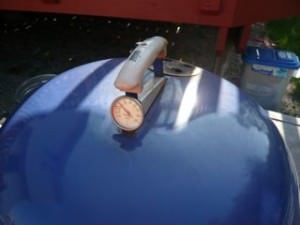 Cook for 3 hours. After every hour of cooking, quickly remove the lid and add 12 coals (6 to each side).
After cooking for 3 hours, it should look like this: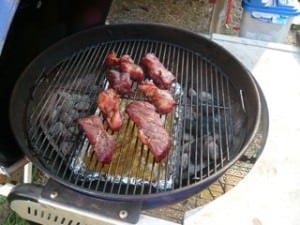 At this point, add another 12 coals, then transfer the pork to a sheet of aluminum foil, pour ½ cup of the sauce we made earlier over the pork, then wrap in foil and put the foil pork packet back on the grill, still over indirect heat. Open the top vent all the way at this point.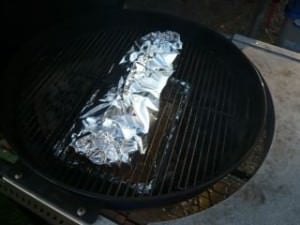 Cook for 1 more hour in the foil, then remove from the grill. Let rest for at least 15 minutes before opening the foil pack. Serve with the remaining sauce for dipping.
Notes:
*
Hoisin Sauce
is sometimes called plum sauce, or chinese barbecue sauce. I've "sold" it to the kids that way, when they insist on having "barbecue sauce" with a dinner like this. I prefer to mix in some ketchup and soy sauce to thin it out if I'm using it as a barbecue sauce - it can be too thick if served straight up. You'll be able to find it in the asian section of any good-sized grocery store nowadays, but I try to get mine from the local asian market - it's sold in larger bottles, for less money.
*Leftovers are perfect for using in Fried Rice (as is any leftover white rice from the meal). Just dice the pork into ½" to ¼" inch cubes.
*Leftovers are also good re-heated, as I found later in the week. I went looking for the leftover pork and rice I had saved, which was going to become pork fried rice for our dinner. Diane and the kids ate it all for lunch the day before. At least it didn't go to waste!
*Another variation, if you'd like to cook this quicker, is to cut the pork into ½" to 1" strips instead of the 2" strips - when my grocery store has boneless western ribs, I cut them in half. This allows you to reduce the cooking time from 3 hours to 1.5 hours, before you wrap them in foil. (I did this tonight, and it came out great!)
Questions? Comments? Other Ideas? Leave them in the comments, below.


Related posts:
Adapted from
Chinese Barbecued Pork
from Cook's Illustrated.
*Enjoyed this post? Want to help out DadCooksDinner? Subscribe to DadCooksDinner using the RSS or Email options on the right, link to this post from your blog, recommend DadCooksDinner to your friends, or buy something from Amazon.com
through the links on this site. Thank you!