Tapenade is Provence in an easily portable form. Take all the great Provencal ingredients: olives, basil, lemon, capers, anchovies, and grind them into a paste. Voila! Tapenade! In Provence, it is a universal topping. It is at its best spread on slices of french bread. You could toast the bread (over an open fire) if you really wanted to gild the lily. Goat cheese is a natural accompaniment. Tapenade is also a great topping for pork, chicken, and especially lamb. Lamb and tapenade is a match made in heaven.

And now, my personal re-enactment of Field of Dreams...
Is this heaven?
No, It's Provence.
Provence? When I saw the tapenade, I could have sworn this was heaven.

Now this is not fancy French cuisine. It is not served in four star white tablecloth restaurants by hovering waiters. This is a recipe from the home, best served as a bite before dinner. It will help fill the stomach while sipping on an ice cold, bone dry Rose, or a chewy Cote Du Rhone.
In other words, it is the Provencal equivalent of Salsa. Which is how I use it, and also how I make it. I can't imagine making this recipe without a food processor; with one, it is ready to go in ten minutes, and that's if I'm stopping to take a bunch of pictures for the blog while I'm making it.
Recipe: Tapenade
Adapted From: Patrick Payet Famous Provence
Equipment:
Ingredients:
2 cloves garlic, peeled
5 basil leaves (or 1 tablespoon thyme leaves, or ¼ cup parsley)
2 cups pitted kalamata olives, rinsed
1 tablespoon capers
Juice of ½ lemon
½ teaspoon fresh ground black pepper
2 anchovy fillets, rinsed (optional)
¼ cup extra virgin olive oil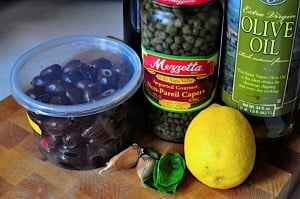 Directions:
1. Mince the dry ingredients: Drop the garlic cloves into a running food processor and process until completely minced. Turn the processor off, add the basil, and process with one second pulses until finely minced. Add the olives, capers, lemon juice, pepper and (optional) anchovy fillets. Process until finely minced, using one second pulses and scraping down the sides of the bowl if necessary.
2. Add the olive oil: Turn the processor on, and drizzle the olive oil into the running processor, stopping and scraping down the sides of the bowl if necessary. Once all the oil is added the tapenade should be a thick, emulsified paste. Use immediately, or store in the refrigerator for up to a week.
Variations:
*The anchovies really are optional. They add an extra depth to the flavor, a hint of the sea that you can't really put your finger on. I like to add them if I have them. But there is enough going on in the recipe; they are not absolutely necessary.
Notes:
*If you don't have a food processor, you can use a mortar and pestle. It would be more authentic that way. But it is a LOT more work.
*My apologies to to W.P. Kinsella, Kevin Costner, James Earl Jones, Amy Madigan, and anyone else even vaguely connected to Field of Dreams.
What do you think? Questions? Other ideas? Leave them in the comments section below.
Related Posts:
A Week In Provence
Things I Love: Food Processor
Adapted from:
Patrick Payet Famous Provence
*Enjoyed this post? Want to help out DadCooksDinner? Subscribe using your RSS reader or by Email, recommend DadCooksDinner to your friends, or buy something from Amazon.com through the links on this site. Thank you!