I own my fair share of cooking gadgets - slow cookers, pressure cookers, garlic presses, Asian mandolines. There are only a handful of cooking tools that I keep out on the counter, so I can get at them right away:
Knife block and wooden cutting board
12 inch stainless fry pan, 4.5 quart nonstick sauce pan, 2 quart sauce pan
Can opener
Utensil jar: tongs, spoons, spatulas, whisks
Salt cellar and pepper mill
and, today's topic, my food processor
.
I believe knife skills are critical for cooking. I use my knife more than all my other cooking tools combined. But...there are some recipes that I can't imagine making without a food processor. In my kitchen, the food processor always does these three tasks:
1. Purees and finely chopped mixes: I use my food processor for anything involving a puree. Gazpacho, hummus, salsa, refried beans, marinades; they all come out of my food processor.
Especially my quick red salsa. I make that recipe twice a month, if not more often.
When the end goal is somewhere between a chunky salsa and a smooth hummus, the food processor shines. All the mincing work can be done in the processor. Recipes that require a lot of detailed knife work become drop dead simple. The trick is to mince with one second pulses; this gives an evenly chopped result
The exception? When I need a mince to be dry and evenly sized. Stir fries are the big one for me; every time I try to use my food processor to short cut my stir fry, I wind up with chopped, mushy mess. The results don't stir fry well, because there is too much water in the mix.
Onions in particular; with the slightest bit of over-processing, they break down into onion juice. Which is good if I want onion juice, but not if I want to saute them.
2. Large amounts of thin-slicing or grating: If I need more than a cup of sliced or grated items, I pop my slicing disk into the food processor. Potato gratin is a great example; first the processor thin-slices the potatoes, then it grates the cheese. Two minutes of processing instead of fifteen minutes of detailed knife work. My processor did the heavy work when I was canning this summer. I used it to thin-slice pounds of carrots, cucumbers, peppers and zucchini. I can't imagine canning without one.
3. Kneading dough: My wife, the family baker, kneads most of her doughs in the food processor. It does the work of a stand mixer in half the time. Our kids love it when mom does pizza night, and the food processor is a key piece of equipment. The only downside to kneading with a food processor is the size of the recipe; the dough ball can't be too large, or it will overwhelm the processor.
Which one?There are a lot of brands of food processor out there, but the two that consistently top the ratings from people I trust are Cuisinart
and KitchenAid
. I bought a KitchenAid years ago, and it has always worked well for me.
*Except for that one time I put way too much dough in it and burnt out the motor. I immediately went out and bought a new one.
I don't think there is enough of a difference between the two to recommend one over the other; either one is a good choice. I recommend getting at least a 12 cup processor; purees, especially wet ones like salsa and gazpacho, will leak if they are higher than the central post.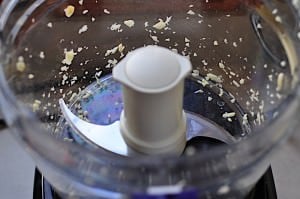 Food processor minced garlic
My favorite food processor trick? Using it to mince garlic. Peel the cloves of garlic, and trim off the stem end. Then drop the garlic into a running processor. Wait about thirty seconds, or until the garlic stops dancing around, and your processor will be full of minced garlic. That is always my first step in making salsa. (Next is adding the cilantro, and pulsing until chopped.)
What do you think? Questions? Food processor tricks or recipes you want to share? Leave them in the comments section below.
Related Posts:
Quick Red Salsa
Quick Gazpacho
Hummus
Pickled Chile Peppers
*Enjoyed this post? Want to help out DadCooksDinner? Subscribe using your RSS reader or by Email, recommend DadCooksDinner to your friends, or buy something from Amazon.com through the links on this site. Thank you!